Benson Black Series 4.16.CF watch winder
Posted on 13 November 2021 at 11:08 AM
The watch winder as a watch accessory to prevent automatic watches from standing still is becoming increasingly popular. A watch enthusiast with several automatic watches can no longer do without.
Within the watch industry we find a great diversity in the field of watch winders. Where a watch winder primarily serves to provide automatic watches with the necessary energy when they are not worn, this indispensable accessory has many other functions that are certainly appreciated by the real enthusiast.
In addition to ensuring that the automatic watches do not come to a standstill, the right watch winder ensures optimal oil distribution within the timepiece and also offers storage space for your watches, which ensures that the watches are protected against damage and unnecessary wear. Finally, a watch winder sometimes also functions as a kind of status symbol. Especially the models that offer space for several automatic watches can also be seen as a true interior piece. Various brands are cleverly responding to this by manufacturing watch winders that are not only appealing in terms of quality and technology, but also form a real eye-catcher in any interior.
An example of a great brand that offers excellent and beautiful watch winders is the Dutch brand Benson. This young brand has managed to specialize in designing and manufacturing watch winders at a high level, at an attractive price. This combination makes this brand interesting for many enthusiasts. The collector can also indulge in the Benson collection as it offers many possibilities for winding several watches at the same time. For both the enthusiast and the collector, viewing the Benson collection is more than worthwhile.
For example, what do you think of the Benson Black Series 4.16 CF watch winder? This luxurious and stylish watch winder is made by hand with the greatest possible care. It is suitable for winding 4 automatic watches and also offers storage space for 3 additional watches. The watch winder is manufactured made of wood of particularly good quality and with a carbon fiber look. The inside of the watch winder is covered with a special soft velvet so you don't have to worry about damaging your watches. With regard to the storage space at the top, the watch winder can be closed with a soft close lid. The watches that are wound are protected at the front by a glass door that keeps out dust, dirt and condensation. The whole makes a watch winder with a chic look and a modern design, which will be a valuable addition to any interior. The finish of the watch winder can also be called sublime, with 12 layers of paint and a protective lacquer layer, Benson has left nothing to chance.
If we look at the technical aspects of this watch winder, we see several nice extra functionalities. For example, the watch winder is equipped with built-in LED lighting. This puts your watches right in the spotlight. The watch winder also offers an innovative touchscreen, with which you can easily set the direction of rotation and the number of rotations per day, among other things. It is possible to do this separately for each rotor. In this way every watch gets exactly what it needs. So it doesn't matter whether you want to wind a Rolex, Breitling, Omega, IWC or Patek watch in the Benson Black Series 4.16.CF watch winder. With the power winding function you can easily wind your watches in a short time, ideal if you don't have much time. As far as the motors is concerned, Japanese motors of excellent quality have been chosen. Since the motor forms the heart of the watch winder, it is of great importance that it is of top quality. Japanese motors of this caliber are known for being not only energy efficient, but also quiet in use. These properties ensure optimum user comfort.
In short, with the Benson Black Series 4.16.CF watch winder you choose the very best for your watches and that at a nice competitive price. With this watch winder you not only provide your watches with top care in the field of winding and oil distribution inside the watch calibre, but you also immediately have a safe storage place and display with LED lighting for your watches. The watch winder can be powered by an adapter, which is of course supplied by us.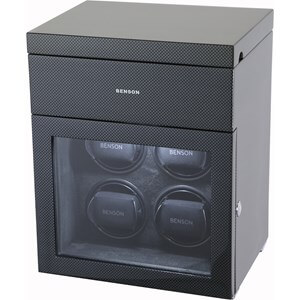 When you choose this watch winder from Benson and order it in our webshop, you will receive it at home with a clear manual and a 2-year warranty. So you opt for certainty in the form of a reliable and durable product that you will enjoy for years to come.
You can order easily, easily and quickly in our webshop. We ship worldwide with Fedex, DPD and PostNL. As an official point of sale of various well-known watch winder brands with more than 15 years of experience in this field, we are able to offer you the right service and, if desired, advice. We also offer the most current collections and competitive prices. Our range in this area is very extensive. In addition, we also offer various beautiful watch brands with a beautiful collection of appealing watches. Definitely worth it for the connoisseur to take a look at us!