Bernard Favre Planet Black watch winder
Posted on 23 December 2020 at 3:04 PM
As a fan of automatic watches, you can indulge yourself when you are looking for the ultimate accessory in this area, namely the watch winder. Watch winders are available in different grades when you consider quality, price, originality, technology and materials. It's certainly important that you do your homework before you start your search, to avoid choosing a watch winder that does not meet your requirements and wishes. Of course you want to enjoy your watch winder for a long time, so it is important that you choose a good quality watch winder that is durable and reliable. In addition, there are several other aspects that are important. You can read more about this in this watch winder blog article.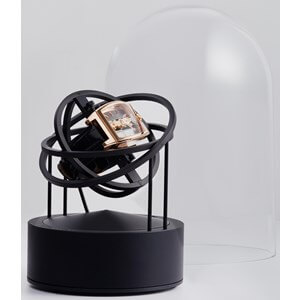 To begin with, it is wise to consider how many watches you want to wind in a watch winder. If you are a collector, you probably want a watch winder with space to wind multiple automatic watches. But if you have one automatic watch, a watch winder with space for one watch is of course completely fine. If you are someone who not only wants a functional watch winder, but also one which is a real gem with regard to appearance and materials, you will generally end up in a higher price range. A good example is the Bernard Favre Planet Black watch winder.
The watch winder brand Bernard Favre is a brand that is very recognizable in various ways. For example, the unique design of these watch winders is a real eye-catcher and the connoisseur will easily identify a watch winder like this as a Bernard Favre. The so-called "Planet Winding System", for which the Swiss Bernard Favre is known, provides every automatic watch with energy by turning the watch around its own axis. This is reminiscent of the rotation of the planets, which is where the name comes from. The beauty of the Bernard Favre watch winders is that you always have a very good view of your watch and that it is therefore a very fascinating sight when your watch is wound. That makes these watch winders very popular with the real enthusiast. Bernard Favre's watch winders are also of top quality. Bernard Favre strives for the very best, both in terms of choice of materials and technology. Each Bernard Favre watch winder is equipped with a Swiss motor, which are of course known for their high quality. Bernard Favre's watch winders are also handmade by the best specialists, with a very good eye for detail. Bernard Favre therefore emphasizes high-quality technology and a perfect finish.
A specific model from the Bernard Favre collection that we would like to mention is the Bernard Favre Planet Black watch winder. As the name suggests, this watch winder is black in color and therefore makes every watch stand out very well. The base is colored black, but the rotating rings are also black. This gives an extra luxurious look. This watch winder is suitable for 1 automatic watch. This naturally applies to any type of automatic watch, regardless of brand or type. The watch winder offers various winding programs. In addition, it is equipped with a USB connection, which means that the watch winder can easily be charged using mains power, PC or smartphone. Because the watch winder has a built-in battery for 100 days, you can safely store your watch in a safe or take it with you on a trip. This counts as an added benefit for many people. Naturally, the Bernard Favre Planet Black watch winder is equipped with a high-quality Swiss motor, which is both energy-efficient and quiet in use. The number of revolutions is adjustable and the watch winder is of course equipped with an overwind protection.
The Bernard Favre Planet Black watch winder rings are made of stainless steel PVD, with which you are guaranteed to get a durable and reliable product. The supplied glass bell jar can be placed over the watch winder. This not only provides an extra luxurious appearance, but also protects against external influences, such as dust, condensation and dirt. In short, this Bernard Favre watch winder provides a unique winding system and design, offers Swiss made quality and is made of high-quality materials. It makes this product absolutely worth viewing!
If you have become interested in the Bernard Favre Planet Black watch winder, or are curious about the rest of the collection, take a look at our webshop. You can also easily watch a video here where you can see how special it looks when you wind your watch with a Bernard Favre watch winder.
We have extensive experience in the field of both watches and watch winders and therefore not only offer a wide range of quality products in this area, but also the necessary service and advice. BensonTrade is an official dealer of Bernard Favre. We have almost the entire collection of this beautiful watch winder brand in stock, so that you can quickly enjoy your purchase after ordering. When you order a Bernard Favre watch winder in our webshop, you will receive it with a 2-year warranty, manual and certificate.