Davosa Ternos Diver watches
Posted on 13 October 2021 at 7:28 AM
The search for the perfect watch can in itself be quite a challenge. You have to decide for yourself what you would like to wear on your wrist. Think of quality, material, type of timepiece, brand and origin, etc. However, when you are looking for a specific diving watch, the requirements for the watch become even higher and the search is certainly not easier. After all, a diving watch must meet special requirements and be able to perform literally under high pressure. There are several brands on the market that offer special diving watches of excellent quality. Of course we find high-quality diving watches in Switzerland that are known for the unparalleled Swiss made quality for a reason. But there are also alternatives that offer the same quality at a more favorable price.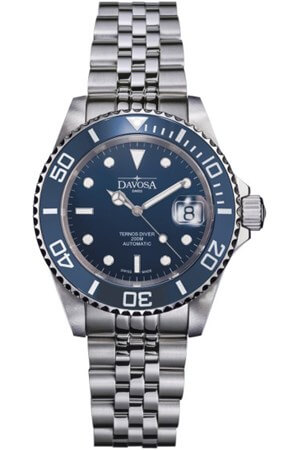 However, also in Germany diving watches can be found that are of excellent quality and are distinguished by the real German solidity and reliability. The German watch brand Davosa offers a wide collection of watches, including high-quality diving watches. Davosa uses top quality Swiss timepieces for this. This ensures that your watch is equipped with a solid base and that you can enjoy your Davosa watch for a long time. Davosa is also a brand with history, since the beginning of the story of this brand dates back to 1881. This makes Davosa extra interesting for the real enthusiast and collector. In addition, Davosa offers a very good price/quality ratio because the watches of this brand are not only of very good quality but also affordable at the same time. This makes a brand like Davosa accessible to a wide audience.
A good example of Davosa diving watches, which are among the best available in the world, are the Davosa Ternos Diver watches. All Davosa watches come standard with the well-known strong sapphire glass and a screw-down crown for optimal protection and water resistance. These are features that certainly make any watch attractive, especially when it concerns a diving watch. A particularly beautiful watch from the Davosa Ternos Diver series is the Davosa Ternos Diver 161.455.10 watch. This watch is of course equipped with a Swiss made movement, in this case from the ETA brand. This watch has a stainless steel watch strap that closes with a folding clasp. The dial is silver in color and features bright green accents. The watch case is also made of stainless steel and has a diameter of 40 mm and a thickness of 12 mm. The sapphire glass ensures that scratches or damage will not be visible quickly. This watch is also water resistant up to 200 meters and has several nice extra functionalities. The watch is equipped with a date display, second hand, luminous indicators and a rotating bezel. With this beautiful Davosa model, you as a true sports enthusiast are in possession of a top watch, which you can always rely on.
Another special model from the Ternos Diver series is the Davosa Ternos Diver Ceramic 161.600.55 watch. This very sporty watch is equipped with a Swiss made movement from the ETA brand and is also water resistant to 200 meters. Furthermore, this watch comes in the color black and has a watch case and watch strap which are made of stainless steel PVD. The watch can be closed with a folding clasp. The watch case also has a diameter of 40 mm and a thickness of 12 mm. Of course, this watch also has a screw-down back and sapphire glass. What is also striking about this watch are the date magnifier and ceramic bezel. The watch also features a seconds hand and luminous indicators. In short, with this watch you choose a completely complete and high-quality diving watch at a competitive price.
With the quality of these watches, Davosa is certainly not inferior to the more expensive brands in this area. This makes it definitely worth taking a closer look at Davosa's collection. Whether you are looking for a watch to wear during sports or another hobby, or whether you want to buy a watch to wear to the office, Davosa offers it all. Davosa also offers diversity in terms of appearance, so that there is a Davosa watch for different personal preferences.
If you would like to take a closer look at Davosa watches, we offer a very extensive collection of Davosa watches in our webshop. If you decide to order a Davosa watch from us, you will receive it at home with a 2-year warranty. The watch will then be delivered in a luxurious official box and of course packed firmly and carefully by us before it travels. This way you can be sure that your new watch will be delivered to you in perfect condition. We are proud that as official dealer of Davosa we have been able to work with this exceptional brand for more than 10 years. We have therefore also gained extensive knowledge and experience with this brand and can, if desired, assist you with the necessary advice and assistance.