Fortis watches | Swiss made
Posted on 5 June 2021 at 9:58 AM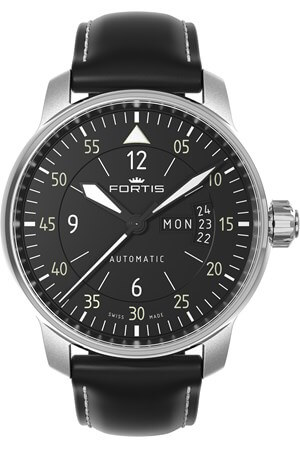 A high quality men's watch is appreciated by many men. There is a lot of choice from different beautiful watch brands with a beautiful history. The real enthusiast will probably prefer a Swiss made watch with a Swiss automatic movement. An automatic timepiece shows the craft of the traditional way of watchmaking in its purest form. This is the kind of timepiece that fascinates almost every enthusiast. A Swiss-made automatic timepiece stands for the best of the best and is therefore often at the top of the wish list for a reason. Watches from Rolex, Breitling and Tag Heuer appeal to the imagination.
There are also watch brands that do not come from Switzerland but do use the well-known Swiss made timepieces with undisputed quality. An example of such a brand is the German brand Fortis. Fortis is Latin for strong, robust and powerful, which is a promising start. Fortis also knows how to live up to its name, because that is exactly what the brand stands for; produce watches that are reliable and solid and can therefore take a beating.
Fortis is also known as an innovative brand that has certainly not stood still in terms of developments. Fortis, for example, has various innovations to its name. For example, the brand was the first to launch water-resistant watches. This also applies to the first waterproof mechanical alarm stopwatch. In addition, Fortis was the first to market automatic watches in mass production. Fortis has been active in the watch industry since 1912 and has acquired a great deal of knowledge and expertise over the years. Nowadays, this brand is known for their extremely high quality and, compared to other high-end brands, a reasonable price. In addition, Fortis watches are characterized by the sporty appearance of the watches and the brand knows how to keep its watches affordable. For a watch with a very good price/quality ratio you have come to the right place at Fortis.
The Fortis watch collection consists of different series of watches. For the famous 'Cosmonauts' watches from Fortis, the brand has entered into a partnership with Russian cosmonauts. These watches for cosmonauts literally have to be able to perform under high pressure and are therefore a clear confirmation of the quality of Fortis watches. The brand owes its popularity partly to this special collaboration. In addition to this sublime series of watches, Fortis has much more to offer. Good examples of this can be found in the Fortis 'Marinemaster' and 'Cockpit' series. In this article we highlight a beautiful and special watch from each of these series, which you as an enthusiast will certainly appreciate. Especially because these watches are now extra competitively priced.
We start with the Fortis Marinemaster 670.17.41 watch. This watch is ideal for sports enthusiasts and lovers of swimming, diving or snorkeling. With a water resistance of up to 200 meters, a screw-down crown, rotating bezel and extremely strong sapphire glass, you are in the right place with this watch. The watch has a special Fortis Submarine engraving, a detail that will offer a certain added value for the enthusiast. The Superluminova of this watch ensures that you can quickly consult the time even in the dark. This should of course not be missing from a real sports watch. This watch also has a seconds hand and a date display. As we are used to from Fortis, the look of this watch can be called sporty. The watch is clearly legible, because of the white numbers on the black dial. The watch strap is made of plastic and the watch case of stainless steel. In short, a very trendy and sporty diving watch with all the trimmings.
The second watch comes from Fortis' 'Cockpit' series. It concerns the Fortis Cockpit One 704.21.18 watch. This watch has a more classic and a somewhat minimalistic look. It is a modest pilot's watch with beautiful retro details. Here too we see a black leather strap and dial, with the numbers in white. Of course, this watch also has a Swiss made automatic movement. This Fortis watch is also equipped with the Superluminova that glows in the dark and equipped with the extremely strong sapphire glass. The Fortis Cockpit One 704.21.18 is waterproof up to 100 meters and closes with a buckle closure. With this Fortis Cockpit One watch you choose a watch with a fairly neutral appearance and good legibility, but above all also for top quality for a good price.
Both Fortis models mentioned are of very high quality and competitively priced. At the moment we also offer these watches with an attractive discount. This means that you can now wear a fantastic Swiss made Fortis watch for an extra nice price. However, these are the last items in stock, which means you don't have to wait too long to take advantage of this offer.
When you order your Fortis watch from us, you will receive it at home in a luxurious official box with a 2-year warranty. You place your order easily, quickly and securely in our webshop.