Maurice Lacroix MP6128 Roger Federer watch
Posted on 8 December 2020 at 1:43 PM
For many men, a beautiful watch is not only a timepiece, but also a special accessory or piece of jewelry. For some, a beautiful watch even counts as a status symbol. A watch can complete the outfit for a man. A man will therefore choose his watch with care. When you want to purchase a quality watch, you will find that there is a lot of choice. Not only with regard to style also with regard to the technology of the watch, there are many options. Of course there is a choice of a mechanical, automatic or quartz movement. But in addition, different watches also offer various nice extra functionalities for everyone who values ??them.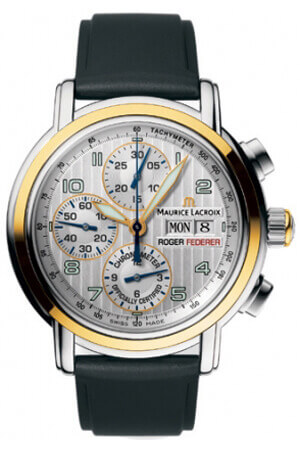 In addition to the fashion-conscious man who sees a beautiful watch primarily as an extension of his outfit, there is another group of watch enthusiasts. Then we are talking about the real collectors. This group will in particular select watches that have something special. This could be that the watch is from a specific brand that has a beautiful history, or that the watch itself is specifically dedicated to a subject. Of course, a special and unique design is also very attractive for the collector. In addition, there are the watches that are limited in production, so there are few of them in the world. When you own such a watch, it is really special. These are watches that are often very interesting for the collector and are seen as a collector's item. That is exactly the kind of watch that we want to bring to your attention today. Because the watch that this article is about is really a "one of a kind". It is a very special piece that any collector would like to include in his collection. You can bet that this watch will attract attention!
For anyone who would like to complete their watch collection, this is a nice article for you! Today we put a very special watch in the spotlight. If you like to include a beautiful and very special watch in your collection, especially if you are also a sports fan, now is your chance! We are talking about the Maurice Lacroix Masterpiece MP 6128 Roger Federer Edition watch. The name already indicates that it is a very special watch and it is truly a masterpiece.
This Maurice Lacroix watch is not only a unique piece in terms of quality, but also in appearance. We start with the outside. At a glance you can see, whether you are an expert or not, that this is not an average watch. The look of the watch is luxurious, stylish and chic. The combination of the silver dial with the gold and blue accents makes your interest immediately aroused. All kinds of things happen on the dial, without giving it a busy appearance. The watch case is even made of 18 karat gold, which makes this watch extra chic and luxurious. The black watch strap is made of rubber. The Swiss made automatic movement is of course of exceptional quality. Furthermore, the watch is fitted with sapphire glass, which is known for being very strong. The watch closes with a folding clasp.
The technology behind this watch is phenomenal. The watch therefore offers various extra functionalities. The watch is equipped with luminous indicators, a date display and a second hand. In addition, the watch has a stopwatch function and a tachy meter. The chronograph function is of course very interesting for the enthusiast. In other words, this watch is also very special and complete in the technical field. What makes this watch extra special is that it is a limited edition. This is because this is the limited version of Roger Federer, who is seen as the best tennis player of all time. So if you are a lover of exclusive watches and at the same time love tennis, this watch will certainly be very attractive to you.
Where can you buy this exclusive watch? Only at BensonTrade! This watch is no longer for sale worldwide. BensonTrade also offers only one piece, brand new. This makes this watch absolutely unique and when you want to get your hands on it, you will not have to wait too long. BensonTrade also offers the Maurice LaCroix Federer with a very nice discount. Definitely the time to choose this watch. You can assume that any lover of beautiful watches will admire your Maurice Lacroix Federer watch!
When you order this exclusive watch in our webshop, you will receive it in a luxurious official box at home. Of course BensonTrade offers a 2-year warranty on this watch and you get all official accessories.