Tag Heuer Carrera CV201AG.BA0725 watch
Posted on 17 September 2021 at 12:17 PM
Have you been dreaming for years of a beautiful automatic watch from one of the best brands in the world? We recognize your dream, because that's what we experienced as well. With a passion for watches and especially for automatic watches because of the technique and the beautiful interplay of all parts that ensure that the automatic watch continues to run without the need for a battery. A beautiful Swiss watch from well-known brands such as Rolex, IWC, Omega, Breitling or Tag Heuer is not cheap, but you get a lot in return!
Certain brands within the watch industry set themselves the highest standards when it comes to quality and durability. A Swiss watch brand that falls under this heading is the Tag Heuer brand. This appealing and world-famous brand has been around for 146 years and has thus acquired the necessary knowledge and experience in the production of high-quality watches. In addition, the brand has built up a long and impressive history over the years. A brand with a history can generally be called extra interesting for the real enthusiast. Tag Heuer is also a brand that strives for absolute perfection and that is also known for their ambition, innovation and strong technical development. Every single Tag Heuer watch has to go through about 60 tests before being released on the market. This says enough about how high Tag Heuer sets the bar for itself. This can also be seen in the final product. A Tag Heuer watch stands for top quality, a sublime finish and style.
Tag Heuer watches are equipped with Swiss automatic movements. These timepieces are of course the top in this field and therefore lay a very solid foundation for a high end watch. Moreover, the automatic timepiece is the kind of timepiece that best portrays the real craft of the watchmaker. Quality is of course very important, but the eye also wants something. Tag Heuer offers designs that can be described as stylish as well as robust and tough. With a Tag Heuer watch you wear a watch that can certainly be described as a real eye-catcher.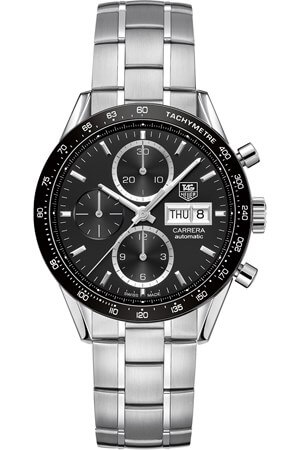 The watches from the different series of Tag Heuer offer diversity and quality. The Carrera series by Tag Heuer is considered an icon of this brand and should therefore not be missed in this article. We are therefore happy to put the specific Tag Heuer Carrera CV201AG.BA0725 watch in the spotlight for you. This watch has a stainless steel case with a diameter of 42 mm. The watch strap of this watch is also made of stainless steel and gives the watch a robust and sturdy look. The dial of the watch is black and features various silver accents. Furthermore, this watch is of course also equipped with a Swiss made automatic movement with which you can always be sure of a very accurate display of the time. The watch is water resistant up to 100 meters. In addition, this watch is equipped with sapphire glass. This glass is extra strong so that scratches or damage will not be visible quickly and you can enjoy your watch for an extra long time.
The special thing about this watch is that it is the Carrera 40th anniversary model, so a true collector's item. This watch has a lot to offer technically. The watch has a date display and a second hand. In addition, the watch is also equipped with luminous indicators. But also a tachymeter, day indication and a chronograph function are not missing. With the Tag Heuer Carrera CV201AG.BA0725 watch you choose a very complete watch in the technical field. In addition, this watch is a true piece of jewelry on the wrist and is suitable for almost any outfit. Whether you opt for a more casual or business style attire, the Tag Heuer Carrera CV201AG.BA0725 is sure to complete your outfit.
As already mentioned, this watch is also an interesting piece for the real collector. Of course this has to do with the Swiss quality of the watch, that is where the preference of the real enthusiast will certainly lie. In addition, it is an anniversary piece, which makes the watch extra special because it refers to a special event. Moreover, all the special technical aspects are certainly also fascinating for the collector. With this watch, Tag Heuer knows how to appeal to a wide audience. We can certainly call this Carrera model one of the showpieces of this Swiss quality brand, a real must-have for the watch enthusiast and collector.
When you choose to order a Tag Heuer watch from us in the webshop, you will receive the watch in a luxury official box with a clear manual and a 2-year warranty. In addition, we specifically offer the Tag Heuer Carrera CV201AG.BA0725 with a nice discount compared to the jeweler's price. You can purchase a genuine Swiss made watch with all the trimmings at an extra attractive price. With this watch, classic and sporty come together, making the watch suitable for almost every personal taste.
Did you know that we also sell watch winders? A watch like the Tag Heuer Carrera CV201AG.BA0725 with an automatic movement is supplied with the necessary energy by the natural movement of the wrist. However, if you are not wearing the watch, a watch winder can meet this need. So do you choose a Carrera watch from Tag Heuer? Then take a look at our wide range of quality watch winders!