The appeal of automatic watches
Posted on 6 October 2020 at 8:58 AM
As lovers of beautiful watches, we see many beautiful watch brands and models passing by every day. Brands that are known, but certainly also watch brands that are less known. We mainly look at the technology, the design, the appearance and the price. This whole must be in balance. The technology is especially important to us because it largely determines the quality, functionality and price. Design is of course also important, but also depends on taste and personal preference. What we like, our customer may find ugly, and the other way around.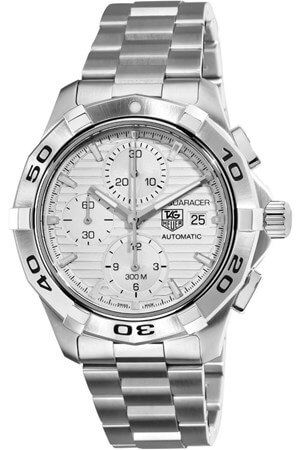 Automatic, mechanical and quartz watches
You can divide watches into roughly three groups; watches with a quartz movement, with a mechanical movement and with an automatic movement. In terms of technology, we are a special fan of mechanical and automatic watches. Where quartz watches are equipped with a battery, a mechanical movement has a winding movement. By turning the crown you wind the movement so that it starts to run. You have to do this about every 30-40 hours or else the watch will stop. It is one of the purest forms of watch technology, and perhaps the purest.
An automatic watch needs movement to function. By wearing the watch, the rotor of the movement moves, which tensions a spring. When the spring then relaxes, the movement will run. You can also provide an automatic watch with energy by turning the crown. An automatic watch can therefore obtain energy in two ways, causing it to run, a mechanical watch only one way.
Most major brands such as IWC, Breitling, Rolex, Tag Heuer, Omega etc etc mostly make automatic watches. This is because the automatic technique is a pure form and it is easier to use than a mechanical watch. It winds itself up when used. If you have several automatic watches, of which you only wear one or a few, you can of course use a watch winder to wind the other watches and always have it ready to wear. A watch winder simulates wrist movement, which keeps the watch running. Handy and fun to watch!
The advantages of automatic watches
Automatic watches have a great appeal for watch enthusiasts. As described, the automatic technique is one of the purest forms and is also many decades old. In addition, it is of course a beautiful form of technology given the many parts of the movement that all have to work together perfectly to lead to a good time display.
The technique is an important advantage. In addition, the fact that you never have to use a battery is an advantage. The movement winds itself with sufficient movement, making a battery unnecessary. So you never have to install a new battery. As a result, the watch does not have to be opened to insert a new battery, whereby the watch loses its water resistance. When the battery of a quartz watch is empty, a new battery must be in the watch, after which the water resistance must be carefully checked. After the battery change, the watch must be properly waterproofed again. This is something many people forget and can cause problems when you automatically assume that the watch is waterproof. With an automatic watch, the case hardly ever needs to be opened, so that the water resistance remains intact. Naturally, the case must be opened every few years when maintenance is carried out.
Another great advantage of automatic watches is the exclusivity and originality. With an automatic watch, from Epos, for example, you have something special on your wrist. Most major watch brands are known and become big for their fantastic automatic watches. Brands such as Tag Heuer and Maurice Lacroix have a wonderful history and tradition in the field of automatic watches. A less known watch brand such as Iron Annie also produces very nice watches with very attractive prices. You can already buy an automatic Iron Annie watch from EUR 479.00.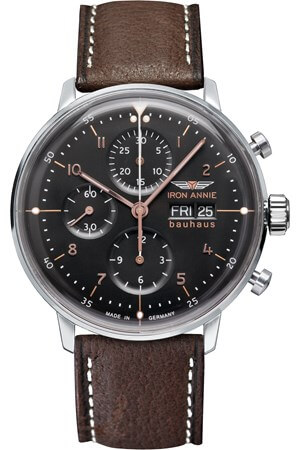 The disadvantages of automatic watches
Automatic watches have many advantages, but do they also have disadvantages? The answer is yes. A disadvantage is the sensitive technology. An automatic movement consists of many parts. If one or more parts do not function properly, the movement will no longer run properly. This usually occurs when the watch has been hit, bumped or dropped. In this case, the watch may stop running or show an abnormality in the time display. In the latter case, the movement must be readjusted.
Because of the more vulnerable technology, maintenance, service or repair is often also expensive. When purchasing an automatic watch, also take into account higher maintenance costs. On the other hand, you save the costs of replacing the battery and making the watch waterproof again.
One of the biggest drawbacks of automatic watches is that they are almost always more expensive than quartz watches. The main reason is the difference in technology. An automatic movement is much more complicated and more expensive than a quartz movement. This is directly reflected in the price of the watch. Is an automatic watch always more expensive? No, there are also many watch brands that produce excellent automatic watches for attractive prices. For example, the Meccaniche Veneziane watches are highly recommended. This Italian brand offers excellent quality and beautiful designs for very competitive prices. In this way, an automatic watch is affordable for a large group of watch enthusiasts.
What makes an automatic watch so much fun?
A watch enthusiast will certainly have one or more automatic watches in his or her watch collection. The appeal of this type of watches is great because of the advantages mentioned above. In addition, the exclusivity and originality that many brands offer ensures watches that are very popular. Just think of the popular Tag Heuer Carrera watches. These watches are timeless, in the best sense of the word, and retain their authentic design and design. This makes the Carrera watches from Tag Heuer an icon.
Watch enthusiasts are often also interested in cars, motorcycles, boats and airplanes. They are interested in the technology inside the automatic watch. We like automatic watches so much because they are a perfect combination of interesting technology that is actually very old, but is still the benchmark today.
Often watch brands that produce automatic watches are also more interesting in terms of tradition and history. Just think of Breitling watches. This Swiss brand has a wonderful history and produces very high-quality watches that will last generation after generation.
If you have several automatic watches, it is best to wind them in a watch winder. The revolving watches in beautiful watch winders, from Paul Design or Benson, for example, is a beautiful sight. Today's watch winders are real eye catchers and interior pieces that also wind all automatic watches so that they are immediately ready to wear. As a watch enthusiast, you should definitely take a look at a watch winder, if you are not already using one.
Our favorite automatic watches
There are of course many beautiful watch brands that make automatic watches. But if we have to pick a few personal favorites, it is the automatic watches from Epos, Meccaniche Veneziane, Iron Annie and Tag Heuer. All these brands have different designs and prices. Tag Heuer is a prestigious brand from Switzerland, just like Epos. Iron Annie watches are made in Germany and are very affordable. Meccaniche Veneziane is in between in terms of price. These watches have a clear Italian origin.
The nice thing about these watch brands is that they all produce automatic watches in their own way. One brand with Swiss movements, the other with Japanese movements. We do not have to explain the appearance and class of Tag Heuer to a watch enthusiast. Epos is a Swiss watch brand that produces sporty and classic watches with Swiss timepieces, so you are assured of quality. The nice thing about an Epos watch is the attractive price. For a Swiss made watch from Epos you can already succeed from 1000 euros.
The German Iron Annie produces more classic watches with a Japanese automatic movement. The emphasis is on a nostalgic look and affordable price. Meccaniche Veneziane has quite modern and sporty watches in its collection. With prices from 495 euros, this Italian brand is a very good choice if you want to wear a quality watch for a competitive price.
Conclusion
If you love watches, you have certainly considered buying an automatic watch. You may have one or more automatic watches in your possession. The choice for an automatic watch is actually very logical. The advantages of automatic watches certainly outweigh the disadvantages. With such a watch you wear a piece of pure technology and originality on your wrist. In addition, you can choose from many different brands, for example from Switzerland, Germany or Italy, which manufacture beautiful watches. But good watches are also made in other countries.
In terms of budget, there is also a lot of choice. It starts at around 300 euros for a good automatic watch. But you can also look at a Tag Heuer Carrera watch that costs a few thousand euros. There is a lot of choice in between. In any case, always choose a brand that uses a Swiss or Japanese automatic movement in its watches. These have proved to be of excellent quality and very reliable. Avoid a watch with a Chinese movement… Better pay a little more for good quality, because a defective automatic watch is of no use. This only results in more costs!
After wearing an automatic watch, you probably don't want anything else. If you become as much a fan of automatic watches as we do, make sure you already have some savings. Because the more you pay attention, the more fantastic automatic watches you will see! An addiction is then born :)