Watch brand of the week: Iron Annie
Posted on 8 November 2021 at 3:32 PM
The German watch brand Iron Annie is one of our favorite watch brands. This watch brand is very distinctive in terms of design and produces high-quality watches at very competitive prices. As a result, a good watch also comes within the reach of enthusiasts who do not have thousands of euros to spend. An Iron Annie watch is mainly distinguished by German quality, attractive designs and a wide choice of timepieces.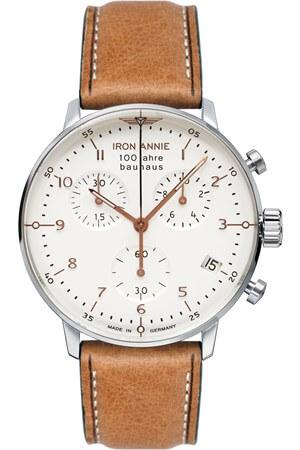 As an official dealer, we have been selling this brand for over 3 years now and to full satisfaction. In these 3 years we have not received a single Iron Annie watch return with a defect. This means that the quality is good. The watch collection of this German brand starts from 199.00 euros and that is a very competitive price for a watch that is made in Germany.
Iron Annie is part of the parent company Pointtec, as is the Zeppelin watch brand, which is also part of our watch collection. Iron Annie is still a relatively young brand, but still manages to take us back to the days of yore. The brand offers pilot watches that are inspired by various aircraft from aviation history. This is a very interesting brand for the true lover of watches and a piece of history.
The Iron Annie watches are also characterized by the good price/quality ratio. The watches are of very good quality but at the same time affordable. Because the Iron Annie collection is also very diverse in terms of appearance and type of timepiece, the brand knows how to appeal to a wide audience. Iron Annie watches are handcrafted with the utmost care and perfectly finished in Germany.
The name 'Iron Annie' can be traced back to the JU52 aircraft with the registration D-AQUI. At the time, these aircraft were christened 'Iron Annie' by the Americans, because of their appreciation for these aircraft. The watches in the Iron Annie collection meet all the conditions to be allowed to bear this name. Like the aircraft from history, they offer reliability, robustness, high technology and an original design. The Iron Annie collection offers watches with an automatic movement, as well as watches with a mechanical or quartz movement. With this Iron Annie knows how to serve almost all enthusiasts.
The Iron Annie collection consists of several series of watches, of which the pilot's watches are probably the best known. But let's take a look at Iron Annie's Bauhaus models, because these will certainly appeal to you as a watch lover. We would like to explain a number of watches from the collection, starting with the Iron Annie Bauhaus 5096-4 watch. This model comes from the Iron Annie Bauhaus series and has a characteristic and traditional look. Characteristic for the watches from the Bauhaus series is the minimalist design, in other words the modest character of the watches. These watches are inspired by the Bauhaus art movement, which shares the same characteristics. Specifically, the Iron Annie Bauhaus 5096-4 has a beautiful leather strap in a light brown shade. The dial is white with light brown accents as well. The watch case is made of stainless steel and K1 mineral glass has also been used. This watch is also equipped with a quartz movement (ETA) and is water resistant to 50 meters. The watch also offers several nice extra functionalities, such as a chronograph function, luminous indicators, a date display and a seconds hand.
Another beautiful model from the Iron Annie collection can be found in the Iron Annie Amazonas series. The Amazonas watches are inspired by the historical aviation of cargo and passengers in South America. The model that we would like to put in the spotlight is the Iron Annie Amazonas 5977-4 watch. This model is equipped with a beautiful and comfortable leather watch strap in the color brown. This in combination with the classic blue timepiece gives the watch a classic and stylish look. The watch is equipped with a quartz movement from the Miyota brand and is water resistant to 50 meters. This watch offers not only a date display and second hand, but also luminous indicators and a moon phase indication. This last function also immediately gives extra character to the dial, this will certainly mean a plus for the real enthusiast. The watch case of this watch is made of stainless steel and has a diameter of 10 mm. Finally, the watch closes with a buckle clasp.
From the Amazonas series we move on to the Iron Annie Flight Control Series. Each watch from the Iron Annie Flight Control Series is available with a leather strap or a milanese stainless steel strap. The watch we specifically mention here is the Iron Annie Flight Control 5122-2 watch. This pilot's watch is optionally fitted with a dark brown leather strap with cream stitching. The dial is black with cream colored accents as well. This is a watch with a nostalgic and retro approach, which will satisfy the lover of a piece of history. The watch has an automatic movement and is water resistant to 50 meters. Furthermore, this model offers a seconds hand and date display. In addition, the watch has a nice chronograph function and luminous indicators.
Of course, with these 3 models we have only mentioned a small selection from the Iron Annie collection. The collection consists of many different watches and therefore offers something for everyone. Iron Annie also offers quality and class for enthusiasts with a smaller budget.
BensonTrade is an official dealer of Iron Annie and we can supply almost every watch from the collection from stock so that you can quickly enjoy your purchase. The Iron Annie watches come with a clear manual and a 2-year international warranty. So take a quick look at the Iron Annie watches in our range!