Watch winder for 24 watches
Posted on 1 December 2020 at 4:33 PM
A good watch winder winds automatic watches safely and quickly. The watch winder simulates wrist movement as if the watch is being in motion because you are wearing the watch. This makes the rotor of the automatic movement turn around and the spring is tensioned. When it relaxes, the automatic movement starts to run.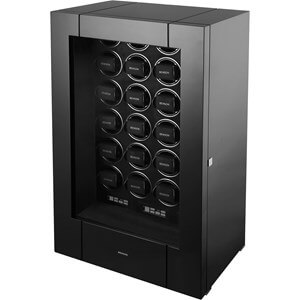 Most watch winders are suitable for 1, 2, 3 or 4 automatic watches. Simply because most people don't have a lot of watches. But the real watch collector has several automatic watches and therefore also needs a larger watch winder. There are watch winders for 8, 12, 16 and 20 watches and even models for 24 watches. These larger watch winders have the advantage that you can wind many automatic watches in them and you keep all watches in one beautiful place. This gives you a good overview and you can quickly take the desired watch out of the watch winder to wear.
Larger watch winders
When you are looking for a watch winder for, for example, 24 watches, you have different requirements than when you are looking for a watch winder for 1 or 2 watches. A watch winder for 1 or 2 watches is often quite simple in terms of functions and design. The fact that they have a compact design is an advantage because you can place them anywhere. You don't need a lot of space to wind your watch. A watch winder for 1 watch must above all be functional, the appearance or design is less important.
Other things play a role in watch winders with a larger capacity. For example, it is important that you can wind every watch properly and safely because there is enough capacity. In addition, nice extras such as extra storage space, LED lighting, a lock to close the watch winder and a luxurious design are important aspects. A larger watch winder is not cheap, so you can expect extra luxury and extra functionalities. A watch winder for 24 watches is a fairly large case that not only provides your automatic watches with energy, but is also seen as an interior piece. A large watch winder looks great in any interior and is often an eye-catcher.
Benson Black Series Pro 24.19.B watch winder
A good example of a fantastic watch winder for 24 watches is the Benson Black Series Pro 24.19.B. This model is suitable for any automatic watch, regardless of watch brand or model. The cabinet is made of wood and has 12 layers of paint and is fully polished. The glass door provides an optimal view of the rotating watches. The door can also be closed with a lock on the side. This allows you to keep the watches out of reach of others.
The heart of the Benson Black Series Pro 24.19.B watch winder is formed by 24 Japanese motors, each individually adjustable in terms of direction of rotation and number of revolutions per day. These motors are of very good quality and very durable, so you can enjoy them for years to come.
You operate the watch winder by means of the built-in touchscreens. Via these touchscreens you can operate each rotor individually and choose the desired settings. You can also activate or deactivate the LED lighting via the touchscreen.
The case is black in color and stands on 4 stainless steel feet for a modern and luxurious design. In the case you can wind up 24 automatic watches, but there is also a drawer where you can store other watches or jewelry. This allows you to keep all your watches and jewelry in one place, namely in the watch winder. This is useful when you change daily wearing of watches. The watch winder is often placed in the bedroom, dressing room or office. But you can actually place the watch winder for 24 watches anywhere.
The advantage of the Benson Black Series Pro 24.19.B watch winder is the incredibly good price/quality ratio. There are simply no other watch winders for 24 watches that offer the same quality at such an attractive price. The Dutch brand Benson has succeeded in producing very good quality watch winders that are up to 2 to 3 times more expensive at competing brands. The Benson designs are modern and have a luxurious look. With the extra functionalities such as a drawer, lock and LED lighting, Benson distinguishes itself from other brands. But let's not forget modern technology. While many watch winder brands still make watch winders with physical buttons, Benson quickly opted for modern operation, making the watch winder much easier to operate and optically much more beautiful in design and luxurious appearance.
Quality, functionality and finish
Quality is of paramount importance at Benson Watchwinders. As a result, the brand has built up an excellent reputation in a relatively short time and it is one of the best known brands that produce watch winders.
During the development of the Benson Black Series Pro watch winders, the optimal winding of automatic watches was not only considered. The brand has also paid a lot of attention to the quality of the materials, the workmanship and good functionality. This combination makes the Benson Black Series Pro 24.19.B watch winder an excellent choice for the true watch collector and watch fan.
The excellent properties are also reflected in the 2-year international warranty that Benson offers on its Black Series watch winders. This gives you clarity and certainty as a customer. Modern technology ensures an optimal energy supply for your automatic watches. In addition, the beautiful Benson Black Series Pro watch winder will certainly attract the attention of your family, friends and other watch fans.
Official dealer of Benson Black Series Pro watch winders
We are official dealer of Benson and have almost all models of this Dutch brand in stock and immediately available. Each watch winder comes with a warranty, manual and sturdy packaging. In addition, as an official dealer, we are of course easily accessible for advice and help. We are also happy to be of service outside the warranty period. In the Netherlands we have our own service point where we can maintain and/or repair every Benson watch winder.
Take a quick look at our collection of Benson Black Series Pro watch winders and become convinced of the absolute top quality, perfect finish and high functionality that this generation watch winders offers.