Zeppelin watch
Posted on 20 October 2021 at 8:30 AM
Do you know the majestic Zeppelin aviaton ships? These special aviation ships was a major step forward in aviation at the time and has therefore played an important role in aviation history. The Zeppelin was designed by aviation pioneer Ferdinand Graff von Zeppelin. The German watch brand Zeppelin finds its inspiration in this special personality.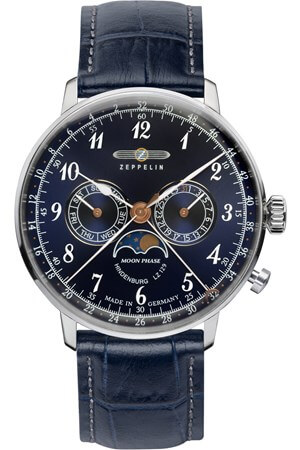 A watch brand like Zeppelin is an interesting brand for a wide audience. This is partly due to the fact that Zeppelin watches not only deliver high quality, but are also affordable. The price/quality ratio is therefore very good. Furthermore, Zeppelin offers watches with different types of movements. You will therefore find watches with quartz, mechanical and automatic movements in the collection. This means that there is a suitable watch available for every personal preference.
Zeppelin also offers a diverse collection in terms of appearance. Although we see nostalgia and historical design returning in the designs, the brand offers both more traditional models with a somewhat sportier look. The watches are also equipped with modern timepieces and the German reliability guarantees a long life. Zeppelin sets high standards for its products. The Zeppelin watches are therefore extensively tested after production before they are delivered to the customer. Zeppelin is not only a very interesting brand for enthusiasts because of the good quality that the brand offers. The fact that it is a brand with a piece of history and a nostalgic approach will also appeal to many enthusiasts. Moreover, Zeppelin is a well-known brand, but a somewhat smaller brand, which means that extra attention is paid to quality and finish.
We would like to highlight a few models from the diverse Zeppelin collection for you. We start with a model that comes from Zeppelin's anniversary collection, namely the Zeppelin 100 years series. This concerns the specific model Zeppelin 100 Years 7680-2. This is a quartz watch with a Swiss made movement and a beautiful black leather strap. Both the dial and the watch strap are black with white accents. The watch case is made of stainless steel and has a diameter of 42 mm. Furthermore, hardened mineral glass has been chosen and the watch is water resistant up to 50 meters. The watch also offers nice extra functionalities. For example, the watch is not only equipped with a seconds hand and date display, but also with a chronometer and tachymeter.
Another special model from Zeppelin is the Zeppelin LZ129 Hindenburg 7036-3, from the Zeppelin LZ129 Hindenburg series. This watch stands out because of the choice for stylish classic blue, for both the leather watch strap and the dial, on which the moon phase indication gives a nice accent. This is also a Swiss-made quartz watch. This timepiece is from the brand Ronda. In addition to the moon phase function, this watch also offers a date display and a seconds hand.
The third watch from the Zeppelin collection that we would like to mention is the Zeppelin Night Cruise 7260-2. This watch has a completely different look than the 2 models mentioned above. This watch is a very sporty and robust watch and therefore has this appearance. As far as the color is concerned, black with red and white accents has been chosen. The watch strap of this watch is made of plastic. This is also a completely different watch when it comes to the timepiece. This watch is equipped with an automatic movement. The watch case is made of stainless steel PVD and hardened mineral glass has also been used. This watch closes with a buckle clasp. The watch is also equipped with a date and day display, second hand and a power reserve indicator.
The last model that we put in the spotlight is a ladies watch. This watch comes from Zeppelin's 'Princess of the sky' series and is also an anniversary model. This concerns the Zeppelin Princess of the Sky 7439-1. This watch is a very stylish and elegant watch for the fashion-conscious woman. What is special is that this watch can not only be worn on the wrist, but also around the neck. The watch is fitted with a white leather watch strap. The dial is made of silver and the watch case is made of stainless steel. As for the glass, very strong sapphire glass has been used. The rose-colored accents on this watch give it an extra luxurious look. This is a watch with a Swiss made quartz movement, which of course forms a very solid basis. The watch is also equipped with a seconds hand.
The Zeppelin models mentioned above are just a small selection from the extensive collection. As an official dealer of this German brand, we can supply any watch from the current collection. In addition, we offer you certainty as an official dealer. When you order a Zeppelin watch from us, you will receive it at home in a luxurious official box, with manual and a 2-year warranty. So take a look at our webshop now and choose your favorite Zeppelin watch!