Swiss Kubik Startbox Grey watch winder
Posted on 4 February 2021 at 8:32 PM
Are you looking for a new watch winder? For example, because you do not always want to manually wind your favorite automatic watch, or if you have bought a new automatic watch so that you want to place your other automatic watch in a watch winder? In that case, we can help you make a choice. In this article we will help you on your way. First of all, it is important to ask yourself what you expect from a good watch winder. There are many different watch winders and it is a lot easier to make a choice if you have determined the most important characteristics for yourself. In addition, the budget is of course important, because there are many price differences in the field of watch winders. Often related to quality, durability, functions and country of production.
If the quality of the watch winder is only the most important for you and you do not attach too many conditions to a unique design or luxury, Swiss Kubik offers you the ideal watch winder. With a Swiss Kubik watch winder you automatically choose one of the best watch winders without having to pay a top price. The brand has been a respected name in the field of very high quality watch winders for years. Swiss Kubik produces its watch winders in Geneva (Switzerland) using an intelligent production process. This brand only goes for the best. Not only in terms of materials, but also in terms of technology.
Swiss Kubik has an extensive collection of watch winders with different capacities. For example, the Swiss Kubik collection houses watch winders for winding one automatic watch, but also the real collector can go there for a watch winder with space for winding up to 12 watches. Various other options can be found in between. Swiss Kubik's design is characterized by its compact shapes and minimalist design. The watch winders are sleek and modern in terms of appearance. Regarding the use of materials, we can say that at Swiss Kubik this is very diverse. For example, materials such as aluminum, polyamide, leather and wood are used. This means that the different models with the characteristic design are nevertheless executed in various styles.
However, if you are looking for a watch winder that is suitable for winding one automatic watch, the Swiss Kubik Startbox Grey watch winder is highly recommended! This watch winder offers Swiss made quality and has everything that a good watch winder should have. You also choose a watch winder that you will enjoy for years to come, as Swiss Kubik is known for its durability, quality and reliability. The Swiss Kubik Startbox Grey comes in the color grey and has a black interior. The material of which this watch winder is made is polyamide. In addition to the gray exterior, this specific watch winder is also available in various other vibrant colors, such as black, red, blue and orange. Swiss Kubik thus offers something for everyone and a suitable color for every watch or interior.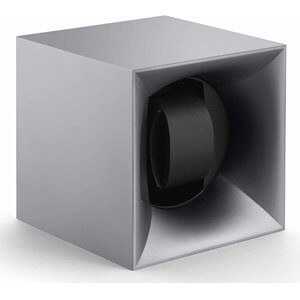 Naturally, the Swiss Kubik Startbox Grey watch winder is equipped with a Swiss made motor. This quiet and powerful motor is very efficient and also energy efficient. They have the additional advantage that they can work for up to 3 years on a set of AA batteries. The combination of the compact design with battery operation makes this watch winder easy to take with you when traveling and to the office. Moreover, it is possible to place the watch winder and your beloved watch in a safe, so that they are stored extra safely.
The watch winder is programmable and suitable for any automatic watch, regardless of type or brand. Naturally, the Startbox Grey is also provided with overwind protection. Swiss Kubik offers options with the slightly more expensive Masterbox watch winders that can be included for an additional fee. These options are not available for the Startbox watch winders. For the Masterbox models, there are optional glass doors available, which give your watch extra protection against external influences. You can think of dirt, dust and condensation or, for example, children's hands. It is also possible to order an adapter, but smaller watch holders are also an option. This makes your watch winder suitable for smaller ladies and gentlemen watches.
In short, it is absolutely possible to purchase a completely complete and efficient watch winder of Swiss made quality for an attractive price. and then also one of a brand that is not only very well known, but has also earned its credits in this field over the years. With the Swiss Kubik Startbox Grey watch winder you have a suitable watch winder for every automatic watch. The watch winder simulates natural wrist movement, which provides the watch with energy. Are you looking for a good watch winder of impeccable quality that will safely wind your automatic watch, then the Swiss Kubik Startbox Grey watch winder is an excellent choice.
As an official Swiss Kubik dealer, we offer you the latest models, excellent service and a competitive price. We deliver most watch winders directly from stock and ship worldwide. In our webshop you can pay with your credit card, Ideal, Paypal or bank transfer. We ship registered and insured via FEdex, DPD and PostNL. Quickly view the current Swiss Kubik watch winder collection.