Swiss Kubik Startbox Blue watch winder
Are you looking for a watch winder for 1 automatic watch? Then this is a nice article for you. A watch winder is indispensable as an addition to a beautiful, quality watch with an automatic movement. It provides the energy for the watch when it is not being worn. In other words, where the natural movement of the wrist normally provides the necessary energy, a watch winder takes over when you are not wearing your watch. It is clear that an automatic watch and a watch winder are an excellent combination. But when you are looking for a good watch winder for your beloved automatic watch, you will find out that there are many possibilities. And that there is a good chance that you don't exactly know what to choose. We will give you some advice in this article.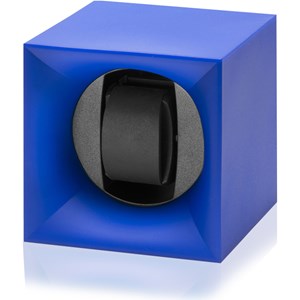 If you have 1 automatic watch, a watch winder that is suitable for winding 1 watch will be the best choice. However, if you plan to expand to multiple watches, or when you already have a nice collection, there are also watch winders available with space for a number or even a whole collection of automatic watches. Before you buy a watch winder, you must therefore determine how many watches you want to wind, taking into account the near future.
In this article we focus on the enthusiast who is looking for a watch winder for winding one automatic watch. As far as the choice of brand is concerned, the enthusiast will certainly be aware that the best in this field can be found in Switzerland. Switzerland is therefore the watch country pur sang. A particularly beautiful Swiss watch winder brand is Swiss Kubik. The Swiss Kubik watch winders are known and loved all over the world for a reason. With a watch winder from Swiss Kubik you opt for pure quality, high-quality technology and a sublime finish. Not only will you find within the collection of Swiss Kubik watch winders with various capacities, but also in terms of budget there are many different options. This means that you can already opt for a high-quality watch winder from Swiss Kubik for an attractive price, without having to compromise on quality.
With a Swiss Kubik Startbox watch winder you choose the entry-level model from Swiss Kubik (formerly known as the Swiss Kubik ABS watch winders). These watch winders offer everything your automatic watch needs and provide an efficient and gentle way of winding. The design, on the other hand, is simple, sleek and clean. The watch winders are not equipped with all kinds of extra functionalities.
The Swiss Kubik Startbox Blue watch winder is a model that is equipped with a beautiful blue exterior. In addition to this color, you can also choose the colors black, gray and red. As far as the material is concerned, polyamide has been chosen for this series of watch winders. The Swiss Kubik Startbox Blue watch winder has a compact design in a modern cube shape for which this special brand is known. Because this watch winder is small in size, it is easy to place in any interior. In addition, the watch winder works for up to 3 years on a set of AA batteries. This combination of features makes this watch winder very suitable to take with you on a trip or to the office, but it is also possible to place it in a safe. So if you prefer to choose an optimal safe place for your watch, this is a very good option.
Of course, the Swiss Kubik Startbox Blue watch winder is equipped with a Swiss motor. This is seen as the absolute best type of motor. These motors are reliable and durable, but also energy efficient and quiet in use. This way you will not be disturbed by annoying and disturbing noises during the winding process. The nice thing about these Startbox entry-level models from Swiss Kubik is that they are affordable and at the same time also suitable for winding any automatic watch. It doesn't matter which watch brand you have.
You can purchase a watch winder for a great price that has a lot to offer in terms of quality and effective winding. With a Swiss made product, such as this Swiss Kubik Startbox Blue watch winder, you can be sure at all times that your watch will keep running on time and is ready for use when you want it. In addition, you prevent your watch from standing still and the associated possible inaccuracies in time and date display.
If you are looking for a watch winder that is reliable and durable, Swiss Kubik is the right place. When you choose a Swiss Kubik Startbox Blue watch winder, or one of the other high-quality watch winders from Swiss Kubik, you will receive it at home with a 3-year warranty. The fact that this guarantee is given says enough about Swiss Kubik's confidence in its own products.
We are official dealer of Swiss Kubik watch winders. This means that we are authorized by the Swiss brand to sell its products. We have almost all popular models in stock. Each watch winder comes with a warranty, manual and sturdy packaging. Take a quick look at the current Swiss Kubik collection.
Read more >>Posted on 22 April 2021 at 11:38 AM