The best watch winders for 8 watches of 2022
Watch collectors all over the world use a watch winder. The general opinion is that the watch winder was developed as a watch accessory by the Italian brand Scatola del Tempo. Sandro Colarieti, founder of this special brand and avid lover of automatic watches, was looking for a way to ensure that automatic watches did not come to a standstill when they were not worn. After all, automatic watches depend on the natural movement of the wrist for their functioning. With the development of the watch winder, Scatola del Tempo has aroused the interest of many enthusiasts and collectors.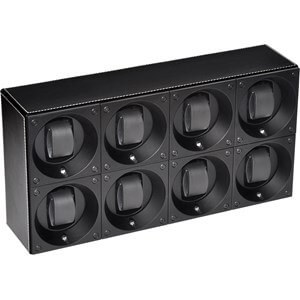 Over the years, various brands have come onto the market with high-quality and luxury watch winders, which offer more than just winding automatic watches. This is, of course, the most important function. A good model also offers a safe storage place. In the field of high-quality watch winders, there is a choice of different brands, each with their own advantages and disadvantages. Moreover, watch winders are available in different capacity, design and in different price ranges.
Swiss watch winders are very well known, just like Swiss made watches. In addition, brands in Germany also know how to deliver solid and reliable quality. But don't underestimate the Dutch brand Benson. This brand is on the rise and many watch enthusiasts have a Benson watch winder or are familiar with the brand. Benson offers watch winders of a high and durable quality. The brand chooses high-quality materials and uses both Swiss-made motors and Japanese motors. Both of these motors have the advantage of not only being energy efficient, but also very quiet in use. In addition, they are powerful and extremely reliable and therefore always ensure that your watches are ready to wear.
In this article we describe three watch winders that are suitable for winding 8 automatic watches. These models come from 3 different brands. We have opted for the Dutch brand Benson, the German brand Heisse & Söhne and the Swiss brand Swiss Kubik. Each of these 3 watch winders is suitable for winding up to 8 watches and therefore extremely suitable for the real collector.
The first watch winder that you should really see when you want to purchase a watch winder for 8 automatic watches is the Benson Black Series 8.16.MA. This model of Dutch origin has a very luxurious look. This watch accessory is made of beautiful wood (macassar), which is combined with the color black. On the inside, the Benson Black Series 8.16.MA is lined with a special soft fabric that ensures that your automatic watches are protected against scratches or other damage. The Benson Black Series 8.16.MA watch winder can be closed with a glass door, which offers a bit of extra protection. At the top, this model is also equipped with a soft-close lid that provides access to the built-in storage space for 6 extra watches or, for example, other jewelry. The Benson Black Series 8.16.MA watch winder therefore not only has the capacity to wind 8 watches, but also offers extra storage space. This way, as a collector, it is possible to keep everything neatly together.
This watch winder from Benson is equipped with Japanese motors with which you are sure of a solid base. By means of the innovative touchscreen it is possible to set each watch individually per rotor with regard to, among other things, the direction of rotation and the number of rotations per day. In addition, you can also switch the built-in LED lighting on and off along this route. With this LED lighting, this watch winder always offers a nice view of your watches. The Benson Black Series 8.16.MA has an overwind protection and a speed winding function. With this last beautiful functionality you can wind your watches in a short time. As icing on the cake, this watch winder is equipped with a USB connection. In short, with this model from the most luxurious line of the Benson collection, you are in the right place as a collector. Because of the good price/quality ratio that this brand has to offer, you also get a lot of value for money.
A second model that we would like to mention is the Heisse & Söhne Triton 70019-131.33.37 watch winder. This model from the German brand Heisse & Söhne is one of the newest models in the collection. This watch accessory exudes allure and class due to the combination of the particularly beautiful color wood, the black interior and the beautiful foot. Every collection of automatic watches will look extra beautiful in this stylish watch winder. The Heisse & Söhne Triton 70019-131.33.37 can be closed with a glass door and is additionally secured with a modern fingerprint lock. This watch winder offers space for winding 8 automatic watches. Regardless of the brand or type of watch, this model always offers an efficient and effective way of winding. The settings are easy to change per rotor with regard to the number of revolutions per day and the direction of rotation. When you switch on the built-in LED lighting, you have an extra nice view of your watches.
This Heisse & Söhne Triton 70019-131.33.37 watch winder is equipped with Japanese motors and offers an overwind protection and sleep mode. This allows you to give your watches some peace of mind by keeping them just below the optimal level of excitement. With the Heisse & Söhne Triton 70019-131.33.37 you are therefore not only opting for a model with a very chic look that will absolutely steal the show, but also for a high-end watch winder in the technical field.
The last watch winder that we highlight is the Swiss Kubik 8 W Leather Black SK08.CV001, from the worldwide known Swiss brand Swiss Kubik. Like the previous 2 models, this model offers capacity for winding 8 watches. Characteristic for the watch winders from Swiss Kubik are the cube-shaped designs and compact design. This also applies to this model from Swiss Kubik. This watch accessory from this Swiss brand is covered on the outside with high-quality black leather, the sublime finish is clearly visible. The interior of the watch winder is also black in color. The Swiss Kubik 8 W Leather Black SK08.CV001 has a sleek and modern look.
Of course, the Swiss Kubik 8 W Leather Black SK08.CV001 is equipped with Swiss made motors of unprecedented quality. The watch winder is adjustable using the USB connection. This luxury watch accessory is of course suitable for winding any type or brand of automatic watch. Due to the compact design in combination with the battery operation, this watch winder is easy to move and even take with you on a trip or to the office. This also makes placing the watch winder in a safe a good option. With a watch winder of this caliber you choose a watch accessory that will provide you with years of pleasure.
Quality watch winders are thus available to a wide audience as they are offered in different price segments. In our webshop you will find a very wide range of quality watch winders. This makes it possible for every watch enthusiast and/or collector to purchase a model that suits his or her personal taste and preferences and available budget. It is always wise to make a purchase as a watch winder from an official dealer. We are official dealer of various quality brands. The big advantage of this is that you can make your purchase with confidence and that we can offer you the best service, latest collections and best prices. View our large collection of watch winders now and find your favorite one.
A good watch winder ensures that your beloved automatic watches no longer come to a standstill. This is handy and benefits the durability of the watches!
Read more >>Posted on 21 January 2022 at 5:18 PM