Benson Black Series Pro 20.10.B watch winder
A watch winder can be called an essential accessory for the enthusiast with one or a few automatic watches as well as for the avid collector. Of course, a collector has different requirements with regard to the watch winder than those who only have one automatic watch. After all, the watch winder must offer enough space for the entire collection. In addition, it is important that the rotors can all be set individually, especially in terms of rotation direction and the number of rotations per day. This way you can set the most ideal way of winding for each watch individually and in this way offer each watch exactly what it needs. An avid collector will also find it important to be able to present his great pride in a stylish way. However, quality is of equal importance to the enthusiast and collector. After all, it is about preserving your watch or watches. Moreover, you want to enjoy your watch winder for a long time and be able to rely on it at all times.
When you are looking for a suitable watch winder as a collector, you can very well go to our own country. The Dutch brand Benson offers a beautiful collection of watch winders for both the watch fan with a single watch and the real collector. The strength behind the Benson brand is a combination of a very good price/quality ratio, technical finesse and an elegant appearance. Benson uses both Swiss made motors and Japanese motors for the various watch winders from the collection. These motors both have the advantage that they are not only reliable, but also energy-efficient and quiet. The powerful Swiss and Japanese motors are suitable for winding any automatic watch, regardless of the brand or type of watch. Benson also opts for the use of flexible watch holders for the watch winders in the collection. This allows you to effortlessly place any automatic watch in the holders.
In the Benson Black Series Pro collection we find watch winders equipped with the aforementioned Japanese motors. Beautiful models for the real collector can be found in this series. The Benson Black Series Pro 20.19.B watch winder is a stylish watch accessory with space for winding up to 20 automatic watches. In addition, the drawer at the bottom of the watch winder also offers storage space for extra watches or any other jewelry. This way you can keep everything neat and orderly together. The watch winder is made of very high-quality wood and then provided with no less than 12 layers of paint and a protective layer of lacquer. Benson leaves nothing to chance with this. This model comes in the color black and therefore fits in almost any interior. The watch winder can be closed with the glass door. This ensures that you can keep harmful external influences away from your watches and still have a good look at them at all times. In addition, this model is equipped with built-in LED lighting. With this you present your watches in a professional manner and you can view them properly at all times. The Benson Black Series Pro 20.19.B watch winder also has a lock with key. This way, your watches are optimally stored safely. The keyhole is very beautifully finished, which once again emphasizes the luxurious character of the watch winder. The interior of this watch winder is inlaid with a special soft velvet. This offers your watches protection against scratches or other damage.
The Benson Black Series Pro 20.19.B watch winder offers the programs CW, CC and Alt and an overwind protection. The latter function provides protection against overvoltage. The rotors are all individually adjustable. Setting up the watch winder is easy and fast using the innovative touchscreen. The special power winding function offers you the possibility to provide your watches with the necessary energy in a short time. Very useful if you are short on time. The energy supply of this model is via an adapter. Finally, the watch winder is equipped with a USB connection. With the Benson Black Series Pro 20.19.B watch winder, Benson offers a very complete watch winder, with which the real collector never again has to worry about standstill or damage to his watches. The watch winder also functions as a professional display for every collection and ensures that every automatic watch in your collection looks extra nice. With this watch winder you choose a real eye-catcher. Especially when you switch on the LED lighting, you put your watches in the spotlight.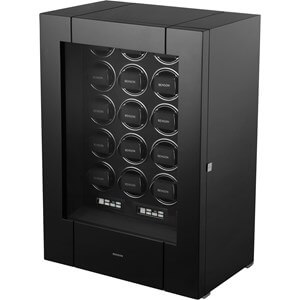 The Benson Black Series Pro 20.19.B watch winder is supplied by us with a 2-year warranty and a certificate. We also offer the entire Benson collection in our webshop. Benson knows how to keep the prices of the watch winders attractive by having them manufactured in-house. With this they also keep a strict control on the quality of the watch winders. If you want to purchase a stylish handmade watch winder of high quality, Benson watch winders are an excellent choice! View the Benson collection in our webshop and convince yourself of the possibilities!
Read more >>Posted on 4 July 2022 at 2:14 PM