Benson Black Series Pro 24.19.B watch winder
For the true enthusiast and collector of automatic watches, only the best is good enough. Also with regard to the indispensable accessory in this area, namely a watch winder to provide your automatic watches with optimal energy. The best does not automatically mean the most expensive. Within the watch winder market there is a very wide range of watch winders that are especially suitable for the collector of automatic watches. The ideal choice is a watch winder with a larger capacity and with a good price/quality ratio. The young, Dutch brand Benson offers a wide collection of high-quality watch winders, including various models suitable for a large number of watches.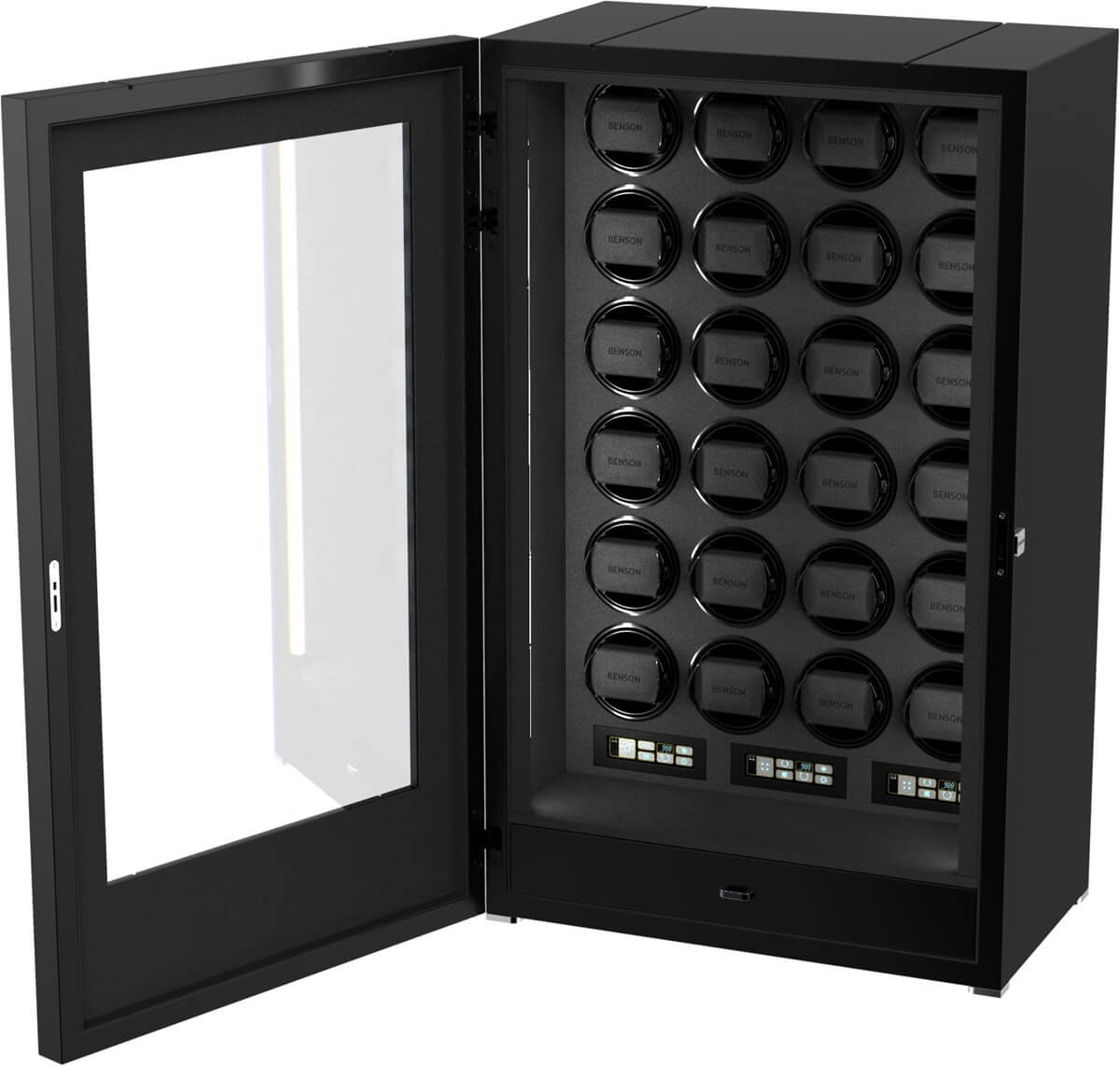 The Benson Black Series Pro 24.19.B is an example of such a specific watch winder. This watch winder offers an absolutely unique price/quality ratio. This watch winder is suitable for any automatic watch, regardless of brand or type and has a large capacity. You can easily and professionally wind watches from brands such as Breitling, Rolex, Omega, Tag Heuer or IWC. The watch winder offers space to wind 24 automatic watches, making it ideal for the real collector or professional.
This unique watch winder is equipped with modern technology. With the innovative touchscreen, you can easily set the direction of rotation and the number of revolutions per day per rotor. In addition, the watch winder is equipped with LED lighting, so that as a true enthusiast you can always keep a good view of your rotating watches. The watch winder is equipped with Japanese quality motors, which are not only energy efficient but also very quiet in use. This ensures optimal user comfort. The watch winder also offers both an overwind and a powerwind function. Ideal is the built-in storage drawer, which offers the possibility to safely store other watches, jewelry or, for example, cufflinks. The watch winder is lockable with a key and the keyhole is neatly finished and hidden. Furthermore, the watch winder is equipped with a special soft fabric on the inside and USB connection on the back, so that you can also charge your mobile phone, for example.
The high-quality materials used for this watch winder include wood, stainless steel and mineral glass. The watch winder has a very luxurious and stylish appearance and will therefore not be out of place in any interior. The Benson Black Series Pro 24.19.B is available in black colour. The exterior has 12 layers of paint and is fully polished for a beautiful result.
With all these options, luxurious appearance and functionalities, Benson offers a very complete watch winder of very high quality for a nice price. You can easily order the Benson Black series Pro 24.19.B watch winder in our webshop. This watch winder is supplied from stock, including a 2-year warranty, certificate and manual.
As an official dealer of Benson we offer you the latest watch winder models, competitive prices, delivery from stock and clear warranty.
Read more >>Posted on 28 May 2020 at 8:48 AM