Posted on 17 January 2022 at 3:28 PM
In general, an enthusiast of automatic watches does not choose a specific watch just because of the design. Of course that is a very important aspect, but quality and technical functionalities also play a major role. Yet there is another reason why the enthusiast chooses a particular watch or watch brand. When a certain brand has a special story or a specific watch refers to a certain event or legendary part of history, this makes a brand or item extra special. Characteristic features of a brand can also play a role. Such as a very recognizable design or a philosophy of a certain brand. This does not only apply to the watches themselves, the same also applies to the inextricably linked accessory, namely the watch winder.
Swiss Kubik is a brand of which we have been an official dealer for over 15 years. This Swiss brand can be recognized out of thousands by its cubic designs and compact shape. Swiss Kubik stands for simplicity, high Swiss made quality and extremely refined technology. With the extensive collection of watch winders that the brand has to offer, it is able to reach a wide target group. This is partly because they have suitable models in the collection for both the enthusiast with one or a few watches and the avid collector. Moreover, there is a range of options for people with different budgets. For example, it is possible to choose the Masterbox, which offers various extras, or the Swiss Kubik Startbox, which is highly recommended as an entry-level model. The Swiss Kubik Startbox watch winders are more accessible for people with a smaller budget, but they do offer the quality and technology that Swiss Kubik has become known with.
In this article we would like to discuss the Swiss Kubik Startbox watch winders in more detail. The models from this series are suitable for winding one automatic watch. The designs are compact and cube-shaped and this clearly shows the identity of Swiss Kubik. The watch winders are made of polyamide and are available in 6 different striking colors. The watch can be placed in the watch winder on a special watch holder, on which almost any watch fits effortlessly. If you have a very small watch, it is also possible to order an extra small watch holder at an additional cost.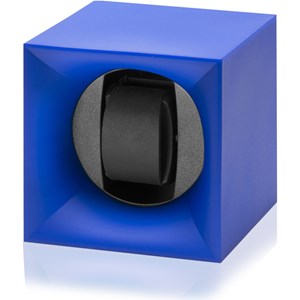 The Swiss Kubik Startbox watch winders are of course equipped with a Swiss motor. These motors are of very good quality. This is partly due to the very high quality and durability of these motors. In addition, they are energy efficient and also extremely quiet in use. This makes it possible to place the watch winders in a bedroom or at a workplace without it being disturbing. The Swiss Kubik Startbox models function by means of a set of AA batteries for up to 3 years. This feature, together with the compact design, makes it easy to take this watch accessory with you on a trip or to the office, for example. Moreover, this makes it possible to place the watch winders in a safe.
With the Swiss Kubik Startbox watch winders you choose a high-quality watch accessory at an attractive price. The models may be small in size, but make no mistake. The watch winders with their Swiss made motors can easily wind any automatic watch, regardless of the brand or type of watch. With a Swiss Kubik Startbox watch accessory you can be sure that your watch is always ready for use. By preventing your automatic watch from stopping, you also ensure that you do not have to set it again and again and you also prevent inaccuracies in time/date display.
When you choose a good quality automatic watch, you want the best for your watch. With Swiss Kubik you choose this. A Swiss Kubik watch winder will provide you with years of enjoyment. Swiss Kubik only goes for the very best. This applies to both the experts they employ and to the choice of materials. In addition, Swiss Kubik chooses to work with suppliers who are located within a radius of 50 km in their area. This is not only a part of sustainable business, it also guarantees communication and control and thus the quality of the products.
Because Swiss Kubik is convinced of the quality of its own products, you receive no less than 3 years of international warranty with every watch winder. Of course, a clear manual is also supplied and the watch winder is packed in a sturdy box. Take a look at our webshop at our extensive range of Swiss Kubik watch winders and convince yourself!
Are you looking for a watch winder to wind your automatic watch? Then definitely take a look at this Swiss brand. If the price level is above your budget, you can always look at brands such as Benson, Heisse & Söhne or Paul Design.
Do you have a question about a specific watch winder? With more than 16 years of experience, we are happy to help you.