Posted on 8 May 2021 at 8:35 AM
A watch winder brand that knows exactly what a watch enthusiast needs to wind his or her automatic watches properly and safely is the Dutch brand Benson. This brand has distinguished itself in recent years in terms of quality and innovative designs. As a result, Benson has grown considerably and is now one of the major watch winder brands worldwide.
The popularity of Benson watch winders is easy to explain. The brand produces high-quality watch winders with an attractive design and knows how to combine this with a very interesting price. There are only a few brands that can compete with this Dutch brand on the combination of quality and price. The brand does not spend large budgets in marketing or social media campaigns, they invest in their products. This is paying off because the Benson watch winders are internationally highly appreciated by users and in blogs and reviews.
At the beginning of this year, Benson presented its new Compact watch winders. A series with watch winders that are suitable for winding 1, 2 and 3 automatic watches, namely the Single, Double and Triple models. The Benson Compact Single models are suitable for winding 1 automatic watch and have a battery function so that you can also run the watch winder on a set of batteries in addition to mains power. The Benson Compact Double watch winders are suitable for winding 2 automatic watches and have a touchscreen and LED lighting. The Benson Compact Triple watch winders also have a touchscreen and LED lighting, but are suitable for winding 3 automatic watches.
In this article we take a closer look at the Benson Compact Triple watch winders. This model uses 3 Japanese motors that can be set individually. Each rotor on which you place a watch can rotate clockwise and counterclockwise. You can also set the watch winder to turn clockwise and then counter-clockwise. Of course you can also set the number of revolutions per day per specific rotor. This is important because one automatic watch, for example, is wound clockwise at 600 TPD (turns per day) and the other automatic watch is wound counterclockwise at 900 TPD. The Benson Compact Triple watch winder therefore has all the functions to properly wind any automatic watch, regardless of brand or type.
The Benson Compact Triple watch winders have a modern touchscreen on which you can operate all settings and activate the LED lighting. You can also switch the power winding function on and off via the touchscreen. This function allows the watch winder to rotate the watches longer in a short period of time, so that they obtain energy slightly faster. This is useful if you don't have much time to wind your automatic watches. For example if you have to leave quickly.
The watch winders from this series are available in different versions. You can choose from the variants black, carbon fiber, white and walnut. You can also opt for a ring (around the rotor) in chrome or gold color. This allows you to choose a model that best suits you, your watches and your interior. For example, the Benson Compact Triple 3.BS watch winder is finished in stylish black with chrome rings. This gives the watch winder a classic and chic look.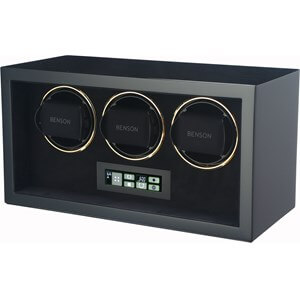 The Bensom Compact Triple watch winders have a number of advantages. They have durable motors, have a very high level of finish and the most important advantage: they have everything you need to wind automatic watches. Yet there is another big advantage and that is the price. The Benson Compact Triple watch winders for 3 watches costs EUR 399.00 (incl. 21% VAT). That is an incredibly competitive price for a watch winder that can wind all automatic watches and also looks very good.
Are you looking for a watch winder for 3 watches? Then you should definitely take a look at the Benson Compact Triple watch winders. We are official dealer of Benson watch winders. This means that we have almost all models of this brand in stock, offer competitive prices and are always at your service in case of service, warranty or if you have questions/comments.