Posted on 27 November 2020 at 8:40 AM
The German watch winder brand Heisse & Söhne stands for quality, dynamism and passion. The Heisse & Söhne watch winders are elegant and offer everything you need as a lover of quality watches. Heisse & Söhne is a progressive brand that fascinates us as an official dealer through excellent quality and good workmanship. The brand uses high-quality materials such as wood, stainless steel, velvet and mineral glass.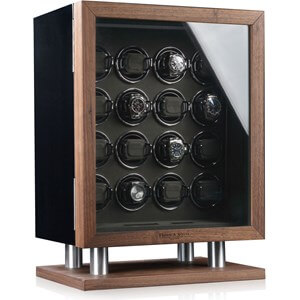 Each Heisse & Söhne watch winder is equipped with Japanese motors that provide every automatic watch with energy professionally. Each motor can be set individually so that you can set the automatic watches exactly to your liking. Of course you can also change the number of revolutions per day. The Heisse & Söhne watch winders are therefore suitable for properly winding any automatic watch, regardless of whether it is a Breitling, Omega, IWC or Tag Heuer watch.
Heisse & Söhne Collector New York watch winders
The current Heisse & Söhne Collector watch winders are a great success. These watch winders with a larger capacity are popular because of their good price/quality ratio. Now the German brand has presented a few new models as an extension of the current Collector watch winders. Heisse & Söhne has presented various new models with a beautiful wooden appearance that are suitable for 8 and 16 watches. The particularly beautiful Heisse & Söhne Collector New York 70019-133.10.130 model has a fantastic appearance with a natural look. This model is suitable for winding 8 watches. This model is also available for 16 watches, the Heisse & Söhne Collector New York 70019-134.10.130.
These watch winders are equipped with LED lighting and a sleep mode for optimal comfort. Nice extras that distinguish these watch winders from other brands and models.
Official dealer Heisse & Söhne watch winders
In our collection we have more than 13 watch winder brands. Each watch winder brand has its own advantages and properties. If you are looking for a beautiful watch winder that combines good technology with a beautiful finish, then you should definitely check out the Heisse & Söhne collection.
Heisse & Söhne Collector New York watch winder comes in sturdy packaging, including manual, adapter and a minimum of 2 years warranty.
We have been an official dealer of Heisse & Söhne for over 12 years and we work closely with this brand. As a result, we offer the latest collections of watch winders, a clear warranty and an excellent service. Of course we would like to inform you about the properties of watch winders. If you have a question or comment, do not hesitate to contact us. We are happy to help you!