Posted on 14 January 2020 at 1:01 PM
When you are looking for a good quality watch winder, there are various options. Benson is a young and Dutch brand in the field of good quality watch winders. The watch winders from Benson are manufactured in-house, resulting in high quality watch winders with a luxurious appearance and an attractive price. These watch winders are suitable and suitable for all luxury watch brands such as Rolex, Breitling, Tag Heuer, Omega etc. etc.
Benson offers a wide collection with different series of watch winders, of which Benson Smart-Tech II watch winders is one. This series is in price between the Compact (entry-level models) and Black Series (luxury models). The watch winders within this series are durable and very user-friendly. These watchwinders are equipped with Japanese motors, which are very quiet in use. This naturally ensures optimum user comfort. They are also very energy efficient. The watch winders from Benson not only ensure that your automatic watch is wound in style, but also that the oil is distributed properly inside the movement of the watch.
The watch holders are equipped with a unique spring system, which makes them suitable for all kinds of watch sizes, big and small. The Benson Smart-Tech II watch winders are available with different capacities. You can choose from a watch winder with space for two, four or six watches. Among other things, these watch winders are very suitable for the real collector.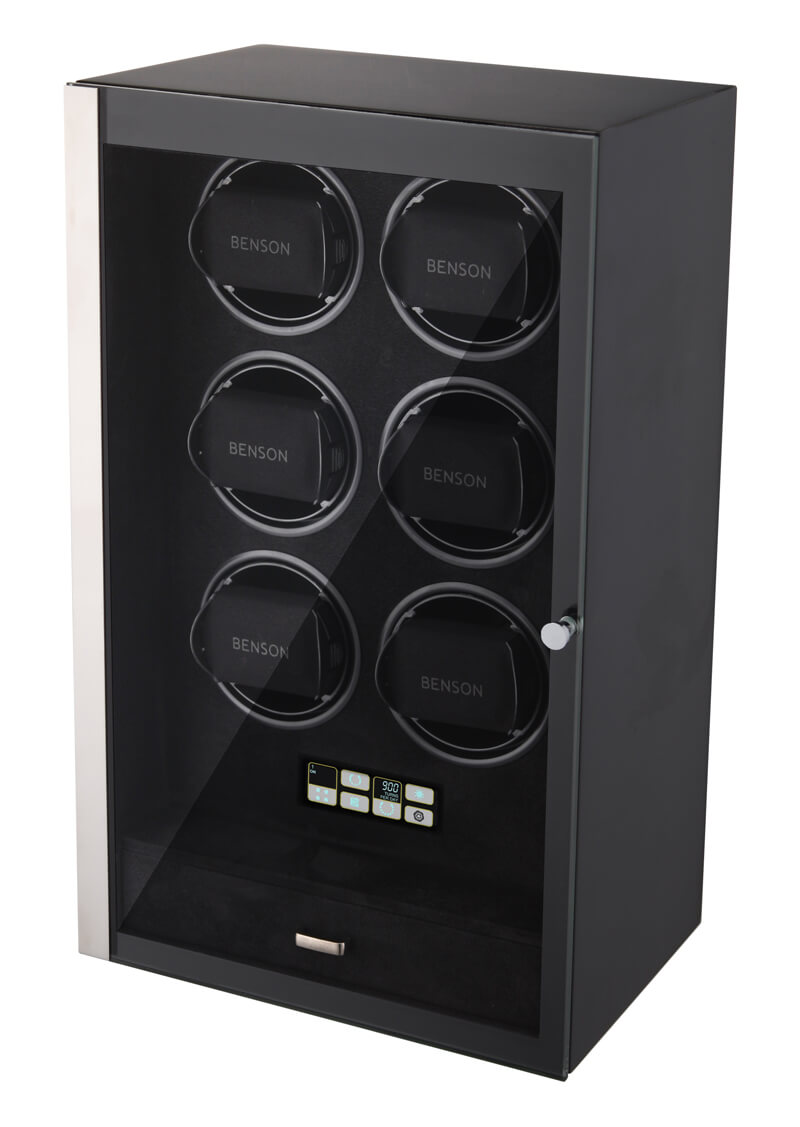 The Benson Smart-Tech II watch winders are made of wood. In combination with a door made of mineral glass, this gives a very chic appearance. Moreover, because the glass door is made of glass, you can always see your watch when it is wound up. The drawer at the bottom of the watch winder offers extra storage for watches or, for example, jewelry and cufflinks, so that you can store everything together easily, clearly and safely.
The watch winders in the Smart-Tech II series are equipped with the most modern technology. They are equipped with a luminous and innovative touchscreen and LED lighting. In addition, each rotor can be operated individually, allowing you to set the number of revolutions per day and the direction of rotation per watch as required. In addition, the watch winders are equipped with an overwind function and a powerwind function. With the help of this last function you can wind your watch in a very short time. In short, the Benson Smart-Tech II watch winders are a beautiful combination of quality, luxury appearance and modern technology. And all for a competitive price!
We have a very large collection of Benson watch winders in the range. If you choose a Benson Smart-Tech II watch winder, it will be delivered to you with a one-year warranty and a user manual. We deliver all models from stock. Of course we ship worldwide and you can pay with your credit card, bank transfer, Paypal or iDeal.