Posted on 23 May 2023 at 3:00 PM
Are you a fan of automatic watches? Do you perhaps own a beautiful watch from Breitling, IWC, Rolex or Omega? Then you should definitely consider a watch winder.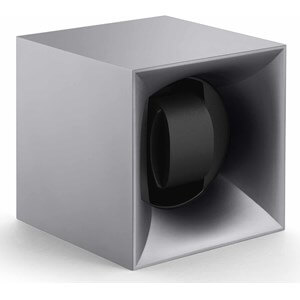 A good watch winder must meet certain requirements and conditions. However, these do not have to be the same for every enthusiast and collector. After all, everyone has their own preferences and wishes. Good quality is of course important for everyone. In addition, however, there are several other properties to take into account. For example, the size can play a role. Do you want a large exclusive cabinet, in which you can exhibit your watch collection, for example? Or are you looking for a compactly designed watch winder because you want to be able to take it with you on a trip or to the office? Of course, the number of watches owned or the wish for the number of watches is also important. Depending on this, you can determine the required capacity of the watch winder. Any additional functionalities can also be important, such as a power winding function. The budget that you have available for purchasing a watch winder also plays an important role. When you purchase a watch winder, you are always in good hands with a reputable brand, especially when you opt for a Swiss brand. It is not for nothing that Switzerland is known for its high-quality Swiss made products, such as luxury watches and watch winders.
An example of a Swiss brand with an entire collection of high-quality Swiss made watch winders is the well-known Swiss Kubik. Swiss Kubik is a very progressive watch winder brand that never stops developing their products. In ten years time, the brand has already developed its sixth generation of watch winders. With a Swiss Kubik watch winder, you choose excellent quality and the most modern technology. Another great thing about Swiss Kubik is that, in addition to the more expensive models, the brand also consciously offers high-quality watch winders at a more attractive price. As a result, enthusiasts of automatic watches with a smaller budget can also purchase a Swiss made watch winder from the brand. Moreover, Swiss Kubik offers variation in color and materials used, so that there is a suitable watch winder from the brand for every personal preference. Whether you are a lover of wood, leather or, for example, aluminum, Swiss Kubik offers the watch winder for you! You can also go in all directions with this brand in terms of capacity. The collector with a fine collection of automatic watches can turn to Swiss Kubik, but also the enthusiast who owns one or a few automatic watches.
In this article, we would like to pay more attention to a Swiss Kubik watch winder that is also very accessible to enthusiasts with a smaller budget. The Swiss Kubik Startbox Gray is an entry-level model of this brand (formerly the ABS watch winders from Swiss Kubik) and is attractively priced. With this model you have everything you need to safely and effectively wind a single automatic watch, without having to dig very deep into your pocket. This Swiss Kubik watch winder is made of polyamide and is therefore strong, but also light in weight. This makes this watch winder ideal if you like to take your watch winder and watch to the office or on a (business) trip, for example. The Swiss Kubik Startbox Gray comes in the color grey, but is also available in various other colours. For example, you can opt for a blue, red or orange variant if you would like a more colorful one. The basis of the Swiss Kubik Startbox Gray is of course the well-known Swiss technology. This ensures that you can efficiently wind your automatic watch, regardless of the brand or type of automatic watch.
You can also order smaller watch holders for the watch winder if you own a very small ladies' or men's watch. The Swiss Kubik Startbox Gray works on batteries. This model can function for up to three years on a set of AA batteries. This is also an ideal feature if you like to take your automatic watch and watch winder with you. In addition, this also makes it possible to store your watch winder and therefore your watch in a safe. You opt for extra safety for your beloved watch.
The Swiss Kubik Startbox Gray can be ordered in our webshop. We supply these with a warranty period of no less than three years. You therefore always place your purchase with a good feeling. As an official dealer of Swiss Kubik, we are also happy to assist you with any questions or, if desired, suitable advice. View our beautiful range of Swiss Kubik watch winders in our webshop and choose your favorite!