Posted on 24 January 2023 at 10:38 AM
Where do you start your search when you, as an avid collector, are looking for a suitable watch winder for your collection of automatic watches? Do you choose a Swiss brand because they are very well known worldwide? Or are you looking for that watch winder that offers you and your collection the most for the budget you have available? Of course you are always in the right place with a Swiss brand, but there are also watch winder brands that are explicitly strong in offering an extremely good price/quality ratio. A brand that comes out very well is the Dutch brand Benson. Benson offers an extensive collection of watch winders for both the enthusiast who owns a single automatic watch and for the real collector. There is a choice of watch winders with Swiss made motors or Japanese motors, both of very high quality. In addition, the Benson collection is divided into different series, including the Benson Black Series Pro. In this series, among others, we find watch winders that are extremely suitable for the real collector.
The Benson Black Series Pro 12.19.B watch winder is a good example of this. This is a watch winder with room for winding no fewer than 12 automatic watches. However, we are not there yet, because Benson has also provided extra storage space for 10 extra watches with this model. This storage space is designed by means of a built-in drawer at the bottom of the watch winder. This watch winder is made of wood and comes in the color black. However, the same model is also available in the color carbon. The watch winder has a very luxurious look. This is partly due to the chic design and the excellent finish. For example, the watch winder is provided with no less than 12 layers of paint to preserve your watch winder. Moreover, it can be closed by means of a door with mineral glass, so that any harmful external influences do not stand a chance and your watches are optimally protected. The door can also be closed with a safe lock that is neatly concealed. The inside of the watch winder is covered with a special soft velvet. This means you don't have to worry about scratches or other damage on your watches.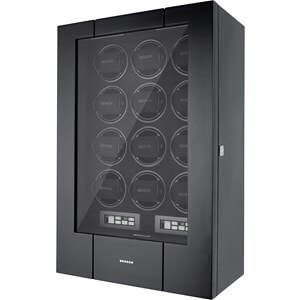 In the technical field, the Benson Black Series Pro 12.19.B watch winder also has a lot to offer. The basis of the watch winder is formed by very high-quality Japanese motors. These motors provide any type or brand of automatic watch with the necessary energy without any problems. They do this in silence, so you don't have to worry about disturbing noises during the winding process. In addition, these motors are also energy efficient, which means they can also be called sustainable. The watch winder is also equipped with a handy touchscreen display. With this you can easily set the watch winder in terms of the direction of rotation and the number of revolutions per day. You can set the watch winder exactly as you want for each watch separately. Because Benson has used flexible watch holders, you can easily place almost any size automatic watch in the holders. With this watch winder you have a beautiful built-in LED lighting. With this lighting you ensure that your watches look extra beautiful and really catch the eye when they are placed in the watch winder.
The Benson Black Series Pro 12.19.B offers the programs CW, CC and Alt and an overwind protection. In addition, this model also has a power winding function. This option is very useful when you want to be able to wind your watches in a short time. Finally, the watch winder is equipped with a USB connection. In summary, with the Benson Black Series Pro 12.19.B, Benson offers a watch winder with allure, made of high-quality materials and a piece of technical finesse. With a watch winder of this caliber, you never have to worry about a safe storage place for your watch collection, or about any standstill of your watches. This way your automatic watches are always ready for use. The watch winder also offers a great opportunity to exhibit your collection, partly due to the built-in LED lighting. Together with your watches, this watch winder will be an absolute eye-catcher in any interior. With the stylish and modern look of this watch winder, you choose a piece of class as an addition to your collection.
If you want to order the Benson Black Series Pro 12.19.B or one of the other high-quality watch winders from Benson, you can do this in a familiar way in our webshop. Since we have more than 15 years of experience in the field of high-quality watch winders, we can assist you like no other with an answer to your questions or suitable advice. The Benson Black Series Pro 12.19.B watch winder comes with a 2-year warranty, a clear manual and a certificate.