Posted on 20 October 2021 at 8:43 AM
Are you looking for a watch winder for winding 1 watch? Then read on. For those looking for the best of the best in this field, in combination with a compact design, Swiss Kubik is an absolute must. This Swiss watch winder brand is known all over the world among lovers of automatic watches. The reason for this is that this brand has been producing high-quality products in Geneva, Switzerland for many years. The country Switzerland is of course generally known as the watch country pur sang. Swiss Kubik does justice to this fact. The watch winder is inextricably linked to the automatic watch, because you can't do without a watch winder with this type of watch. After all, this ensures that your watch is provided with the movement it needs to keep running when you are not wearing the watch.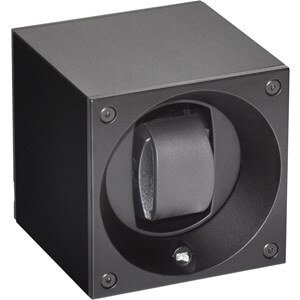 The Swiss Kubik watch winders are characterized by a sleek and modern design in combination with the most modern and high-quality technology of today. These watch winders all have the shape of a cube, with which the clear signature of Swiss Kubik is visible to everyone. The compact designs of Swiss Kubik ensure that you can always find a place for these watch winders. They don't require much space and are lightweight, making them easy to place and move. Because these watch accessories also work on batteries, it is also possible to place them in a safe. This allows you to choose optimal safety in a simple way. A Swiss Kubik watch winder functions on average for no less than 3 years on a set of AA batteries. They are therefore sustainable and energy efficient, which is a big plus.
A good example of a Swiss Kubik watch winder that is suitable for winding 1 watch is the Swiss Kubik Masterbox Black. This model is made of aluminum and comes in the color black. Due to the choice of aluminum, this model is not only sturdy, but also light in weight. The watch winder is also available in various other colors such as red, orange, green and blue. This means that a Swiss Kubik Masterbox is available for every personal taste and interior. This watch winder is equipped with a Swiss made motor with which a base of top quality has been realized. After all, the Swiss motor is of perfect quality. They are quiet and powerful motors, which are also extremely reliable. Of course, this watch winder is suitable for every type and brand of automatic watches. They know how to power even the most heavy watches without any problems. This watch winder may be small in size, but they are very effective and efficient and offer everything you need as a lover of automatic watches.
The number of revolutions is of course adjustable with the Swiss Kubik Masterbox Black watch winder, so that you can adjust it exactly to the needs of your watch. Furthermore, the watch winder is equipped with an overwind protection and a USB connection. This watch winder also works for a longer period of time on a set of AA batteries, so you don't have to worry about this much. With the Swiss Kubik Masterbox Black you are always assured that your watch is wound correctly. So you don't have to worry about unnecessary wear or standstill of your watch. Standstill of an automatic watch can have unpleasant consequences, such as inaccuracies in time/date display. A good watch winder such as that from Swiss Kubik is therefore of great importance if you want to take good care of your watch.
Swiss Kubik offers various options to make your watch winder extra complete if you wish. For example, they offer the option of optionally ordering plexi glasses. These ensure that your watch is protected against unnecessary wear and damage. For example, condensation, dust and dirt don't stand a chance and your watch is also better protected against, for example, children's hands. An additional adapter can also be ordered from Swiss Kubik as an option. Finally, the brand offers smaller watch holders. Most watches will fit in the standard watch holders, but if you have extra small women's or men's watches, the smaller watch holders are a very nice option.
The high quality of the Swiss Kubik watch winders is beyond dispute for us. The brand itself also has full confidence in its products. This can also be seen in the warranty period that is offered on the Swiss Kubik watch winders. When you order a Swiss Kubik watch winder, you will receive a 3-year warranty.
Of course we ensure that your order is neatly packed and we provide a clear manual so that you can get started right away!
Watchwinders.com is an official dealer of Swiss Kubik.