The best watch winder for 12 automatic watches
Posted on 17 January 2020 at 12:46 PM
The true watch enthusiast has several automatic watches. Probably from well-known brands such as Breitling, Rolex, Seiko, Omega, Tag Heuer or Damasko. The problem with a collection of automatic watches is that you can only wear one watch at a time. This means that the other watches are stationary. Standstill is never good and especially not handy when you regularly change your watch. You then have to reset the time and date each time and wind up the watch manually. Fortunately there is a solution for this, namely the use of a watch winder.
A watch winder is a device in which automatic watches are supplied with energy to keep them running. A watch winder rotates the automatic watches slowly so that the spring of the movement inside the watch is tensioned and the watch starts running. Because a watch winder functions according to a certain program, it runs and pauses, again and again. This tensioning the spring and relaxes it again when the watch winder is in pause. This simulates wrist movement.
A watch winder is the watch accessory par excellence for the watch collector and enthusiast. But a watch winder is also very useful for someone who has one automatic watch. You always have the option to provide your watch with energy quickly and safely, for example if the watch is not being used for a shorter while. For example if you are going to exercise, swim or when you are sleeping.
Watch winders come in all shapes and sizes. Especially for 1, 2 and 4 watches there is a lot of choice. But for many watches the choice is limited. There are only a few watch winder brands that produce larger watch winders for 12, 16, 20 or even 24 watches. Often these watch winders are also quite expensive. If you have many automatic watches and you want to purchase a good watch winder, what should you look out for? What is the best watch winder for 12 automatic watches?
There are different watch winders for 12 watches from brands such as Orbita, Paul Design and Boda Concept. However, the best watch winder in our opinion is the Benson Black Series Pro 12.19. This watch winder combines all the features that you would like to have in one watch winder. The engines in this watch winder are Japanese and extremely reliable. They are powerful enough for heavier watches. Each watch is powered by a separate motor, so you have maximum flexibility. You can wind each watch in a different way, for example one clockwise at 900 TPD (turns per day) and the other counterclockwise at 1200 TPD. Of course you can, for example, also run 9 watches and stop the other 3.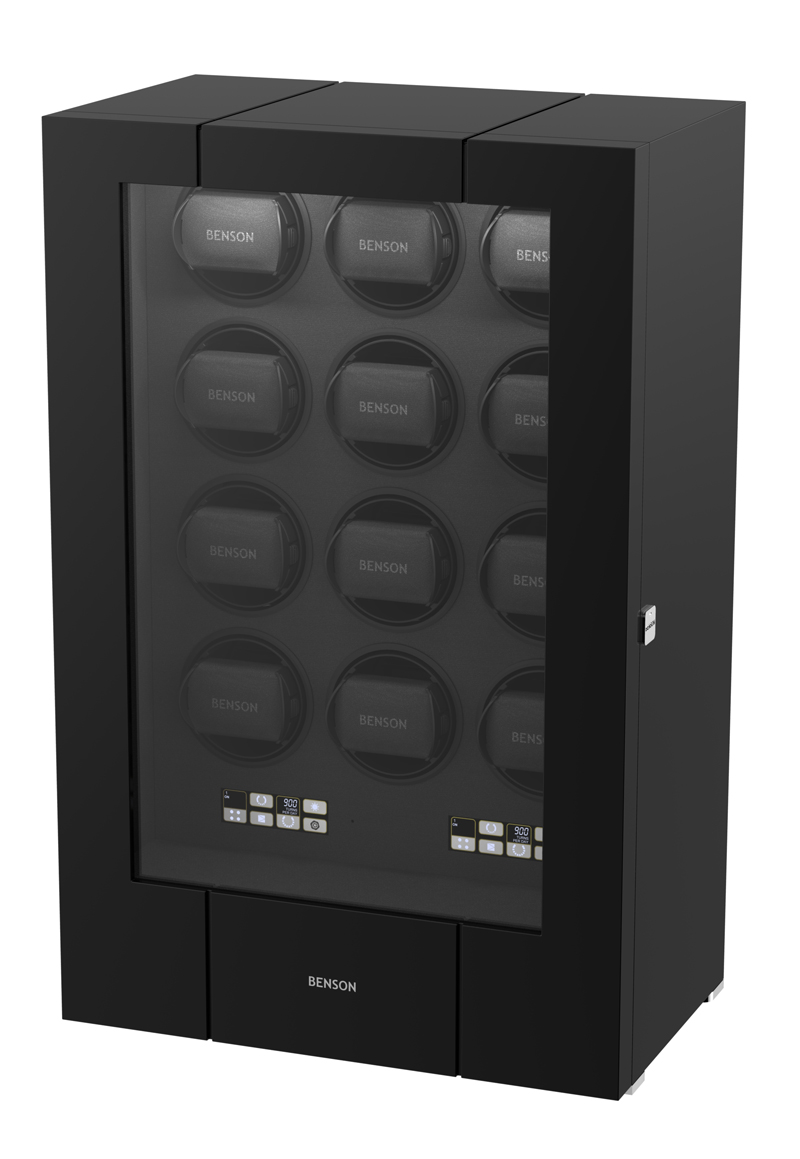 With this model you can set the direction of rotation and the number of revolutions per day so that you can wind up any automatic watch, regardless of watch brand or watch model. In addition, you can beautifully illuminate the watches through the built-in LED lighting. This lighting provides a beautiful appearance. With the power winding option you can wind automatic watches quickly in a short period. For example if you have limited time.
The Benson Black Series Pro 12.19 watch winder has a built-in drawer where you can store all kinds of other things. For example, other watches, jewelry or papers. The watch winder can be locked with a key so that nobody can access the watches.
An important advantage of the Benson Black Series Pro 12.19 watch winder is that every watch is attached to a watch holder that then clicks into the watch winder. Because of this, the watches are extremely tight in the watch winder and they cannot fall out with all kinds of risk of damage. These watch holders are flexible and are suitable for small and large watches. They are covered with fabric so that the watch sits securely on the watch holder.
The Benson Black Series Pro 12.19 watch winders have a modern design. The appearance is sleek and the watch winder is only available in the color black and carbon. The inside is covered with soft fabric so that the watches are safe. The watch winder stands on 4 stainless steel feet and has a door with glass. This guarantees you a good view of the rotating watches. Via the touchscreen you can control all functions including the LED lighting. Especially in the evening the rotating watches are a beautiful sight when the LED lighting is switched on.
The Benson Black Series Pro watch winders work on mains power via an adapter. The adapter is supplied with the watch winder and can be used in the EU, United Kingdom, United States and Asia.
Every watch winder within the Black Series Pro comes with a 2-year international warranty. This gives you maximum certainty. The watch winders are well packaged and provided with a manual and certificate.