Orbita Avanti Nine Rotorwind W70007 watch winder
Posted on 8 October 2020 at 9:56 AM
When you own a collection of automatic watches, a watch winder is an indispensable accessory. After all, this ensures that your watches are also provided with the necessary movement when you are not wearing it on your wrist. This is necessary to prevent the watch from coming to a standstill. This can cause annoying problems, including possible inaccuracies in the time display.
Are you looking for a watch winder for your watch collection? We have a great option for you that we will take a closer look at. The watch winder that we have in mind is from the Orbita brand. Orbita originates from the United States and uses high quality Swiss engines. These are known worldwide for their quality and are therefore extremely reliable, solid and durable. This means that the Orbita watch winders have a very strong foundation, since the motor can be considered the heart of the watch winder.
Orbita watch winders belong to the absolute top in this industry worldwide. The brand is therefore a true famous name in the United States. Typical of Orbita's watch winders are the traditional designs, with a very stylish and luxurious appearance, combined with the most modern techniques. The beautiful wooden cabinets for which Orbita is known, among other things, are a real eye-catcher in any interior. The wood for these special cabinets comes from Italy and therefore radiates Italian class rightfully. The Orbita collection is diverse and therefore suitable for a wide audience. There is also plenty of choice regarding the capacity of these watch winders. For the enthusiast with a single watch, but also for the real collector.
Moreover, Orbita offers, in addition to the calibrated winding system, which provides for the energy requirement by means of rotation (the Programmable System), also a system patented by Orbita. This is called the so-called "Rotorwind" system. This system ensures that the watch or watches are wound up by gently "shaking" the watch. The combination of the luxurious and stylish designs, the high-quality materials and unique and modern technology make the Orbita watch winders high end. Each watch winder is made by hand with the utmost care and an eye for detail. With an Orbita watch winder you are therefore assured of an American product, with a Swiss heart and Italian class, an absolute top product!
The specific model we will discuss in more detail is the Orbita Avanti Nine Rotorwind W70007 watch winder. This model is extremely suitable for the collector, as it offers space for no less than 9 watches. The case of this watch winder is made of beautiful Makassar wood. Through the glass door you can see your watches clearly during the winding, an absolute plus for the real enthusiast. The Orbita Avanti Nine Rotorwind W70007 watch winder offers 3 different programs, CW, CC and Alt.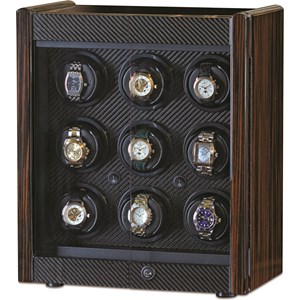 This watch winder, like all other Orbita watch winders, is suitable for any automatic watch. The rotors are separately adjustable for each specific watch and the watch winder is equipped with an overwind protection. In addition to the option to supply up to 9 watches with energy at the same time, this watch winder from Orbita also offers storage space for 4 extra watches. Absolutely ideal if you like to keep all your watches or any other jewelry neatly together. In addition to the main function of a watch winder, winding automatic watches, it also offers a safe place to store your watches. It protects against external influences, such as dust and condensation. But also against children's hands, for example.
The watch winders from Orbita use flexible pads. These are suitable for almost all watches, but if you have very small watches, it is possible to order pillows for extra small watches. The cushions are made of a type of foam, which optimally protect the watches against damage. They feature the Orbita logo for an extra luxurious look.
Have you become interested in this specific watch winder from Orbita? Or have you become curious about the rest of our watch winder collection? Then take a look in our webshop. You will not only find an extensive stylish collection from Orbita, but you can also find various other brands of quality watch winders, not to mention a wide range of stylish watches. In addition, we are an official dealer of Orbita and have extensive experience in the field of watches and watch winders. We can therefore provide you with the right advice, warranty and service. This way you can place your order in our shop with a good feeling.
With an Orbita watch winder you are assured of a quality product that you will enjoy for a long time. Each Orbita watch winder is delivered by us in the original box with an extensive manual. In addition, you receive a 2-year warranty with every Orbita watch winder. This way you can be sure that you get value for money!