Posted on 1 July 2021 at 10:32 AM
The Dutch brand Benson is one of the best brands in the field of technology for winding automatic watches. This brand produces high-quality watch winders that use excellent technology and offer useful functionalities. In addition, Benson knows how to surprise with beautiful designs and interesting prices. This combination ensures that Benson watch winders are highly regarded worldwide and are used by many watch enthusiasts.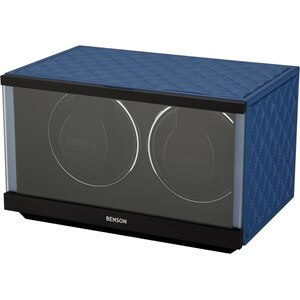 Any enthusiast or collector of automatic watches knows that the best of the best in this field can be found in Switzerland. This applies to watches, but certainly also to watch winders. A watch winder with 'a Swiss heart' is a watch winder that you can rely on. Sustainability, quality and reliability are very important to Swiss brands. Before the predicate Swiss made may be used, you need to have a very good reputation and background and moreover a certain % of the parts must be made in Switzerland.
If you are looking for a top quality watch winder, but at the same time do not want to pay too much, you will definitely need to check out the Benson watch winders. Benson recently launched its latest series of watch winders, the Swiss Series. These models are equipped with Swiss made motors and are fully assembled in the Netherlands. This combination ensures top quality and high durability. The Benson Swiss Series models are also characterized by a luxurious design, beautiful finish and all the settings you need to wind one or more automatic watches.
Within the Benson Swiss Series, we find the Swiss Series Double watch winders. These watch accessories are suitable for winding 2 watches. The design of these watch winders is compact so that almost every enthusiast can easily make a place for them. In addition, these models work not only on mains power, but also on batteries. You can place these models wherever you want and they are therefore easy to take with you on a trip or to the office. An additional advantage is that these watch winders can easily be placed in a safe so that you can store your watches as safely as possible.
The Benson Swiss Series Double watch winders have a luxurious appearance and are available in different colors such as blue, red, green, white, black and different shades of brown. Benson also goes for the best when it comes to choice of materials. In this series you will find models that are made of beautiful wood and original leather. The inside of the watch winders is provided with fabric, so that your watches are optimally protected against, for example, small scratches.
Due to the specially developed safety system, the motor disengages when a watch is placed or removed. Of course, these watch winders are also equipped with Swiss made technology. The watch winders are also assembled in the Netherlands. The rotors can be set individually using the handy LCD screen. With just one push of a button, you can set the rotation direction and the number of rotations per day. These very luxurious watch winders are equipped with a glass door. That way you don't have to worry about condensation, dust or dirt getting to your watches. The combination of glass and wood or leather also creates a very chic look. Every automatic watch will look extra beautiful in this watch winder!
With the Benson Swiss Series Double watch winders you have overwind protection at your disposal, so that your watches are always supplied with energy safely and professionally. Because Benson uses special flexible watch holders, which can also be adjusted, almost every watch fits flawlessly in Benson's Swiss Series models. The Benson Swiss Series are therefore suitable for any automatic watch, regardless of the brand or type of watch. With a Benson Swiss Series Double watch winder you provide your watches with the required energy in an efficient and mild way. This prevents your watch from coming to a standstill, which could lead to nasty surprises. An example of this is an inaccuracy in time and date display. Of course you want your automatic watch to run on time and to be able to wear it whenever it suits you. With a Benson Swiss Series Double watch winder you are always sure of this. Would you like to be able to view your watches during the winding process? That's no problem either, because of the glass door and the built-in LED lighting you can take a look at your watches whenever it suits you!
You can order your favorite Benson Swiss Series Double watch winder easily, safely and quickly in our webshop. We ship all watch winders registered and insured and of course ensure that it is packed securely. This way we can be sure that you will receive your package neatly at home. We ship worldwide with Fedex, DPD and PostNL.
Of course you can pay securely in the webshop with credit card, iDeal, Paypal and regular bank transfer. The Benson Swiss Series Double watch winders come with a 3-year warranty, because we are sure that you will enjoy them for a long time! Of course, the clear manual and certificate are also included. As an official dealer of Benson watch winders, we offer you the latest collections, competitive prices and excellent service. We have all Swiss Series models in stock so that we can deliver extra quickly.