Posted on 26 May 2023 at 4:03 PM
A watch winder is a handy and safe watch accessory to provide your automatic watch with energy when you are not wearing it. Due to the movement offered by the watch winder, the watch is also wound when you do not have it on the wrist. In addition, a watch winder also offers a safe storage place for your automatic watch or watches. Finally, a good watch winder ensures correct oil distribution in the watch movement. In short, if you have one or more automatic watches, you cannot do without a good watch winder.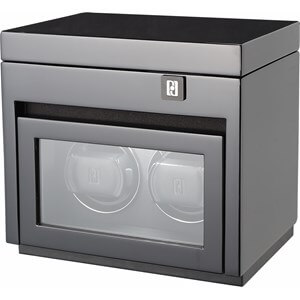 If you are specifically looking for a watch winder that is of good quality and also fully equipped, but that is not in the highest price range, we would like to introduce you to the Paul Design brand. Paul Design is a brand from the United Kingdom with a mission. The brand wanted to develop watch winders that met the wishes of the true enthusiast of automatic watches, while remaining accessible to a wide audience in terms of price. The watch winders from Paul Design therefore offer an exceptionally good price-quality ratio. In addition, the watch winders are made of high-quality materials and have a luxurious look. You can go to Paul Design for watch winders for a single watch, but also for a small or large collection of automatic watches.
We have selected a specific watch winder from Paul Design for you, which is specifically suitable for winding two automatic watches. This is the Paul Design Gentlemen 2+3 Black 2023. In addition to the capacity for winding two automatic watches at the same time, this watch winder also offers extra storage space for another 3 watches. Of course you can also choose to store any other jewelry or, for example, cufflinks with your automatic watches in the watch winder. This way you store everything neatly, safely and conveniently together. This model by Paul Design is made of high-quality wood and comes in the color black. At the top of the watch winder, the extra storage space is closed with a lid. The watches that are wound in the watch winder are also safe from dust, condensation or dirt, for example. The watch winder can be closed at the front with the beautiful glass door. The watch winder is also equipped with a soft black fabric on the inside, so you don't have to worry about scratches or other damage when you store and wind your watches in the watch winder.
The basis of the Paul Design Gentlemen 2+3 Black 2023 consists of very high quality Japanese engines, from the Mabuchi brand. These not only ensure an efficient and safe winding of your automatic watches, but also offer several other important benefits. These motors are known for being very reliable and energy efficient. In addition, these motors are powerful enough to wind the heaviest automatic watch and do their job in silence. You don't have to worry about annoying noises during the winding process. The Paul Design Gentlemen 2+3 Black 2023 is adjustable in terms of direction of rotation and the number of rotations per day. Of course you can set this separately for each watch, so that each individual watch gets exactly the right way of winding. Setting up the watch winder is easy and fast using the special control panel. It is also possible to set the special built-in LED lighting. With this you are assured of a very good view of your watches, at any time of the day. Due to the beautiful design of the watch winder in combination with the modern LED lighting, you can also use this watch winder very well as a display for your watches.
The Paul Design Gentlemen 2+3 Black 2023 also offers the programs CW, CC and Alt and an overwind protection. The latter functionality serves to prevent overvoltage of your watches. The watch winder is powered by an adapter or by batteries. All in all, the Paul Design Gentlemen 2+3 Black 2023 can be called a very complete and high-quality watch winder, which is also within reach when you have a smaller budget to spend.
You will find a wide collection of Paul Design watch winders in our webshop. Of course you can also find the Paul Design Gentlemen 2+3 Black 2023 here. We supply this watch winder and many other beautiful models of the brand with a two-year warranty and a clear manual. We ship our products worldwide using the services of DPD, Fedex and PostNL. You can pay with us safely and quickly with various secure payment methods, such as Ideal, PayPal, payment by credit card and a regular bank transfer. You always order from us with a good feeling!