Posted on 5 January 2021 at 1:41 PM
What could be better for a true collector of automatic watches than a beautiful handmade watch winder? This is not only indispensable for winding the watches, but also offers the possibility to present the watches that a collector has carefully selected in a beautiful way. In the right watch winder, the watches also remain beautiful and protected against wear, scratches and other external influences. Dust, dirt and condensation is also not good for a watch. When selecting a suitable watch winder, it is of course important for a watch collector that all watches from the collection fit in the watch winder. There are therefore numerous watch winders on the market with different capacities. There is also a wide variety of watch winders in the field of brand and quality.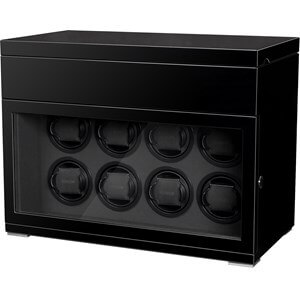 Of course, the enthusiasts are familiar with quality in this area, coming from, for example, Germany and the watch country pur sang, Switzerland. But our own little country also has real quality in this area. A promising Dutch watch winder brand is Benson. Benson is still a relatively young brand, but nevertheless has a lot of knowledge and experience in the field of both watch winders and watches. A big advantage of this brand is the good price/quality ratio. Benson produces very good quality watch winders at very attractive prices. It is therefore possible to order high-quality watch winders at Benson for a good price. Within the collection of Benson watch winders you will find a diversity in appearance and colors. Both watch winders with a modern look and classic looking watch winders are well represented.
A model within the Benson collection that offers space for winding 8 watches is the Benson Black Series 8.16.B watch winder. This watch winder comes from the most luxurious line of this brand. The watch winder is made with care by hand, where an eye for detail is very important. This watch winder has a black exterior that gives it a very luxurious look. The same watch winder is also available in carbon, macassar and white. The watch winder is made of quality wood and the glass door (mineral glass) offers your watches extra protection. Extra attention has also been paid to this on the inside of the watch winder, due to the soft fabric on the inside (soft velvet). In addition to the possibility to wind 8 watches, this watch winder from Benson also offers extra storage options for up to 6 watches. This allows you to easily and conveniently store all your watches or other jewelry together. Benson uses flexible watch holders, so that almost any automatic watch fits easily.
The Benson Black Series 8.16.B watch winder is also very complete in the technical field. This is of course very important, after all you want the best for your watches. Not only does a watch winder have to wind your watches in the right way. You also want a watch winder with reliable and durable motors. This watch winder from Benson is equipped with quality Japanese motors that are both quiet in use and energy-efficient. In addition, the watch winder offers 3 different programs, namely: CW, CC and Alt. Each rotor is individually adjustable, so you can set the most optimal conditions for each watch. Consider the direction of rotation and the number of rotations per day. With the power winding function you can provide your watches with the necessary energy in a short time. Overwinding protection is of course also available. Furthermore, this watch winder offers a modern touchscreen display and the built-in LED lighting ensures that you can see your watches clearly at any time. In addition, the watch winder is equipped with a USB connection and a soft close lid. The watch winder is therefore fully equipped. In short, a complete picture and that for a competitive price!
Are you curious about the Benson watch winders or specifically the Benson Black Series 8.16.B watch winder? You can view this watch winder from Benson extra well on our website. Here you will find a video of the watch winder, so that it is shown properly. The watch winders from Benson of which no film is available, have been extensively photographed so that you still have a very good view of the watch winder.
If you are enthusiastic about this watch winder, or of course one of the other watch winders from Benson, you can also order it easily and with a safe feeling in our webshop. When you order the Benson Black Series 8.16.B watch winder you will receive it including manual, adapter, certificate and 2 year warranty. In addition to watch winders from Benson, you will find many other beautiful brands of watch winders in our webshop.