Swiss Kubik Startbox Bronze watch winder
Posted on 9 December 2021 at 10:04 AM
With an automatic watch you don't want it to come to a standstill. Standstill is deterioration, especially with moving technology such as an automatic timepiece. It is better to wear the watch on your wrist or to let it rotate gently in a watch winder. A watch winder simulates wrist movement so that energy is preserved in the watch movement. This keeps the watch on time and prevents downtime. This is not only good for the durability of your watch, but also very handy as you can wear your favorite watch immediately without having to rewind it and have to set the time and date.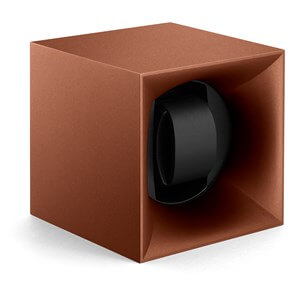 If you appreciate modern design and clean lines, Swiss Kubik is a brand that should appeal to you. Swiss Kubik has been converting the passion for the automatic watch into craftsmanship in the field of watch winders for 10 years, which are among the top in this field. The Swiss Kubik watch winders are designed and manufactured with the utmost care and precision in Geneva, Switzerland. This is done by the real craftsman who, with his passion for this profession, knows how to combine high quality with stylish design. It is not for nothing that watch winders of Swiss origin are very well regarded within the watch industry. Think of brands such as Bernard Favre, RDI and the Swiss Series of the Dutch brand Benson. However, Swiss Kubik has an asset because its watch winder functions for a very long time on a set of batteries.
A brand like Swiss Kubik stands for innovation. The brand is certainly not standing still in this area. Due to the expertise and pure craftsmanship of the watch technicians at Swiss Kubik, the brand continues to develop and has already managed to develop a 6th generation of mechanisms within 10 years. This means that every Swiss Kubik watch winder is equipped with the most modern technology and the latest insights. Your automatic watches are therefore supplied with energy in the best possible way with a Swiss Kubik watch winder.
With its extensive collection, Swiss Kubik knows how to serve both the enthusiast with 1 watch and the real collector. In the collection you will find watch winders suitable for 1 watch, but also models with space for winding up to 12 watches. Characteristic of the Swiss Kubik models are, among other things, the cube-shaped designs. It is striking that the design remains very compact, regardless of the capacity. This has the great advantage that there is a nice place to find a Swiss Kubik watch winder in every interior. Moreover, it makes these lightweight watch accessories easy to take to the office, for example.
Because the Swiss Kubik watch winders can function for up to 3 years on a set of batteries, placing them in a safe is also a great option. In this way you can offer your watches optimal safety. The models of Swiss Kubik are equipped with Swiss engines. This ensures that your watch winder functions almost silently. This allows you to place it without worry in, for example, the bedroom or workplace, without having to worry about disturbing noises.
When we look at Swiss Kubik watch winders for 1 watch, the Swiss Kubik Startbox Bronze is a model that we would like to explain in more detail. The beauty of this Startbox is that it offers everything that guarantees an effective, efficient and gentle winding of your watch, at an attractive price. With a Swiss Kubik Startbox model you choose an entry-level model, but not just any one. These watch winders offer excellent quality and very modern Swiss technology. The Swiss Kubik Startbox Bronze watch winder has a copper-colored exterior that gives this model a very stylish look. The use of polyamide has been chosen, which ensures, among other things, that the watch winder is sturdy and at the same time lightweight.
The Swiss Kubik Startbox Bronze is suitable for winding any type or brand of automatic watch. The watch winder has a powerful and quiet motor that ensures that your automatic watch is wound effortlessly.
The watch holders that Swiss Kubik uses for its models are suitable for most automatic watches. However, it is also possible to order a smaller or larger watch holder if you have a small or larger watch.
In short, with the Swiss Kubik Startbox Bronze watch winder you choose a simple but high-quality model with which you offer your watch the best at a reasonable price. With a Swiss made watch winder from Swiss Kubik, your watch is always ready for use. In addition to the necessary energy supply for the watch, the watch winder also ensures the preservation of the watch and also offers a safe storage place. If you choose a Swiss Kubik model that is suitable for several watches, you also have a particularly beautiful display for your collection.
Because Swiss Kubik has great confidence in its own craftsmanship and the products in the collection, you always enjoy a 3-year international warranty with a Swiss Kubik watch winder. This way you can be sure that you are getting the best of the best. Moreover, as an official dealer of Swiss Kubik, we can always provide you with appropriate advice and the best service. In our webshop you will find a very extensive collection of Swiss Kubik watch winders. Moreover, we offer the latest collections and the best prices!