Benson Compact Triple 3.CF watch winder
Posted on 5 October 2021 at 11:59 AM
When you own a number of automatic watches, a good watch winder is a must have. After all, an automatic watch needs movement to keep running. When the watch is not worn, the watch comes to a standstill with various unpleasant consequences. For example, this can cause inaccuracies in time/date display. This is of course the last thing you want as a lover of beautiful watches. Normally, the natural movement of the wrist provides for the movement needs of any automatic watch. However, when an automatic watch is not worn, a good watch winder is the ultimate solution. This provides the necessary movement and also ensures an optimal distribution of the oil inside the timepiece. Furthermore, a watch winder also serves as a safe storage place for your watches. In short, a watch winder is not only useful because your watches always run on time and are immediately ready to wear, it is also good for preserving your automatic watches.
Watch winders are available in all shapes and sizes. When you are looking for a suitable watch winder for your automatic watches, you should ask yourself what requirements it must meet for you. If you want a model that offers more space than for a single watch and you own about 3 to 4 automatic watches, the Benson brand offers several nice options. This innovative brand from Dutch soil is still relatively young, but has gained all the more knowledge and experience in the field of both the high-quality watch and the watch winder. In addition, Benson has the watch winders manufactured in-house, which provides various advantages. This keeps the lines short with regard to the quality for which Benson is known and also knows how to keep prices competitive. Benson knows how to achieve an excellent price/quality ratio with their watch winders.
An appealing model from the Benson collection that we would like to highlight in more detail is the Benson Compact Triple 3.CF watch winder. This model offers space for winding 3 automatic watches and is therefore ideal for the collector with 3 to 4 automatic watches. The watch winder is made by hand with the utmost care and precision and is made of particularly beautiful wood. This luxury watch accessory has a sleek and modern design and is made in the color carbon. Because this model is compact in shape, it is easy to place in any interior. For example in your living room, bedroom, office or hobby room.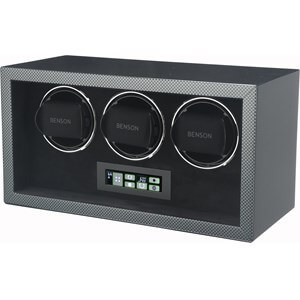 The heart of the Benson Compact Triple 3.CF watch winder is formed by motors of Japanese origin. The main advantage of these motors is that they are durable and strong, so they can wind any automatic watch, regardless of size and weight, safely and professionally. Moreover, they carry out their work almost in silence. This means that you can also place this watch winder without worry in your bedroom or, for example, at your workplace. The Japanese motors are of course also very reliable and durable, so you can always count on your watches being supplied with energy in the right way. This watch winder can rotate clockwise, counter-clockwise and alternately. In addition, the Benson Compact Triple 3.CF watch winder has overwind protection and a power winding function. This will wind your watches in a short time. This is of course a great solution if you don't have that much time available.
The Benson Compact Triple 3.CF watch winder is suitable for every type and brand of automatic watch. This is partly because you can set the rotors individually and in this way can tailor them to the needs of your watches individually. You can easily do this using the modern touchscreen. In this way you can set the direction of rotation and the number of rotations per day. In addition to being able to adjust the rotors individually, Benson uses flexible watch holders. This means that almost any type of automatic watch can be placed flawlessly in the watch winder.
But don't forget the LED lighting. This allows you to wind your watches in bright light so that you have a perfect view of them. This is not only convenient but also a beautiful sight.
In summary, with the Benson Compact Triple 3.CF watch winder you choose a reliable product of high quality and therefore the best for your watches. Benson offers a very good price/quality ratio. After all, you can purchase models from this brand at an attractive price, without having to compromise on quality.
The Benson Compact Triple 3.CF watch winder offers a feeling of luxury in terms of both technology and appearance. This is also reflected in the beautiful finish of this watch accessory. This model watch winder is also available at Benson with space for winding 1 or 2 watches. Handy if you don't want to wind 3 watches, but if you have fewer watches in your possession.
With the Benson Compact Triple 3.CF watch winder, your watches are always ready for use and always safely stored. So don't wait any longer and order your Benson Compact Triple 3.CF watch winder now!
You will find this high-quality model in our webshop. When you order this watch winder from us, you will receive it at home with a clear manual and a 2-year warranty. We will of course ensure that your purchase is packed securely when it travels, so that it arrives at you in top condition. You have also come to the right place for advice in this regard. With more than 15 years of experience in the field of watch winders, we can certainly be of service to you.