Posted on 26 August 2023 at 10:29 AM
If you are the proud owner of one or more automatic watches, there is one specific accessory that you really cannot do without. We are of course talking about the watch winder.
A quality watch winder prevents problems with your automatic watches by ensuring that your automatic watches can be wound when you are not wearing them. Normally, an automatic watch is automatically provided with the necessary movement because you wear it on your wrist. Your wrist naturally moves throughout the day, so your watch is continuously supplied with excitement. However, if you don't have your automatic watch on your wrist, this movement is missing energy. Your automatic watch then stops. This can have annoying consequences, such as inaccuracies in the time display. Moreover, it is annoying if you have to reset your watch after standing still. With a luxury watch, this is not always just about setting the time. What do you think, for example, of the moon phase indication, the date indication or a possible GMT function? In short, anyone who owns an automatic watch absolutely does not want to do without a watch winder. The watch winder not only prevents your watch from standing still. Due to the movement that the watch makes in the watch winder, the oil distribution in the watch is also correctly regulated. This ensures the preservation of your watch. Moreover, you can safely store your watch in a good watch winder, so you don't have to worry about scratches or other damage. Finally, there are very nice watch winders that are extremely suitable for displaying your automatic watch. For example, there are designs on the market that are equipped with built-in LED lighting, which makes your automatic watch stand out even more.
If you want to purchase a suitable watch winder for your automatic watch, we have a nice tip for you. The Dutch brand Benson offers high-quality watch winders in all shapes and sizes at an attractive price. For example, within the Benson collection you can find a watch winder for a single automatic watch, but also for an entire collection of automatic watches. You can also choose from beautiful cabinets and more compact designs. Benson also offers various options with regard to the engine. For example, you can choose a Benson watch winder with a Swiss made motor, but also a watch winder with a Japanese motor. In this article we would like to pay more attention to a specific watch winder from the Benson collection. It concerns the Benson Compact Aluminum 1 Blue. This watch winder comes from the brand's latest generation of Compact Aluminum watch winders. This watch winder is very compact and cube-shaped. This model is made of aluminum. This has several advantages. For example, it ensures a completely unique look of the watch winder, it is a strong material and also light in weight. This makes the watch winder easy to place and move. This specific model comes in a classic blue color, but the same watch winder is also available in various other colors, such as black, white, light gray and dark gray.
The Benson Compact Aluminum 1 Blue watch winder is equipped with a Japanese motor of excellent quality. This motor ensures that your automatic watch is wound in an energy-efficient way. Moreover, this motor does its work in silence, so that the Benson Compact Aluminum 1 Blue can be placed perfectly in, for example, the bedroom or office. The Benson Compact Aluminum 1 Blue is suitable for winding any brand and type of automatic watch. This is partly due to the powerful Japanese motor, but also due to the flexible watch holder. You can easily place almost any size automatic watch in this flexible holder. Moreover, the watch winder is fully adjustable using the handy LCD screen. You can use this to determine the direction of rotation and the number of rotations per day for your watch. This way you can be sure that your automatic watch will receive the most ideal way of winding. The Benson Compact Aluminum 1 Blue is also equipped with built-in LED lighting, so you have a perfect view of your watch at any time of the day. In addition, this Benson model offers the programs CW, CC and Alt. Of course, the overwind protection is also included, to protect your watch against overvoltage.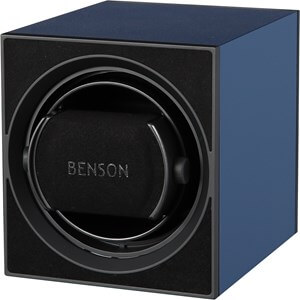 If you have become interested in the Benson Compact Aluminum 1 Blue or would like to know what else the Benson brand has to offer, take a look at our webshop! Here you will find the entire range of this Dutch brand. We also have almost the entire Benson collection in stock. When you have ordered your favorite new watch winder, it will soon be at your home, wherever you live. We deliver our products worldwide. View the beautiful range of Benson watch winders in our webshop now!