Posted on 13 May 2022 at 1:41 PM
If you own a luxury automatic watch, such as Rolex or Breitling, a good quality watch winder is what makes this hobby complete. You take care of the maintenance and preservation of your automatic watch. If you don't have your watch on your wrist, it won't run after some time. In the case of an automatic watch, this means that it does not receive the necessary energy and therefore comes to a standstill. This has unpleasant consequences. For example, you will have to set your watch again and again and it can also cause inaccuracies in time and date display.
A watch winder also provides a correct oil level in the watch. In short, the automatic watch and this watch accessory are inextricably linked. Yet, in addition to these practical reasons, there are even more motives to purchase a watch winder. A suitable watch winder also offers safe storage for your watch and you can present your watch extra beautifully with a stylish watch accessory.
With regard to reliability, durability and functionality, we can say that exclusive quality is available in Switzerland in the field of both luxury watches and watch winders. But there are also Swiss watch winder brands that combine this quality with a unique design. We would like to introduce you to a Swiss brand that falls under this heading, namely Bernard Favre.
Bernard Favre offers exclusive Swiss made watch winders of superior quality. In addition, the models of this special brand are very recognizable, because of their very own face. The watch winders can be called a true 'piece of art' and will certainly attract the attention of every enthusiast. With the so-called Planet Winding System by Bernard Favre, the winding is provided by turning the watch on its own axis. The entire watch remains clearly visible, which is a very fascinating sight. Bernard Favre only chooses first-class materials such as carbon, genuine leather and stainless steel for the manufacture of their watch winders. Every watch winder is made by hand with the greatest possible care. Striking are the sublime finish and the eye for detail that is reflected in every Bernard Favre watch accessory.
We are happy to tell you more about 2 models from Bernard Favre's beautiful collection. We start with the Bernard Favre Planet Silver watch winder. This watch winder is suitable for winding a single automatic watch. The heart of this watch accessory is formed by a Swiss motor that ensures that any type or brand of automatic watch can be wound effortlessly. Moreover, Swiss made motors are not only energy efficient, but also very quiet in use. All this for optimum user comfort. This watch winder is made of stainless steel. The black base in combination with the silver colored rings give this watch accessory a very luxurious look. In addition, the glass dome that can be placed over the watch winder if desired. Not only does this dome complete the picture from an aesthetic point of view, but it also protects your watch against influences such as dust and condensation. The LED indicator shows the status of the watch winder, so you can always consult it easily.
The Bernard Favre Planet Silver watch winder is also equipped with a built-in battery (100 days). Together with the compact design of the watch winder, this feature ensures that it can also be placed in a safe. Charging the battery is done using the USB connection. It is possible to do this via PC, mains power or smartphone. Finally, this watch accessory is equipped with the CW, CC and Alt programs and an overwind protection.
A second model from the Bernard Favre collection that is also unique is the Bernard Favre Planet Black watch winder. This watch accessory is also suitable for winding 1 automatic watch. This watch accessory is made of stainless steel PVD and completely finished in the color black. This makes your watch stand out even more when it is placed in the watch winder. This model also includes the glass dome, to be able to place over the watch winder.
Of course, this watch accessory is also equipped with a Swiss made motor of unparalleled quality. The Bernard Favre Planet Black watch winder is also programmable and it is possible to choose from the programs CW, CC and Alt. Also an overwind protection is not lacking here. This model is also equipped with the handy LED indicator for displaying the status of the watch winder. The built-in battery ensures that you can store your watch winder extra safely in a safe and that you can easily take it with you.
Bernard Favre's watch winders absolutely belong to a class of their own. Every watch that is placed in this watch winder provides every interior with a real eye-catcher. The Bernard Favre models can be ordered from us in the webshop. You can also watch a video here, where you can see a Bernard Favre watch winder at work. You are guaranteed to be fascinated by this image.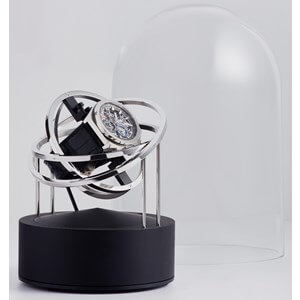 The Bernard Favre models are supplied by us with a 2 year warranty in a luxurious leather case.