Bernard Favre Planet Silver watch winder
Posted on 19 May 2023 at 8:53 AM
The most useful accessory for automatic watches is a watch winder. What exactly does a watch winder do? The answer is simple; it mimics wrist movement which energizes the watch. This keeps the automatic movement moving and the watch continues to run. This is useful if you have several automatic watches and want to change them regularly, or if you want to properly maintain the watches that you do not wear regularly. After all, standing still is going backwards.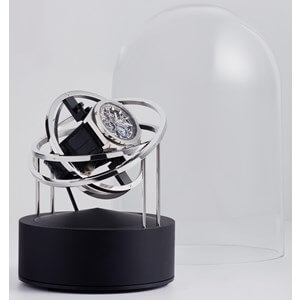 When we talk about watch winders that not only deliver the best quality but also present exclusive designs, the Swiss brand Bernard Favre is a brand that catches the eye in that respect. The Bernard Favre brand was founded by Bernard Favre himself who grew up in the canton of Neuchatel in Switzerland. This is the heart of fine watchmaking, through which the profession of the watchmaker and everything around Bernard Favre was spoon-fed. As a young child, he was very interested in various mechanical items. As a teenager, he already managed to convert a TVR (an iconic English sports car). Today, Bernard Favre has been using his talents in the high end Swiss watch industry for over 20 years. As a designer, inventor and producer of custom-made accessories, he collaborated with various well-known names in the Swiss watch industry. In 2009, Bernard Favre developed the exclusive Planet watch winder that he presented to the public in 2011.
These Bernard Favre Planet watch winders are available in various beautiful variants, each of which is a real eye-catcher. When the automatic watch is placed in the watch winder, it is provided with the necessary energy by means of rotation. The watch rotates on its own axis, which refers to the rotation of the planet. This is also where the special name of this exclusive watch winder comes from.
Bernard Favre's collection offers Planet watch winders that are made of various high-quality materials. For example, materials such as stainless steel, carbon and even gold are used. Bernard Favre's watch winders have a very luxurious appearance and can be called a true 'piece of art'. With a watch winder of this caliber you always know for sure that your automatic watch is ready for use and you never have to worry about your watch standing still. In addition, it is a wonderful way to present a luxury watch and of course to store it safely. A good example of a beautiful Planet watch winder from the Bernard Favre collection is the Bernard Favre Planet Silver watch winder. The Planet watch winders are suitable for winding a single automatic watch, including the Bernard Favre Planet Silver watch winder. This watch winder is made of stainless steel, among other things. The black base of the watch winder offers a nice contrast to the silver-colored rings. The glass dome that can be placed over the watch winder further emphasizes the luxurious character of this watch winder. You also protect your watch with this bell jar against harmful external influences, such as moisture, dirt and dust.
The Bernard Favre Planet Silver watch winder is equipped with a Swiss made motor, which ensures the best possible way of winding your automatic watch. It does not matter which brand or type of automatic watch you own. The Swiss motor is also energy efficient and quiet. The watch winder therefore does its job in silence. This watch winder is also equipped with a built-in battery that is good for 100 days of operation. This makes it a good option to safely store this watch winder and your automatic watch in a safe. Charging the watch winder is easy with the handy USB connection. You can charge your watch winder using mains power, PC or Smartphone. The special LED indicator indicates the status of the watch winder, so that you can always keep track of this. The Bernard Favre Planet Silver watch winder offers the programs CW, CC and Alt and of course an overwind protection.
When you choose to purchase the Bernard Favre Planet watch winder, you choose a real eye-catcher for your interior. All eyes will certainly be on your watch winder and your watch. It is certainly a very fascinating sight for lovers of luxury watches how the watch is supplied with energy in this watch winder. With the Swiss technology of this watch winder, you can also always be sure that you choose the cream of the crop and the best possible way of winding your automatic watch.
Watchwinders.com is an official dealer of Bernard Favre, and we offer a nice selection of Planet watch winders from this renowned brand. We supply the Swiss made watch winders from Bernard Favre as standard with a 2-year warranty, a clear manual and a luxurious leather case. We also always offer you the best service, the latest collections and the best prices. You can see the Planet watch winder from Bernard Favre at work in our webshop on a video. This way you have a good and complete picture of the operation and appearance of this watch winder. If you need help finding the watch winder that suits you best, or if you want an answer to your questions, please feel free to contact us!