Posted on 29 September 2020 at 2:50 PM
A good watch winder is one of the most popular accessories for automatic watches. Everyone knows the problem that when an automatic watch is not worn it comes to a standstill. The time, date and other functions are no longer correct, after which you have to open the crown to set everything properly and wind the watch. This is inconvenient, but above all unnecessary. With a watch winder you save time and effort. It is equally important that you especially protect your watch, because opening the crown must be done very carefully. After all, it forms a direct connection with the movement in the watch.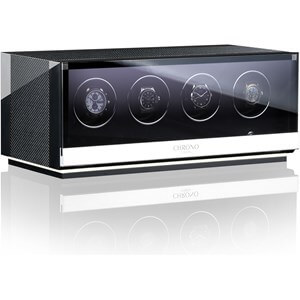 If you have several automatic watches and regularly wear different watches, the use of a watch winder is a godsend. There are many types and sizes of watch winders. There are smaller watch winders for 1 or 2 watches, but there are also somewhat larger watch winders for 4, 6 or even 8 watches. In this blog we will discuss the watch winder for 4 watches.
Watch winder for multiple watches
Are you a fan of automatic watches, a collector or a professional who works a lot with watches (sales representative, repairer, jeweler etc etc)? Then you probably already have a watch winder or have you ever thought about purchasing a watch winder. More and more people who have one or more automatic watches are using a watch winder. This accessory is gaining in popularity as its convenience and usefulness is increasingly recognized. In addition, a watch winder is not only handy, but increasingly also an interior piece. Watch winders are produced in different designs, materials and colors and often have a luxurious appearance. This naturally fits perfectly with a beautiful watch collection and beautiful interior.
Brands such as Orbita, Benson and Paul Design make beautiful watch winders for multiple watches. These are often complete cabinets in which several watches are wound up, but there is also room for storing other watches. This type of watch winder is often equipped with extra luxuries such as LED lighting, beautiful materials, glass door with a view of the rotating watches and extra functions in terms of excitement.
Which watch winder for 4 watches do we recommend?
For your automatic watches you want a good watch winder that winds every watch brand and model safely and without problems. Most modern watch winders from famous brands offer good quality and functionality. You can think of watch winders from the above brands, but also from Swiss Kubik, Boda Concept and Heise & Söhne.
We advise you to choose a watch winder for 4 watches that can rotate in both directions, both clockwise and anti-clockwise. In addition, it is important that you can set the number of revolutions per day on the watch winder. Different watch brands use different types of timepieces in their watches, so that one watch needs a different minimum number of revolutions per day than another watch. Below are a few examples of watch winders that offer all options for winding any automatic watch.
The Benson Smart-Tech II 4.18.B is one of the best watch winders in the price range up to 500 euros. This model actually has everything you need. The design is modern and luxurious. The glass door gives a beautiful view of the revolving watches. You can activate the LED lighting for extra light in the watch winder in the dark. The built-in drawer offers you extra storage space for other jewelry and/or watches.
The Boda Concept C4 watch winders have a vertical design which makes the watch winder look like a tower. The C4 is available in carbon and walnut version. You can set this watch winder via an LCD display that controls all useful functions. This model also has an extra storage drawer for storing other watches or jewelry.
If you want a more luxurious watch winder, the Chronovision Ambiance IV watch winder collection is a great choice. This watch winder model is extremely luxurious and stylish. The sleek appearance and glass front give the watch winder a modern look. The watch winder is set via Bluetooth connection via a special app on your phone. Very handy and futuristic!
As the last model we would like to mention the Paul Design Gentlemen 4. This series of watch winders for 4 watches offers luxury in combination with functionality. Just like in the watch winders above, you can easily wind any automatic watch, regardless of brand or model, in this watch winder. These watch winders are equipped with a touchscreen with colors. Interestingly, this model is available in different variants; Gentlemen 4 Black Shadow, Gentlemen 4 Black Apricot and Gentlemen 4 Macassar. Plenty of choice!
Buy from an official dealer!
If you are looking for a watch winder for 4 watches, there is plenty of choice! There are many good brands that produce excellent watch winders. Above are a few examples of watch winders that are definitely worth recommending. If you are going to buy a watch winder, pay attention to a few things. Always choose a well-known brand watch winder, because there is also a lot of junk for sale that can be harmful to your automatic watches. You don't want to take any risks with your beautiful watches, do you? We also recommend that you buy from an official dealer. This offers you clarity and certainty. A watch winder is usually not cheap. You want the watch winder to last longer, so get good advice and compare multiple providers. A good official dealer will always distinguish himself in terms of collection, stock, advice and clear warranty.
For a watch winder for 4 watches you can always take a look at our website. As an official dealer of 15 brands, we offer wide collections of well-known watch winder brands that we have been selling for years. With more than 15 years of experience in the field of watch winders, we are happy to help you. If you have any questions or comments, we are here for you!