Posted on 22 August 2020 at 9:08 AM
Orbita is a watch winder brand with a specific sense of class and style. Thereby it also offers very high quality in every watch winder. This quality brand is manufactured in the United States and is extremely popular with watch enthusiasts and collectors. Orbita has registered various patents in the field of watch winding technology that is included in every Orbita watch winder. In addition to the well-known way of winding by rotation, the Programmable System, the brand also offers a very different system. This is called the Rotorwind System. This system supplies every automatic watch with energy by gently shaking the watch. This unique way of watch winding has been patented by Orbita and is therefore reserved for Orbita itself. The Orbita watch winders are equipped with Swiss motors that are known all over the world as very reliable, high-quality and durable.
In this blog we write about one specific Orbita watch winder that is one of the best models in our opinion. For the true enthusiast with a small collection of automatic watches, this beautiful watch winder brand offers an absolute high-end watch winder. The Orbita Avanti Six W70001 is a watch winder for six automatic watches. This exclusive watch winder not only offers luxury and comfort, but also a very chic look that fits perfectly with a nice collection of automatic watches. The Orbita Avanti Six W70001 watch winder is made of macassar wood from Italy. This watch winder has a beautiful classic design and carbon accents. This combination of beautiful wood and modern carbon fiber gives the watch winder a fantastic look. For those who want a watch winder that also looks beautiful, this Orbita watch winder is an excellent choice. After all, you combine quality with beautiful materials and a beautiful design.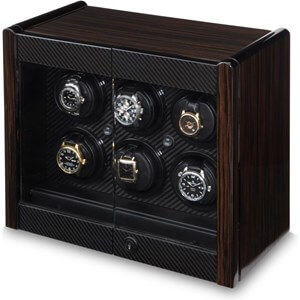 The Orbita Avanti W70001 watch winder offers three programs, clockwise, counterclockwise and alternating. The Swiss motor is very quiet in use and also energy efficient for optimal ease of use and comfort. The model is suitable for any automatic watch, regardless of brand or type. Since Orbita uses flexible pads to place the watches on, they are suitable for almost any size watch. If you have watches that are very small, it is also possible to order smaller watch pads, of course with the Orbita logo. Each rotor of the watch winder is individually adjustable, so that you can fully adapt it to the needs of the respective watch. With the glass door your watches are protected against dirt and dust and you can store them safely and with a good feeling. In addition, the glass ensures that you can see the watches well, which is an attractive sight, especially when they rotate.
The Orbita Avanti Six W70001 watch winder is a very complete and luxurious watch winder. If you love luxury and want to wind your automatic watches in one of the best watch winders, then you make an excellent choice with this watch winder.
As an official dealer of Orbita, we offer you a current collection, competitive prices and a clear service. Every watch winder from this American brand comes with a minimum of 2 years warranty and manual. We have most models in stock and are available immediately.