Posted on 14 June 2020 at 10:39 AM
When you as a true enthusiast of automatic watches look for a suitable watch winder, you generally do not only look at the quality of the product. While that is of course a very important requirement, a watch lover or collector of automatic watches will also place a certain value on the appearance of the intended watch winder. If you choose a watch winder that functions as a real eye-catcher within your collection and interior, it will be a valuable addition to the whole. Of course, this is just as true for the enthusiast with a one of two automatic watches.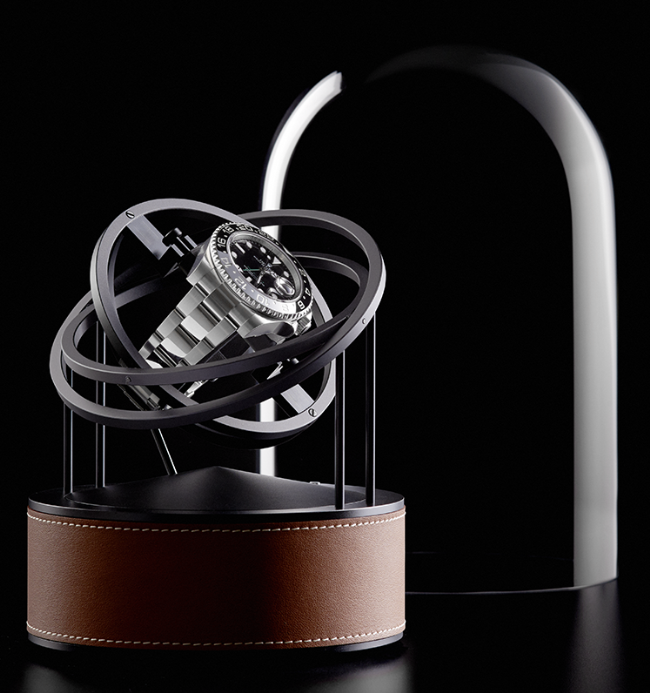 In addition to the wide choice in brand, quality and functionality, there is also a wide range of watch winders with a diversity in appearance and use of materials. If you are looking for an exclusive and unique watch winder, the watch winder brand Bernard Favre is a very interesting brand to look into. Bernard Favre's watch winders are Swiss made to begin with, which guarantees an extremely high quality. The brand is among the absolute top in the world. In addition, Bernard Favre offers an absolutely unique system for the winding of automatic watches, which not only supplies the watches with the necessary energy, but also provides a particularly beautiful scene during the winding.
The so-called "Planet Winding System", which the Bernard Favre watch winders are equipped with, ensures that the watch is supplied with the required energy by rotating around its own axis. It revolves around its own axis as if it's a planet. That is also where the name of the Planet Winding system can be traced back to. The excitement process is therefore a fascinating sight, especially for the real enthusiast of automatic watches. You have a full view of your watch at any time, which the enthusiast will appreciate.
The high quality of the Bernard Favre watch winders is combined with the use of high-quality materials, Swiss motors and a perfect finish. Materials such as stainless steel, leather, glass and carbon are processed in the special watch winders, which are completely handmade by Bernard Favre in a special workshop. Moreover, they are available in all kinds of variants and colors. Different colors included in the collection include orange, blue, green and black. As for the metal parts, we see gold, metal and rosé. The glass dome that can be placed over the watch winder serves as protection against dirt and dust, but also completes the picture in terms of the look of the watch winder. Due to the variation on the original design of Bernard Favre, there is a suitable Bernard Favre Planet watch winder for every personal taste and interior.
The Bernard Favre watch winders offer up to nine programs to wind a watch. This makes this watch winder ideal for winding an automatic watch, regardless of brand or model, professionally and safely. Winding watches from brands such as Omega, IWC, Panerai, Breitling, Rolex or Breguet is no problem at all. The programs are set in such a way that the watch winder can rotate in different directions. You can also set the number of revolutions per day.
The Bernard Favre Planet watch winders are equipped with extra functionalities such as the LED indicator which shows the status of the battery inside the watch winder. In addition, there is the possibility to charge the built-in battery via USB connection or via the supplied adapter. This battery makes it possible to safely store your watch winder in a safe or, for example, to take it to the office. In addition, you do not necessarily have to have a socket nearby, because you can place the watch winder wherever you want. Of course, the watch winders are equipped with an overwind protection. In addition, the Swiss motor is not only energy efficient, but also very quiet in use so that you are not disturbed while winding your watch.
Why we love the Bernard Favre Planet watch winders? The answer is simple, the brand produces top quality watch winders that are also unique in the way they wind automatic watches. Of course, winding an automatic watch can also be done in a simple watch winder that is considerably cheaper. But the way in which Bernard Favre combines all features in this series of watch winders is very special. The combination of a Swiss motor, unique winding method, beautiful materials and the fact that the watch winders are made entirely by hand makes these watch winders absolute top. If you want to wind your watch in a unique way and do not want to make concessions in terms of sound and quality, then this Bernard Favre Planet watch winder is the best choice!
We have known Bernard Favre, owner of the brand, for a long time. This gentleman is very enthusiastic to make top quality watch winders that aesthetically offer something very special. When you see that passion and the pursuit of perfection result in such a beautiful collection of watch winders, it is very nice for us as an official Bernard Favre dealer to sell this brand.
In short, are you looking for a high-quality Swiss watch winder that shows class and style? Then a Bernard Favre watch winder is the best choice! As an official dealer, we have a wide collection in stock and immediately available. In our webshops you can see and compare the current collection of watch winders of this brand. Each watch winder comes with a 2 year warranty, certificate, manual and adapter. Of course, the glass dome that can be placed over the watch winder is included.
We ship registered and insured worldwide via PostNL, Fedex or DPD. On our website you can pay with your credit card, Paypal, iDeal or simply by bank transfer.