Orbita Sparta Bold 1 Black W05521 watch winder
Posted on 26 July 2022 at 9:24 AM
If you are looking for a watch winder of excellent quality, then you have come to the right place with the American brand Orbita. Orbita was founded in 1996 by Chuck Agnoff in North Carolina. Today, Orbita is a leading brand in this field. The brand therefore attaches great importance to innovation and development. Although Orbita was not the brand that invented the watch winder, the brand has managed to reach a whole new level in the excitement of automatic watches.
The Orbita watch winders combine a traditional design with the most modern technology and are able to enthuse a large number of enthusiasts and collectors of automatic watches. As mentioned, Orbita has provided innovation in the field of high-quality watch winders. The people behind the brand have been looking over and over for the mildest means of effective arousal. It is not for nothing that the brand has several patents to its name. For example, Orbita has developed the so-called 'Rotorwind System'. This system provides the winding of automatic watches by gently 'shaking' the watch. The brand also offers the more common way of winding, which provides the energy supply through rotation. With this, the brand offers a wide choice for the proud owner of luxury automatic watches.
Within the Orbita collection we find watch winders that are suitable for winding a single watch, but also watch winders especially suitable for the real collector. This enables Orbita to serve a wide audience. In addition, there is a choice of watch winders of different price ranges. Every Orbita watch winder is equipped with a reliable Swiss made motor. With the Orbita Sparta Bold models you choose a watch winder for winding 1 or 2 automatic watches. These watch winders are made of aluminum and have a simple design. With this you choose a watch winder from a high-end watch winder brand of real Swiss made quality, without having to pay the main price. We will highlight one model from the Orbita Sparta 1 series, namely the Orbita Sparta Bold 1 Black W05521.
The Orbita Sparta Bold 1 Black W05521 is made of aluminum and has a simple design. The watch winder is suitable for winding one watch. This specific model is available in black. However, the same watch winder is also available in various other appealing colors, such as red, green and blue. Of course, this watch winder is equipped with a Swiss motor, with which a solid foundation has been laid. These Swiss engines are of top quality and are therefore known worldwide. They offer reliability, solidity and durability. In addition, they are energy efficient, which is a great advantage. In addition, the Swiss engines offer low-noise excitement. This allows you to place these watch winders where you want, also in places where silence is desired. You can think of, for example, your workplace or your bedroom. These motors also make this watch winder suitable for any automatic watch. They are powerful enough to power any brand or type of watch.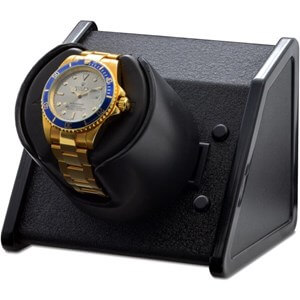 The Orbita Sparta Bold 1 Black W05521 works on batteries. This brings several advantages. This makes this watch winder easy to place and move. Especially in combination with the compact design of the watch winder. In addition, this feature also makes it a good option to store the watch winder in a safe. With this you choose optimal safety for your watch winder and watch. The Orbita Sparta Bold 1 Black W05521 has the programs CW, CC and Alt and an overwind protection. In addition, this watch winder uses the innovative Rotorwind System. Orbita uses flexible watch pads. You attach your watch to this cushion during the winding of your watch. The cushion protects your watch against scratches or other damage. These pads are suitable for most sizes of automatic watches. However, if you have very small watches, it is also possible to order extra small watch cushions. These cushions feature the Orbita logo, which emphasizes the luxury aspect of this brand.
As an official dealer of the Orbita brand, we are able to offer you the best service and latest collections. You will therefore find a nice selection of Orbita watch winders in our webshop. You order these watch winders from us safely and quickly. When you order an Orbita watch winder from us, you will receive it with a 2-year warranty. Of course you will also receive a clear manual, so that you can get started right away.
We deliver the watch winders of this exceptional brand worldwide with the help of PostNL, Fedex and DPD. Before we send the watch winders, we ensure that we pack them extremely carefully. Now choose the best for your automatic watches, choose an Orbita watch winder!