Paul Design Gentlemen 4+6 Black Shadow watch winder
Posted on 19 August 2022 at 10:42 AM
Paul Design is an innovative watch winder brand from the United Kingdom that can be called unique in various ways. This brand aims to produce watch accessories that are a nice combination of good quality, high-quality materials and an attractive price. With this, the brand wants to fill a gap that has arisen within the existing range of watch winders. There was a big difference between the renowned brands with high quality and high prices and the brands that offered watch winders at bargain prices. In the latter group, the quality was a lot less. As a progressive brand, Paul Design has developed watch winders that are both of good quality and affordable. Moreover, the brand pays a lot of attention to the appearance and extra functionalities of their models. This means that with a Paul Design watch winder you not only opt for high performance in terms of excitement, but also for a refined design.
Paul Design has opted for the use of Japanese motors for their watch winders. With this, the brand opts for a powerful and sustainable basis for their watch winders. The motors of the Mabuchi brand are also capable of supplying any type and brand of automatic watch with the required energy without any problems. Furthermore, they are economical in energy consumption and they do not make any disturbing noises during the winding process. This last feature is ideal if you want to place your watch winder in a place where silence is desired, for example in the bedroom or at the office. The brand has also carefully considered the choice of watch holders. The Paul Design watch winders are all equipped with flexible watch holders. This ensures that you can easily change your watches and that almost any size watch fits perfectly in the holders.
To emphasize the quality and complete character of the Paul Design watch winders, we write about a watch winder from the collection that we would like to tell you more about. It concerns the Paul Design Gentlemen 4+6 Black Shadow watch winder. This model is suitable for winding 4 automatic watches. In addition, this watch accessory is ideal if you want to keep other watches, jewelry or cufflinks with your automatic watches. An extra storage space has been created at the top of the watch winder for another 6 watches or other jewelry. This model is made of very nice wood, in a color combination of black shadow and black. The inside of the watch winder is also black and covered with a soft fabric for optimal protection of your watches. The watch winder can be closed by using the glass door. You can close your watch winder for dust, condensation and dirt and still keep an eye on your watches. Visibility becomes even better when you switch on the built-in LED lighting. This ensures that your watches are also very nicely visible in the dark.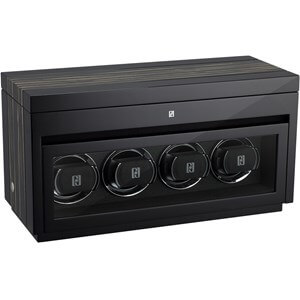 As we are used to from Paul Design, the Paul Design Gentlemen 4+6 Black Shadow watch winder is equipped with the most modern techniques. We are not only talking about the Japanese engines that form the basis, but also, for example, about the innovative touchscreen. With this touchscreen you can quickly and easily set the watch winder, for example with regard to the direction of rotation and the number of rotations per day. Because it is possible to do this for each watch separately, you ensure that your watches enjoy the most optimal form of excitement. The watch winder also offers the programs CW, CC and Alt and an overwind protection. This watch winder works by means of an adapter through mains power. Finally, a remote control is included with this model for optimal user comfort.
With the example of the Paul Design Gentlemen 4+6 Black Shadow watch winder, it has become clear what Paul Design stands for. A stylish and elegant design, optimal protection for your watches, a perfect view of your watches and lasting excitement. Because this watch winder is also available at a competitive price, Paul Design is also aimed at people with a smaller budget. This way you can choose the best for your collection of automatic watches, without having to pay the top prize. It is not for nothing that this brand is known for its extremely good price/quality ratio.
Are you looking for a classic stylish watch winder with a beautiful finish? Then take a look at our extensive collection of Paul Design watch winders and see with your own eyes the possibilities and quality offered at inviting prices. Paul Design watch accessories are supplied by us as an official dealer with a 2-year warranty and a clear manual. Furthermore, with our experience in the field of watch winders and automatic watches, we are like no other able to provide you with appropriate advice or answers to your questions.