Posted on 24 December 2020 at 10:16 AM
The watch winder and the automatic watch are inextricably linked. The watch winder provides the movement that every automatic watch needs in order to continue to run. By means of this movement, the watch keeps running on time and you prevent damage or wear to your watch. Normally, the natural movement of the wrist provides for this energy requirement. But when an automatic watch is temporarily not worn, a watch winder is the perfect solution. You can imagine that when you have a collection of watches, the need for a watch winder is even more present. After all, you can't wear all your watches at the same time. When you, as a collector, are looking for a watch winder for your beloved watches, you naturally want a watch winder of perfect quality. This way you can store and wind your watches in the watch winder with confidence.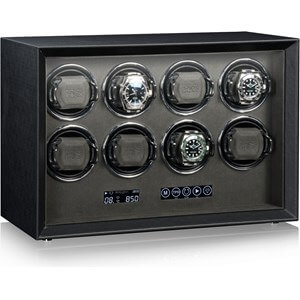 Where can you find a watch winder that is of the high quality without paying too much for it? There is a lot of quality available in the field of the watch winder. In addition to Switzerland, Germany is also a country known for the professional production of high-quality watch winders. Heisse & Söhne is a watch winder brand that comes from Germany and certainly lives up to the good reputation of this country. In addition to the high quality, Heisse & Söhne offers high-quality technology and a very luxurious appearance with their watch winders. The Heisse & Söhne watch winders are equipped with Japanese motors of excellent quality. In addition, the watch winders in the Heisse & Söhne collection are attractively priced. What else do you want? In addition to watch winders, Heisse & Söhne also offers special watch winder safes. These meet the highest European standards. This way you keep your watch collection as safe as possible. These safes can even be custom made.
In the collection of Heisse & Söhne we find watch winders that are suitable for the real collector, with various capacities. Watch winders that are suitable for 2, 3, 4, 6 or even 8 automatic watches. The different series of watch winders that we can distinguish in the Heisse & Söhne range each have their specific properties, but are of course all of the highest quality.
The latest collection of watch winders from Heisse & Söhne can be found within the Heisse & Söhne Watch Guard collection. The Heisse & Söhne Watch Guard 70019-129.37 watch winder is suitable for winding 8 automatic watches. As we are used to with this German brand, this watch winder has a modern and luxurious look. The interior of the open case has black fabric and the watch winder has a PU leather exterior. This watch winder is of course suitable for any automatic watch, regardless of the brand or type of watch. Via the modern LCD screen you can easily set the direction of rotation and the number of rotations per day for each watch individually. In addition, the LED lighting always offers you a good view of your watches during the winding. This way you can keep an eye on your watches at all times and the watch winder simultaneously functions as a display for your watches. Furthermore, this watch winder is equipped with overwind protection and handy sleep mode. With this last function you give your watches some rest by keeping them just below the optimal level of winding.
When you wind your automatic watches in the watch winder, you don't want to be disturbed by annoying noises. The Heisse & Söhne Watch Guard 70019-129.37 watch winder is thus equipped with silent Japanese motors for optimal user comfort. Moreover, the watch winder is also energy-efficient, which will certainly be an advantage for many. You can place this watch winder wherever you want, without being bothered by it. With its chic look, the watch winder will even be a real asset to your interior. With this watch winder you also have the programs CW, CC and Alternate.
If you have become interested in this Heisse & Söhne Watch Guard watch winder, or if you want to take a closer look at the beautiful collection of Heisse & Söhne, you can do this easily and conveniently in our webshop. Here you will find a very nice collection of Heisse & Söhne watch winders, including of course the very latest Watch Guard 70019-129.37. When you have a hard time choosing between all those beautiful watch winders, you can easily pick out a number of your favorites. You can then easily see these together in a clear diagram using the comparison function. There it was made clear what the similarities and the differences are between your choices. Ideal!
When you order a Heisse & Söhne watch winder in our webshop, you will receive it at home in a sturdy packaging, together with adapter and manual. You also receive a minimum of 2 years warranty on this. We have also been an official dealer of Heisse & Söhne for more than 10 years, so you can place your order with peace of mind and confidence. We also have extensive experience in the field of both watches and watch winders and can therefore provide you with advice and the right service where necessary.