Posted on 23 May 2022 at 11:51 AM
With the development of the watch winder, an accessory was launched for enthusiasts and collectors of automatic watches that ensures that you can enjoy your passion without worries. Since an automatic watch is dependent on movement, this causes problems when the watch is not worn. This is especially inconvenient when you have several automatic watches. A watch winder can meet the energy needs of automatic watches, because it imitates the movement of the wrist through rotation. This allows you to wind your watches without wearing them and you no longer have to worry about a standstill with all the unpleasant consequences that entails. In addition, the rotation also benefits the oil supply in the watch, so that with a watch winder you also offer your watch the best in this area.
It is important to choose a quality watch winder. With a high-quality watch winder you choose the best for your watches in terms of winding the automatic movement inside the watch. But also when you go for durability and want to enjoy your watch winder for a long time, you choose a brand that delivers quality. With a decent watch accessory you also immediately have a safe storage place for your watches, so that you can store them carefree. A high-quality watch winder is also the best choice from an aesthetic point of view. Renowned brands choose the best materials and pay a lot of attention to detail and finish. With this you present your automatic watches in a stylish way and all eyes will certainly be on your beloved watches. Watch winders are available with a classic or modern look. Choose a watch winder that suits your personal taste and you have a real eye-catcher for your interior!
In this article we discuss 3 high-quality watch winders, from 3 brands that are well known and a good choice based on our experience. The first model that we highlight is one of the Bernard Favre brand. Bernard Favre is known for the recognizable and very luxurious watch winders that they develop. The Swiss made motors that Bernard Favre uses are of excellent quality. In addition, Bernard Favre chooses very high-quality and special materials for the manufacture of their watch winders. The Bernard Favre Planet Silver watch winder is a watch accessory that will definitely attract all the attention when it is placed in your interior. This watch winder is made of stainless steel and comes in the color silver with a black base. The watch is wound in this watch accessory because it rotates on its own axis, hence the term 'Planet' is derived. The winding process is therefore a fascinating sight with this watch accessory and will certainly arouse the enthusiasm of the true enthusiast. The glass dome that can be placed over the watch winder provides extra protection and emphasizes the luxurious character of this model.
The Bernard Favre Planet Silver watch winder is suitable for winding one automatic watch and equipped with no fewer than 9 programs. With the help of the LED indicator you can follow the status of the watch winder. Naturally, this watch accessory is equipped with a Swiss motor. Because this model is also equipped with a built-in battery (100 days), it is also a good option to place it in a safe. Charging the watch winder is possible using the USB connection, via mains power, PC or smartphone.
A second model we would like to introduce you to is the Paul Design Gentlemen 12 Black Apricot. Paul Design is a brand from the United Kingdom, which is known for the good price/quality ratio that the brand offers. This specific watch accessory is suitable for winding up to 12 automatic watches and is made of wood. The watch winder is equipped with high-quality Japanese motors. Each rotor can be set individually with regard to the number of rotations per day and the direction of rotation using the modern touchscreen. Furthermore, this watch accessory offers luxury at its best, it has built-in LED lighting and even a special fingerprint lock. With these modern features, Paul Design shows that they attach great importance to innovation and high-quality technology. The Paul Design Gentlemen 12 Black Apricot also offers the programs CW, CC and Alt and an overwind protection and is also supplied complete with remote control.
The last model that we put in the spotlight is a model from the RDI collection, more precisely the RDI Prestige K10-1. RDI is known for its unique and striking designs, inspired by elements from nature, among other things. With the RDI Prestige K10-1 you choose a watch winder with special shapes and patterns and a unique appearance. This watch winder is made of stainless steel and can be closed with a glass door. This model is equipped with a Swiss engine that is known for its unparalleled quality. With this watch accessory you can wind any automatic watch without any problems. The watch winder offers the programs CW, CC and Alt and an overwind protection. The energy supply is via an adapter or battery.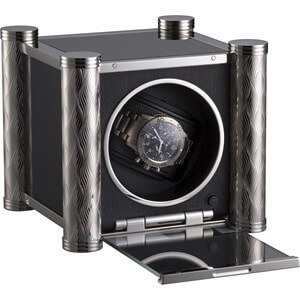 With the above models we have tried to give you a bit more info, each with its own specs. With one of these watch winders you choose the best for your automatic watches and you will not have to worry about the energy supply of your watches for years. You can find all three watch winders in our webshop!