Posted on 22 April 2021 at 1:08 PM
An affordable watch winder. This is what every watch enthusiast, who is looking for a watch winder to wind his or her automatic watches, would like. Fortunately, there are brands that provide this. Benson is a very interesting brand for anyone who is looking for a quality watch winder with all the trimmings, but does not want to pay the main price. Benson's watch winders are characterized by a stylish design, excellent technology, durability and reliability. Benson is a Dutch brand and has been on the market for over 10 years. Benson has gained a lot of experience over the years in the field of the watch winder as a watch accessory and knows better than any other brand what conditions a good watch winder must meet.
The watch winders in the Benson collection are therefore very complete and equipped with modern technology. In addition, they know how to attract attention in a positive way due to the luxurious designs and beautiful materials they use. Benson has recently introduced several new watch winder models to the collection that are worth checking out. These are new Smart-Tech II models, the Swiss Series (these watch winders are equipped with Swiss made motors) and the new generation Black Series.
The Benson Black Series 8.16.WA Limited Edition watch winder is one of the new Black Series models. This model is suitable for winding 8 watches and also offers extra storage space for 6 watches. You can use the extra storage space to store other automatic or quartz watches or even other jewelry. The watch winder is equipped with Japanese motors that each rotate one watch. So you have optimal flexibility in terms of winding of automatic watches because you can set each rotor individually. In addition, these motors are energy efficient and almost silent in use.
The Benson Black Series 8.16.WA watch winder also offers many great features and functionalities in the technical field. It is equipped with a modern touchscreen and built-in LED lighting. Because Benson uses flexible watch holders, every watch fits in the watch winder almost flawlessly. This watch winder is therefore suitable for any type and brand of automatic watch. In addition to wind protection, this watch winder also offers a speed winding function. This will wind your watch within a short time. The lid of the watch winder closes gently through the special soft close cover. Furthermore, the watch winder works with the help of an adapter, which is included.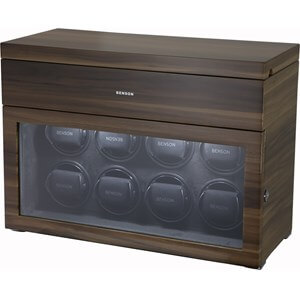 The Benson Black Series 8.16.WA Limited Edition watch winder is handcrafted with the utmost care from exceptionally beautiful wood. The combination of the walnut style with the glass door and the black fabric interior exude an absolute luxury. The soft fabric that is applied on the inside also ensures very good protection of your watches against possible damage. The watch winder has no less than 12 layers of paint and a protective layer, for optimal quality. So you can count on it to stay beautiful for a long time.
What makes this watch winder extra special is that it is a Limited Edition. Only 250 pieces of this watch winder have been produced worldwide. Each watch winder is individually numbered on a metal plate on the inside. With this watch winder you choose a unique piece and you really have something special to wind and store your watch collection.
It is clear that the Benson Black Series 8.16.WA Limited Edition watch winder has a lot to offer in terms of design, technology and quality. In addition, characteristic are the various extras such as the storage space that has been thought of. It makes this watch winder very complete and extremely suitable for the real collector. If you also consider that this watch winder is offered for a very competitive price, many enthusiasts and collectors will have become interested by this model. Especially if you like to buy something special that not everyone has. With this Limited Edition you finally choose a model that is sold very limited and can therefore be called exceptional and unique.
In our online store you can take a closer look at the watch winder by means of clear photos and even a movie. This gives you a very good idea of ??what the watch winder actually looks like. Of course you will also find the entire Benson collection here, which offers a suitable watch winder for every enthusiast and collector of automatic watches.
When you choose the Benson Black Series 8.16WA Limited Edition watch winder, you will receive it with a 2-year warranty, clear manual, adapter and certificate at home. It will of course be packaged securely and shipped securely insured and registered. We ship worldwide with DPD, PostNL and Fedex. You can pay easily and securely in the webshop by credit card, iDeal, Paypal or regular bank transfer.
As an official Benson watch winder dealer, we are ready to help you with your search for a good watch winder. Do you have any questions or comments? Feel free to contact us, we are happy to help you.