Posted on 27 January 2022 at 1:01 PM
Scatola del Tempo is an Italian watch winder brand and is known as a pioneer in the field of the watch winder as a watch accessory. This fact alone makes this brand very interesting. The founder of Scatola del Tempo is Sandro Colarieti, a man with a passion for automatic watches. He was looking for a way to keep his collection of automatic watches moving when they were not being worn. This is to prevent them from coming to a standstill. His goal was to mimic the natural movement of the wrist and its effect on the watch as closely as possible. For this he designed a cabinet that was driven by a motor.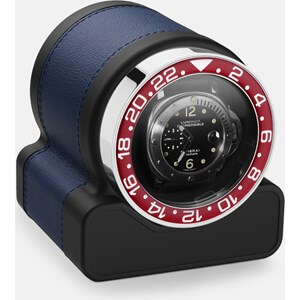 Sandro Colarieti thus revolutionized this watch accessory: the watch winder was born! Moreover, since the foundation of Scatola del Tempo in 1989, the brand has always remained revolutionary. Development and innovation have therefore always remained very important pillars for this special brand. Not only in the field of technology, but also in the field of appearance, the brand has continued to develop and continues to reinvent itself today. Recently, Scatola del Tempo was acquired by the Swiss brand Swiss Kubik. This is visible in the current collection of the Italian brand because the motors in the Scatola del Tempo watch winders come from Swiss Kubik. This combines the best of both worlds; Swiss engineering with beautiful Italian craftsmanship.
With a Scatola del Tempo watch winder you are not only opting for extremely high quality and progressive technology. The well-known Italian class and finesse are also clearly reflected in the designs of Scatola del Tempo. Every Scatola del Tempo watch winder is made by the hands of experienced and highly skilled craftsmen, with an eye for detail and quality being paramount. Scatola del Tempo therefore only chooses the expertise of the best people in this field. Scatola del Tempo also goes for the cream of the crop in terms of material use. For example, organic materials such as genuine calf leather are used. The heart of the watch winders from Scatola del Tempo is formed by a Swiss motor or motors, which stand for the well-known excellent Swiss quality in this area.
The Scatola del Tempo collection includes the Rotor One and the Rotor One Sport models. These models are characterized by round shapes and the use of different colors of quality leather. Furthermore, the Rotor One and Rotor One Sport watch winders are suitable for winding one automatic watch and the design of this model is very compact. Because these watch winders can function for up to 3 years on a set of alkaline batteries, it is also possible to place them in a safe. Moreover, this feature in combination with the compact design makes these watch accessories easy to take with you to the office or on a trip. This way you always have your watch winder and of course your watch where you want it.
The Scatola del Tempo Rotor One models have a soft-touch finish, which makes the outside feel very pleasant. The watch winders are also equipped with a glass lid, which ensures that your watch enjoys extra protection. This way you keep moisture and dust away from your watch and you reduce the risk of scratches or other damage. The Scatola del Tempo Rotor One watch winders are very quiet in use due to the Swiss micromotor, which makes 1600 revolutions per day in both directions. It is also very nice that it always stops at a 12 o'clock position. The Rotor One models are available in different bright colors, such as blue, red and green. But more neutral colors such as black and brown are also an option.
The Scatola del Tempo Rotor One Sport models are comparable to the Rotor One models. The Rotor One Sport models are also equipped with a Swiss engine and available in different colors. Here too, a soft-touch finish and the use of high-quality leather have been chosen. However, the Rotor One Sport models are distinguished by the strikingly colored bezel, or black bezel with white numbers. The models with a colored bezel offer the choice of a bezel in a single color or in 2 colors. This gives these watch winders a very sporty look.
With both the Rotor One and the Rotor One Sport models from Scatola del Tempo, you opt for a compact design and a stylish Italian look. In addition, the watch winders naturally offer the unparalleled Swiss technology, with which an invincible combination has been made. With a watch winder of this caliber you can be sure that your automatic watches are always ready for use and will not come to a standstill when you cannot wear them for a while.
If you want to purchase a Scatola del Tempo watch winder, take a look at our webshop! As an official dealer of Scatola del Tempo, we are able to assist you like no other with the best service. In addition, we offer a 3-year warranty on every Scatola del Tempo watch winder. So place your order now with confidence and we will ensure that your new watch accessory with a clear manual is delivered to you!