Posted on 15 May 2020 at 3:50 PM
For the real enthusiast of automatic watches which is looking for an extremely luxurious watch winder for his or her automatic watch collection, Heisse und Söhne offers a beautiful collection of watch winders. This watch winder collection is the absolute top. Not only high-quality materials but also modern technology and a luxurious and modern design make this brand one of the top brands. The combination of German reliability and Japanese energy-efficient and quiet motors certainly contributes to this. With a Heisse und Söhne watch winder you are assured of a watch winder that is reliable and durable, in which you can easily and safely wind your automatic watches.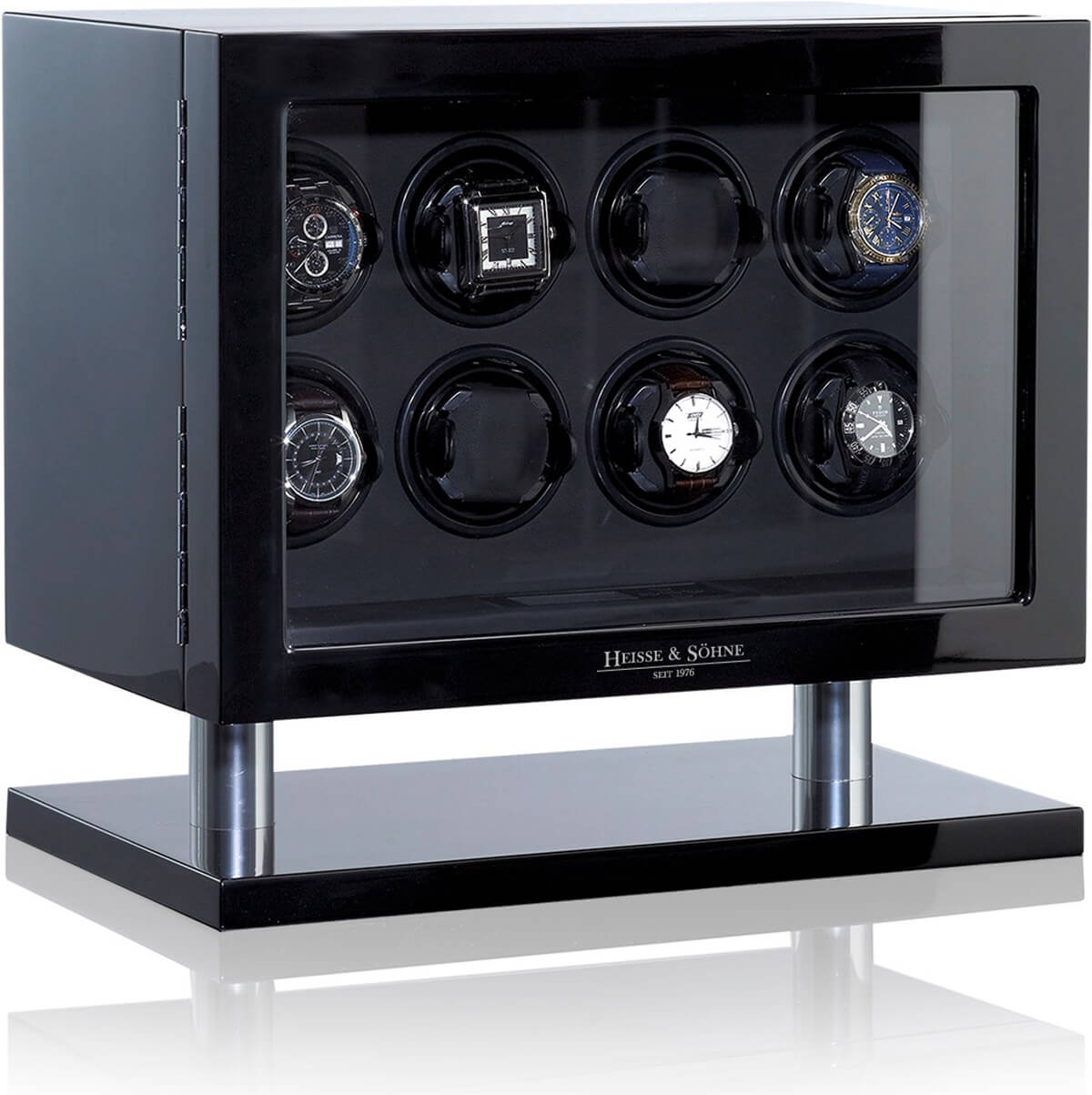 In the wide collection of Heisse und Söhne we find the Heisse und Söhne Collector 70019/17. This watch winder offers space for eight watches and is therefore not only suitable for the enthusiast, but also for the collector. This watch winder model is one of the most luxuriously designed watch winders. The watch winder is made of wood and mineral glass and is neatly finished on the inside with a black velvet. The metal base of the watch winder gives the model its luxurious appearance. The beautiful wooden cabinet made in Germany exudes a certain allure and class. In short, the Heisse und Söhne Collector 70019/17 is a watch winder with a luxurious look and beautiful finish and will be a real eye catcher in any interior and make your watch collection stand out even more.
In terms of technology, you will find everything you need in the Heisse und Sohne Collector 70019/17. With the LCD screen you can easily set the number of rotations per day. The rotors are individually adjustable and can therefore be operated specifically per watch. In addition, this top model is equipped with LED lighting and of course an overwind protection. The watch winder offers three programs, namely: CW, CC and Alternate. The Collector 70019/17 is, just like the other models in the collection, suitable for all types of automatic watches. This regardless of the type or brand of watches. While winding your watches you keep a good view of the watches, which is a beautiful sight for the real enthusiast.
As official dealer of Heisse & Söhne watch winders, we have most models in stock and quickly available. With more than 15 years of experience and cooperation with this German brand, we guarantee you quality, durability and safe winding of your automatic watches. Each Heisse & Söhne watch winder comes in a sturdy packaging with a 2 year warranty and manual. We ship worldwide via Fedex and DPD. Of course you can pay with your credit card, iDeal, Paypal or regular bank transfer.