Posted on 18 April 2023 at 4:16 PM
When we talk about a brand that produces watch winders with a unique and exclusive look and allure, we are talking about the Swiss brand Bernard Favre. Founder and designer of the brand, Bernard Favre himself, was born in the canton of Neuchatel in Switzerland and also grew up there. From an early age he had a fascination for technology and mechanical items. After studying at the Conservatory and a career in sales, he found his passion in developing and designing watch winders.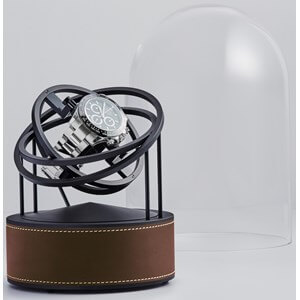 The Planet watch winders from Bernard Favre are world famous for their beautiful appearance and extremely luxurious character. Bernard Favre designed these special watch winders in 2009. He unveiled his masterpiece to the public in April 2011 and since then these watch winders have become an integral part of the watch industry. Bernard Favre makes grateful use of collaborations with the most skilled local craftsmen for the production of the Planet watch winders. This results in watch winders with a fantastic Swiss made base, a very stylish and unique design and a perfect finish. Of course, these watch winders also offer very good functionality, so that you can wind up any type and/or brand of automatic watch very effectively and safely.
Bernard Favre is always looking for innovation and fresh ideas. He is inspired by everyday life and seeks contact with nature. The passion for the profession is reflected in every individual watch winder from the collection. Each model offers elegance, high technology and a Swiss made heart. We would like to introduce you to a specific watch winder from the Bernard Favre collection, namely the Bernard Favre Planet Black and Brown leather. This watch winder is made of stainless steel PVD, an extremely high-quality material. The matt black base and rings in combination with the well-known Planet design is very interesting for both the enthusiast of a sturdy watch winder and those with a preference for a classic model. The watch rotates when it is placed in the watch winder around its own axis and is thus provided with the necessary winding. This is not only very efficient and functional, but also a fascinating sight. This makes this watch winder an absolute eye-catcher in any interior. The glass dome that can be placed over the watch winder adds even more to this. It completes the picture.
The Bernard Favre Planet Black and Brown leather is of course equipped with a Swiss made motor. Swiss motors are loved worldwide and for good reason. Firstly, their reliability ensures that you can always count on your watch winder. In addition, they are energy efficient. Moreover, they do their job in silence, so you don't have to worry about disturbing noises during the winding process. With a Swiss motor, Bernard Favre not only ensures that you can offer your watch the best excitement, but also guarantees optimum comfort of use. Because the watch winder is also equipped with a built-in battery (100 days), you can also easily take it with you on a trip or to the office. Moreover, placing it in a safe is a good option, so you can store your watch and watch winder as safely as possible. Charging the watch winder is easy using the USB connection. This allows you to wind the watch winder using a smartphone, PC or mains power. The special LED indicator shows the status of the watch winder, so you can easily consult it at any time. The number of revolutions of the watch winder is adjustable. This model also offers the programs CW, CC and Alt. Of course, this model is also equipped with an overwind protection, with which you can protect your watches against overvoltage.
With the Bernard Favre Planet Black and Brown leather or one of the other watch winders from this exclusive brand, you choose a watch winder that is one of the best in the world. The brand offers the best of the best in terms of both design and technology. In addition, only the best materials are selected for the manufacture of Bernard Favre watch winders. With the three-dimensional movements of the Planet watch winder from Bernard Favre, you can provide any automatic watch with the required energy without any problems. With a watch winder of this caliber, you will never have to worry about stopping your watches and the possible unpleasant consequences of this. As an official dealer of Bernard Favre, we have almost the entire collection in stock. This means that when you order your favorite Bernard Favre watch winder from us, we can be of service to you quickly.
If you would like to see the Planet watch winder at work, you can watch a beautiful video in our webshop. Bernard Favre's watch winders are delivered by us after ordering with a 2-year warranty and a clear manual.