Posted on 4 June 2020 at 7:44 AM
Orbita is an American watch winder brand that is very well known in America. The brand was founded in 1996 by Chuck Agnoff. What is special is that people at Orbita only started producing watch winders after they had made sure that they learned everything there was to know about automatic watches and how to wind them. It was of great importance to them to develop the most established and mild way to wind automatic watches. The Orbita watch winders are equipped with Swiss quality motors. In addition to the normal method of winding by rotating the watch, Orbita also offers the "Rotorwind System", which they developed and patented, so that the automatic watch winds by gently shaking the watch.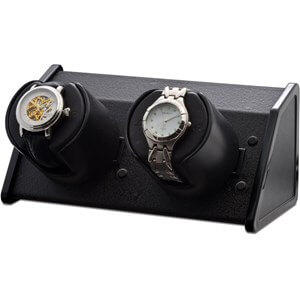 Orbita has a wide and varied range of watch winders within the collection. If you are looking for a watch winder with a small capacity, which is especially very functional and of course of high quality, the Orbita Sparta Bold 2 Black W05527 is a nice option for you. This watch winder offers space for two automatic watches and is extremely functional. This very likely design is extremely compact and also battery operated. This makes this watch winder very suitable to take with you on a trip from, for example, to the office or business trip. Even if you want to store your watches and watch winder safely in a safe, this is an ideal choice.
This watch winder gives you everything that an automatic watch enthusiast needs. In addition to energy efficient, the motor is also very quiet in use, so that you will not have the last of disturbing sounds. In addition, the watch winder is equipped with an overwind protection. The Rotorwind System ensures that your watches are supplied with the necessary energy in a very careful and gentle manner. The Orbita Sparta Bold 2 Black W05527 watch winder is made of aluminium and is available in black and in various other colors for every taste. Think of dark brown, dark green and blue.
When you order the Orbita Sparta Bold 2 Black W05527 in our webshop, you will receive it at home with a manual and a two-year warranty. We are an official Orbita dealer and assure you the best price, clear warranty and service when purchasing this watch winder.
Are you looking for an Orbita watch winder that can wind more automatic watches? The collection has several models, even that are suitable for winding up to 36 automatic watches. These cabinets are made of beautiful wood and equipped with very good Swiss engines. Absolute quality! Take a quick look at the current Orbita watch winder collection.