Posted on 3 August 2020 at 10:51 AM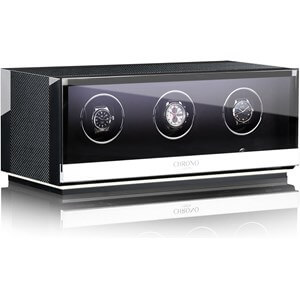 Chronovision watch winders are designed and made in Germany This brand combines German technology with beautiful designs that are often compact in design. The design is quite modern and there is a choice of different colors and materials.
The Chronovision watch winders are available for 1 automatic watch, but also for 2, 3, 4, 6 and even 8 automatic watches. The materials with which each Chronovision watch winder is made come from the Sauerland region and are mostly processed by hand. The 70 individual parts are assembled in 23 steps into an excellent quality watch winder. The Chronovision watch winders have various technical advantages such as Bluetooth connection, adjustable rotation direction and the possibility to choose the number of revolutions per day. The watch winder starts and stops at 12 o'clock position which looks extra nice. Every Chronovision watch winder comes with a 3 year warranty. German quality for optimal excitement of automatic watches.
The fine operation allows you to set the watch winder exactly the way you want. You can set the watch winder via Bluetooth or PC. This is easy and fast. You can set the Chronovision watch winder precisely so that your automatic watch from, for example, Seiko, Citizen or Davosa is quickly and professionally wound. You can choose the direction of rotation and the number of revolutions per day to suit your automatic watch. The Chronovision watch winders wind every automatic watch in style.
Chronovision Prestige 70050/180.02 watch winder
This high end watch winder fits 8 watches. The technique uses German motors. The outside and the inside is black in color and made of wood and glass. The watch winder can be set completely according to your wishes and is of course energy efficient and quiet. The built-in LED lighting provides a beautiful optical effect. This watch winder comes with a 3 year warranty, manual. The Chronovision Prestige 70050/180.02 has a price of 9,990 euros. That is of course a lot of money, but for a high end watch winder of this level, the price is very acceptable.
Chronovision Ambiance III 70050/150.17.11 watch winder
This Chronovision watch winder is suitable for 3 watches and has German motors. These motors have been developed by the brand itself and are the technical heart of this high-end watch winder. Reliability, a low noise level and an excellent finish are words with which you can best describe this watch winder. You can also set this model completely according to the direction of rotation and revolutions per day.
If you like a modern design, this watch winder is a must have for every watch enthusiast. The price of the Chronovision Ambiance III 70060/150.17.11 is 3,490 euros. For this price you get a fantastic modern watch winder.
Conclusion
The German brand Chronovision breathes quality and they guarantee this through a 3-year warranty. If you opt for a modern, high-quality watch winder, a Chronovision watch winder is an excellent choice. View the complete collection of this brand on our website.