Posted on 26 March 2022 at 4:01 PM
If you are a fan of watches from IWC, or other beautiful brands such as Breitling and Rolex, a watch winder is a watch accessory that is absolutely indispensable. If you pay a lot of money for a watch, such as an IWC watch, you naturally want to enjoy it for as long as possible. Inaccuracies in time and date display or having to constantly reset your favorite watch is of course completely undesirable. To prevent an IWC automatic watch from coming to a standstill, you must provide it with the necessary movement. This happens automatically when you have it on your wrist and wear the watch. If this is not the case and you have put it away, it will of course not get that movement. Unless you choose to store your IWC watch in a good quality watch winder. The watch winder is the invention that ensures that your automatic watch can be wound while it is safely stored at the same time. In addition to the winding of every automatic watch, a suitable watch winder also ensures optimal oil distribution within the timepiece of the watch. In short, if you want the best for your IWC watch, choose to purchase a high-quality watch winder.
But then the question is which watch winder best suits your IWC watch? There are many brands on the market that offer quality in this area and when we look at the appearance, design and design of the various watch winders, it is noticeable that there is a wide diversity available in this area. Of course there are also different price ranges.
In this article we would like to introduce you to 3 models from different brands. We start with a Paul Design watch winder. Paul Design is a brand that comes from the United Kingdom. This brand is known for delivering pure quality, which makes the watch winders of the brand extremely suitable for winding your IWC watch. Moreover, you can contact Paul Design for models with a very good price/quality ratio. The Paul Design Gentlemen 8 Black Shadow watch winder is suitable for winding 8 automatic watches. Watches from brands such as IWC, Breitling and Rolex can be wound effortlessly and efficiently. This model is made of wood and has a luxurious and stylish appearance. Because this watch accessory can be closed with a glass door, you protect your beloved watches against influences such as condensation, dust and dirt. This model by Paul Design is equipped with high quality Japanese Mabuchi engines.
The Paul Design Gentlemen 8 Black Shadow is also equipped with the most modern technology. With this watch winder you have built-in LED lighting, with which you can literally put your IWC watch in the spotlight, among other things. In addition, this watch winder is equipped with a special fingerprint lock, so that you can be sure that you are the only one who can access your watches. As the ultimate in comfort, a remote control is also included. Finally, with this watch winder you can use 2 directions of rotation and alternately one direction and then the other.
The second model of watch winder that is also suitable for an IWC watch is the Swiss Kubik Startbox Black. This model can be used for winding one watch and is compact in size. This watch accessory is made of polyamide and comes in the color black. With this Swiss Kubik watch winder you opt for Swiss made quality and reliability, at an attractive price. The Startbox models are the entry-level models from Swiss Kubik. These models are simple and handy, but offer extremely effective arousal. The advantage of the Swiss Kubik Startbox Black is that, due to the combination of its handy size and the fact that it works on batteries, it can also be placed in a safe. Taking it to the office or on a trip is also a good option. This way you can store your watch and your watch winder in an optimally safe place or keep it close to you. Of course, this model is equipped with a Swiss engine. This ensures that you can easily wind any type or brand of automatic watch with this watch winder. Swiss Kubik offers the possibility to order an extra protective glass at an additional cost, but this is only for the Masterbox models and not for this Startbox model.
Finally, we would like to bring the Heisse & Söhne Triton 70019-131.33.37 watch winder to your attention. This model from this renowned German brand is suitable for winding up to 8 watches and is also absolutely qualified for winding watches from brands such as IWC. Heisse & Söhne is known for the classic and extremely stylish look of their watch winders. The beautiful wooden cabinets certainly impress the real enthusiast and are an absolute eye-catcher in any interior. The Heisse & Söhne Triton 70019-131.33.37 also makes your watches look extra beautiful because of the particularly beautiful wooden case on a beautiful foot, in combination with the black interior of the watch winder. This model is equipped with Japanese motors that are able to provide any automatic watch with energy in the right way. With this watch winder you have an LCD screen, with which you can effortlessly determine the direction of rotation and the number of rotations per day per watch. Built-in LED lighting has also been thought of that makes your watches look very nice. This watch winder offers the programs CW, CC and Alt, an overwind protection and a sleep mode. With this last option you keep your watches just below the optimal level of excitement to give them some rest.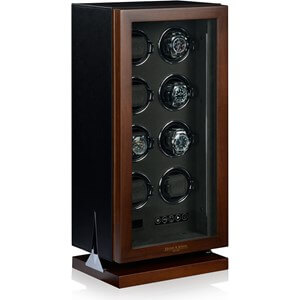 The above models are just a small selection from our collection of high-quality watch winders. In our webshop we offer a wide collection of different brands that are highly regarded. With our extensive experience in this field, we can also help you make the right choice for your automatic watches.
Choose the best for your automatic IWC watches, choose a top quality watch winder! After all, you want to enjoy your beautiful Swiss watch for years to come.