Benson Black Series 2.16.BL watch winder
Posted on 4 July 2022 at 2:27 PM
Each automatic watch has its own winding properties. That is why it is so important that you buy a watch winder, as an accessory to wind your automatic watches, that can provide every brand and type of watch with energy.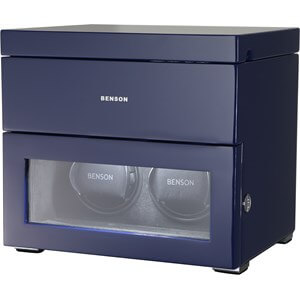 As a lover of automatic watches, the purchase of a watch winder is inevitable. Different brands have their own advantages. Bernard Favre has a unique winding system and you can easily place a Swiss Kubik watch winder in a safe. The Dutch brand Benson again offers an extremely good price/quality ratio.
The strength of a brand can, for example, be that it not only offers very high quality, but that this is also combined with attractive prices. Another characteristic feature of a brand can be the unique design of the watch winders from the collection. In addition, some brands offer slightly more attractive functionalities than others. A good empathy of the people behind a brand in the watch enthusiast is also a great advantage. After all, a brand knows exactly what to offer that is most appreciated by the watch enthusiast.
A brand that comes from Dutch soil and which combines the aforementioned positive qualities is the Benson brand. Benson has a broad experience in the field of watch winders. This allows them to make a good estimate of what should not be missing from a good watch winder. For example, this brand offers various extra functionalities that ensure that the user experiences optimal use. In addition, the brand only opts for high-quality materials, for a long life and a chic look of their watch winders. Another strength of the Benson brand is the diversity that the brand offers. For example, it is possible to purchase a Benson watch winder for, for example, 1 or 2 automatic watches, but the brand also offers watch winders suitable for the avid collector. In addition, the brand offers watch winders with both Japanese and Swiss motors. This way it is possible to make the choice for what suits you best. In terms of budget, there are also various options within the Benson collection. This makes the brand accessible and interesting for a wide audience.
If we look specifically at a watch winder suitable for winding 2 watches from the Benson collection, the Benson Black Series 2.16.BL watch winder is an extremely interesting model. This not only offers the capacity for winding 2 watches, but also a luxurious storage space. This can be used to store 3 more watches, but also for other jewelry or for example cufflinks. The storage space can be closed with a special soft close lid. The outside of this watch winder is made in the color blue. Equipped with 12 layers of paint and a protective layer of lacquer, this watch winder can take a beating. The watch winder is also luxuriously furnished on the inside. For example, it is inlaid with a special soft velvet. This ensures that your watches are very well protected against damage. Because the watch winder can be closed at the front, your watches are also sealed against harmful external influences. This model from the Benson Black Series is equipped with Japanese motors. These motors are affordable, but also reliable and solid at the same time. Another great advantage of these engines is that they can do their work in silence. This way you won't be bothered by disturbing noises during the winding process.
The Benson Black Series 2.16.BL watch winder is equipped with the programs CW, CC and Alt. In addition, it of course offers overwind protection, but also a speed winding function. This makes it possible to wind your watches in a short time. Programming the watch winder is simple and fast. You use the innovative touchscreen for this. This allows you to quickly change the settings per rotor. Think of the direction of rotation and the number of rotations per day, for example. The watch winder also has built-in LED lighting. This ensures that you can always view your watches well, even during the winding process. With the Benson Black Series 2.16.BL you choose a watch winder with a sleek and modern look and a luxurious interior. In addition, it ensures that every automatic watch is supplied with the necessary energy. This regardless of the brand, type or size of watches. The watch winder is equipped with special flexible watch holders, which fit almost any size watch without any problems. The Benson Black Series 2.16.BL is also available in larger capacity models, for example for 4, 6 and 8 watches, and in several other colors.
In our webshop you will find the entire Benson collection. The Benson Black Series 2.16.BL watch winder comes with a 2-year warranty and clear instructions for use. We will of course ensure that your new acquisition is well-packaged on its way, so that it arrives at your home in perfect condition. Finally, we can deliver quickly because we have almost all Benson watch winders in stock.