Benson Compact 2.WS watch winder
Posted on 6 October 2021 at 2:58 PM
Do you have one or more automatic watches? As you know you can only wear one at a time and the other watches are stationary. A shame, because that's not necessary at all. What is certain is that standing still is definitely not good for automatic watches. It is better to keep them moving as the time is right and all moving parts get enough movement. If you are looking for a watch winder for winding 2 automatic watches, then you should definitely read on.
You are certainly well aware of the necessity of a good watch winder. In this area there are many brands that offer different watch winders in all shapes and sizes. Both Switzerland and Germany are very well known for this, but our own country (The Netherlands) also houses a particularly beautiful watch winder brand in this industry. We are talking about the innovative brand Benson, which has a lot of knowledge and experience in this area. Benson knows exactly what a true enthusiast and/or collector finds important when choosing a good watch winder. This is reflected in a diverse and high-quality collection in which watch winders are widely represented for both the enthusiast with one watch and the real collector. Also in terms of budget, there are various options, this makes Benson a brand that is accessible to a wide audience. In any case, Benson is known for the good price/quality ratio of its products. Whichever watch winder from the collection you prefer, you will always receive a high-quality watch winder at an attractive price.
In this article we would like to put a specific watch winder Benson collection in the spotlight. We are talking about the Benson Compact 2.WS watch winder. This watch winder is suitable for winding 2 automatic watches and can of course be used for all automatic watches, regardless of the brand or type of watch. If you have a Rolex, Oris or Omega watch, that's no problem at all. This watch winder winds these watches safely and professionally.
Due to the compact design, the Benson Compact 2.WS watch winder is easy to place and possibly move. The watch winder has a modern and sleek look and is made in the color white. Partly due to the neutral color choice, this watch winder is suitable for almost any interior. This, in combination with the black interior of the watch winder, also gives the watch winder a chic look. The watch winder is made of high-quality wood, which is beautifully finished.
This watch winder can also be called very modern on a technical level. To start with, you have a modern touchscreen with this watch winder. With this you can easily set the direction of rotation and number of rotations per day, per watch separately. This means that you can tailor this exactly to what your watch needs. Furthermore, the watch winder is equipped with built-in LED lighting, so you can view your beloved watches at any time. Because Benson uses flexible watch holders, almost any watch, regardless of size, can be clicked into the holder effortlessly.
The Benson Compact 2.WS watch winder has all directions of rotation and an overwind protection. With the help of the speed winding function it is possible to wind the watches in a short time. As for the motors, Japanese motors have been used, which are known for being energy efficient. In addition, they are reliable, durable and solid and are able to function almost silently. These properties ensure optimum user comfort. The Benson Compact 2.WS watch winder is also available in models for a single automatic watch and in models suitable for 3 watches.
With the Benson Compact 2.WS watch winder you are absolutely assured of a correct energy supply for your watches. In this price range, a watch winder like this one from the Benson brand is the best choice! Moreover, you immediately have a nice and safe storage place with which you protect your watches against unnecessary wear and damage. This watch winder is also extremely suitable as a display for your watches, especially due to the modern LED lighting it has. With this watch winder, your watches are always ready to be worn and you will not be faced with unpleasant surprises!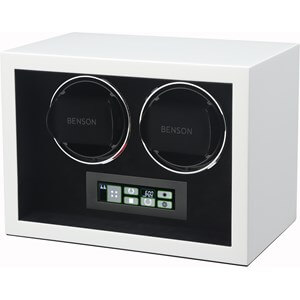 Also take a look at the other watch winders in the Benson collection. We sell a very diverse range of these high-quality watch winders in our webshop. There are many different options in terms of capacity, appearance and use of materials. For example, for the manufacture of the watch winders, Benson not only uses different beautiful types of wood, but also, for example, also uses high-quality leather in various colors.
You can order a Benson watch winder from us with a familiar feeling. We offer several safe ways to pay for your order, such as credit card, Paypal, iDeal and regular bank transfer. In addition, we pack your package with the utmost care, so that you can be sure that your watch winder arrives undamaged. When you specifically choose the Benson Compact 2.WS watch winder, you will receive it at home with an adapter, clear manual and a 2-year warranty. So don't wait any longer and start looking for your favorite Benson watch winder now!
If you need help with your final choice, we are there for you. With our extensive experience in the field of both (automatic) watches and watch winders, we can certainly be of service to you.