Benson Compact Aluminium 1 Dark Gray watch winder
Posted on 29 June 2023 at 11:36 AM
A good watch winder is indispensable for every proud owner of one or more luxury automatic watches. After all, this watch accessory takes care of the winding of your automatic watch when you are not wearing it. But what should a good watch winder actually meet? And what do you pay attention to when you want to purchase a watch winder?
Certain aspects are personal to everyone in this respect. You can think of the appearance of the watch winder, for example, but also the capacity. Are you looking for a watch winder for one automatic watch or for several? You may even have a whole collection at home. In addition to the capacity, almost every enthusiast has a preference for a watch winder size. Can the watch winder be clearly present in your interior? Or are you looking for a compact format? And which material appeals to you the most? There are watch winders on the market that are made of wood, leather, aluminum and plastic.
In addition to the personal conditions, there are of course also the requirements that every watch winder must meet, regardless of who purchases it. For example, the condition for a good watch winder is of course high quality. A watch winder should last a long time and you should always be able to rely on it. A high-quality motor is also very important here. It is important to choose a watch winder that is equipped with a motor that is powerful enough to wind the heaviest automatic watch. The price of a watch winder is of course also important. Although this is personal for everyone, one enthusiast has a wider budget than the other. A good price/quality ratio is attractive to everyone, a watch winder where you get a lot of value for your money.
The Dutch brand Benson is very well known in this field. You can purchase a top quality watch winder from Benson at a competitive price. What is also striking within the Benson collection is the variation in terms of the type of motor, the types of material used and the capacity of the watch winders. By offering this diversity, Benson is always able to target a wider audience. Moreover, the brand never stands still when it comes to the development of its watch winders. Benson is always looking for innovation, which among other things results in the regular launch of new models. For example, the latest generation of Benson Compact Aluminum is currently available. If you are looking for a watch winder that is easy to take with you to the office or on a trip, for example, these watch winders are highly recommended.
In this article we take the Benson Compact Aluminum 1 Dark Gray as an example. This model is made of aluminum and therefore strong, but also light in weight. The watch winder is executed in the color dark gray on the outside and in the color black on the inside. The Benson Compact Aluminum 1 Dark Gray has a cube-shaped design and is small in size. This makes it very easy to take this watch winder with you, wherever you go. This way you always have the certainty that your automatic watch can be provided with winding. The watch winder not only functions as a way to provide your automatic watch with movement if necessary, but also serves as a safe storage place for your watch. Moreover, you can use this model nicely to display your watch by switching on the modern built-in LED lighting with which it is equipped.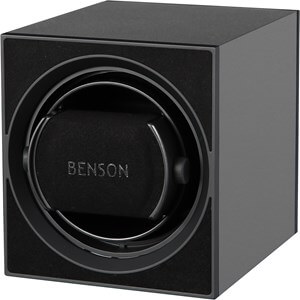 The Benson Compact Aluminum 1 Dark Gray is equipped with a high-quality motor of Japanese origin. With a motor of this caliber you can be sure that you can provide any type and brand of automatic watch with the necessary energy without any problems. Moreover, this motor is energy efficient and, not unimportantly, quiet in use. With this watch winder model, you don't have to worry about disturbing noises during the winding process. The Benson Compact Aluminum 1 Dark Gray works with an adapter, but can also be used with batteries. Because the watch winder can function for up to 9 months on a set of batteries, this watch winder is very suitable for storage in a safe. With the programs CW, CC and Alt and an overwind protection you opt for a complete picture. The settings of the watch winder regarding the direction of rotation and the number of turns per day can easily be changed using the handy LCD screen. This allows you to set the most ideal conditions for arousal for your automatic watch.
Do you want to order the Benson Compact Aluminum 1 Dark Gray watch winder or have you become curious about the entire Benson watch winder collection? View and order it now quickly in our webshop. We can generally deliver the Benson watch winders from stock, so that you have your new acquisition quickly at home and your automatic watch will no longer stand still.