Heisse and Sohne Triton 70019-132.33.37 watch winder
Posted on 2 May 2021 at 8:29 AM
The avid collector of automatic watches who chooses with passion and love for this purest form of the authentic watch will also want to wind, store and present his or her watches in a beautiful way. In addition, it is important to store the watches in a safe manner and to protect them from unnecessary wear and damage. Every watch enthusiast knows that an automatic watch only keeps running on time when it is provided with the necessary movement. When you wear an automatic watch, this is done automatically by the movements of your wrist. But if you don't wear an automatic watch, it will stop after 36-44 hours. If you have several watches, it is best to place them in a watch winder that ensures that the watches are each supplied with the required energy and therefore do not come to a standstill. When you, as a watch collector, choose the right watch winder, it will immediately serve as a safe storage place for your collection. A watch winder is an indispensable accessory when you have several automatic watches.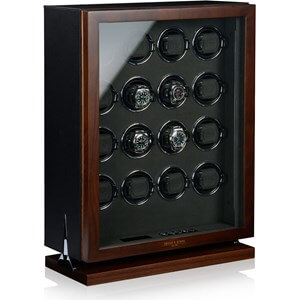 A particularly beautiful watch winder brand with all the features you need to wind automatic watches is the German brand Heisse & Söhne. Not only Switzerland is known for the high quality watches and watch winders that are produced there, Germany also has a very good reputation in the field of watches and watch winders. With its extensive collection, Heisse & Söhne offers a wide choice of very luxurious watch winders that are equipped with the most modern techniques and are also known for their reliability and durability. For the real collector there is a wide choice with many beautiful models of watch winders with a large capacity. In addition, Heisse & Söhne also offers watch winder safes that meet the highest European standards. With this you choose the safest option for winding and storing your watch collection.
Heisse & Söhne watch winders stand for class and very good functionality. It is not without reason that this brand has been one of the most popular brands in Europe for years. The brand has already expanded a very nice collection of watch winders with the particularly beautiful Heisse & Söhne Triton watch winders. The Heisse & Söhne Triton 70019-132.33.37 watch winder comes from this latest series and is suitable for winding 16 automatic watches. The same model is also available for winding 8 watches.
The Heisse & Söhne Triton 70019-132.33.37 watch winder has a classic and stylish look as we are used to from Heisse & Söhne. The combination of the beautiful wooden exterior, the black fabric interior, the beautiful base and the glass door give the whole a very luxurious look. This watch winder will therefore be a real eye-catcher in any interior and all eyes will certainly be on your watch collection.
In the technical field, this watch winder has everything you need. The watch winder is equipped with a modern touchscreen LCD screen, with which you can easily adjust the settings. For example, you can set the direction of rotation and the number of rotations per day, creating the perfect conditions for each individual watch. Moreover, this watch winder is equipped with LED lighting that makes it possible to view your watches at any time of the day or of course to show your pride to someone else. The very modern fingerprint lock ensures that you can leave your watches behind with peace of mind. The door closes the watch winder, making the watches safe from dust, condensation and dirt. The watch winder can rotate clockwise, counter-clockwise and alternately clockwise and counter-clockwise. In addition to wind protection, this watch winder is also equipped with a sleep mode. With this function you can not only give watches a little rest by keeping them just below the optimal level of arousal, but also let the watch winder pause winding while you sleep.
The Heisse & Söhne watch winders are equipped with Japanese motors of excellent quality. These motors are known for being energy efficient in use. In addition, they do their work almost in silence, so that you do not suffer from disturbing noises during the winding process. You can therefore place the watch winder with confidence in your office or bedroom, for example. The most important aspect is of course that you can always rely on your watch winder so that your watches do not come to a standstill. After all, you want to prevent unnecessary wear and tear and always have your watches ready to wear immediately.
With the Heisse & Söhne Triton 70019-132.33.37 watch winder of high quality, you can always count on your watch winder, so you don't have to worry about any standstill of your watches. The additional advantage of a Heisse & Söhne watch winder is that the brand combines quality, advanced technology and a stylish appearance with attractive prices. This makes this special brand extra interesting for every watch enthusiast and watch collector.
When you choose the Heisse & Söhne Triton 70019-132.33.37 watch winder, you choose class, modern technology and above all optimal ease of use. Order your Heisse & Söhne Triton watch winder now in our webshop. You will receive the watch winder in sturdy packaging with a clear manual and a 2-year warranty. Each Heisse & Söhne watch winder is produced in Germany with the utmost care and is also extensively tested on the basis of a checklist before delivery. This way you can be sure that you get a perfectly functioning watch winder!
As an official dealer of Heisse & Söhne, we offer you certainty and fast delivery. We ship worldwide and outside the EU VAT free. If you have a question or comment, do not hesitate to contact us. With more than 15 years of experience in the field of watch winders, we can certainly provide you with good advice!