Heisse and Sohne Watch Collector 70019-134.10.130
Posted on 11 February 2021 at 4:11 PM
When you, as a collector of automatic watches, are looking for a suitable watch winder, you want of course a good quality watch winder. A watch winder for a real collector must meet several conditions. For example, it is of course important that the watch winder offers enough space for all your automatic watches. This depends mainly on the size of your watch collection or its intended size. When you have determined which capacity your ideal watch winder should offer, you can check the other conditions that are important for your watch collection. Of course, quality plays a major role in this, you want your watches to be supplied with energy in an efficient and at the same time mild way for the preservation of your watches. Besides quality and capacity, budget, design and use of materials are also important aspects. Are you looking for a real eye-catcher for your collection of watches? Do you want a watch winder with a luxurious look made of high-quality materials? Then Heisse & Söhne watch winders is a perfect brand for you!
Heisse & Söhne is a German brand based in the Sauerland. Germany, like Switzerland, is very well known when it comes to the quality of the watches and watch winders that are produced there. So with a watch winder from Heisse & Söhne you can be sure that you will get quality at home. A Heisse & Söhne watch winder is a watch winder that you can always build on and that will wind your watches in style. The appearance of the models from Heisse & Söhne can be called stylish, luxurious and chic. The motors of this German brand come from Japan and are of high quality. They are known, among other things, for being energy-efficient in use and also for carrying out their work in silence. This means no annoying or disturbing noises while winding your watches.
The Heisse & Söhne collection is diverse. In addition to watch winders, Heisse & Söhne also offers watch winder safes. This is where you store your collection of watches extra securely, as the safes meet the highest European standards. In addition, we find many watch winders with a diverse capacity in the collection. For example, the enthusiast can go there with a few watches, but also the real collector who has many automatic watches in his possession. In this blog article we will highlight a specific watch winder model from Heisse & Söhne, especially suitable for the real collector. This is a special and very chic watch winder for the collector who wants to make his collection even better and which is also of absolute top quality.
A very good example is the Heisse & Söhne Watch Collector 70019-134.10.130 watch winder. This watch winder is suitable for winding up to 16 automatic watches. This watch winder has a classic design. The beautiful wooden exterior in combination with metal accents and black elements, give the watch winder a very luxurious look. The cabinet with door ensures that you can easily protect your watches against external influences, such as dirt, dust and condensation. This watch winder is suitable for all automatic watches of any brand or type.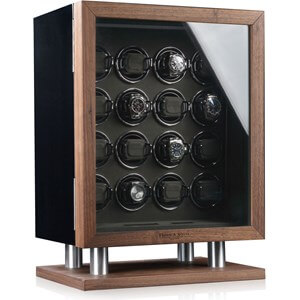 Technically, this watch winder has a lot to offer. Starting with the modern touchscreen, with which you can easily adjust the settings you want. Each rotor is individually adjustable in terms of the rotations per day and the direction of rotation. The watch winder is also equipped with built-in LED lighting. This means that you can view or display your watch collection at any time, whenever you want. Even when winding the watches. The Heisse & Söhne Watch Collector 70019-134.10.130 watch winder also has a sleep mode. This keeps your watches just below the optimal level of winding, allowing them some rest. This watch winder offers 3 directions of rotation, namely CW, CC and Alternate.
When you purchase a watch winder from the Heisse & Söhne brand, you go for pure quality. The quality and finish are very important to Heisse & Söhne. After production, every watch winder is again extensively tested and checked against a checklist before it is delivered. At Heisse & Söhne, they want to be completely sure that you will receive the watch winder in top condition. With a watch winder from Heisse & Söhne you are therefore guaranteed to choose the very best.
In short, if you are planning to purchase a high-quality watch winder for your collection, Heisse & Söhne watch winder is definitely worth considering. Especially the Heisse & Söhne Watch Collector 70019-134.10.130 watch winder, which with space for 16 watches and all the trimmings is the perfect watch winder for an extensive collection of watches. Just the watch winder itself, but also your beloved watches will be a real eye-catcher in your interior. After all, a beautiful, appealing watch winder is the icing on the cake for many a collector. With this specific watch winder from Heisse & Söhne you choose a valuable addition to your collection!
As an official dealer of Heisse & Söhne, we offer security, competitive prices and fast delivery. Of course you can also contact us for after sales service. With more than 15 years of experience in watch winding, we are happy to help you.