Paul Design Gentlemen 4 Macassar watch winder
Posted on 6 July 2021 at 1:05 PM
Are you someone with a passion for automatic watches? Do you have several automatic watches and do you perhaps have one favorite watch so that the others are worn less? The solution against standstill of your automatic watches is a watch winder. A watch winder ensures that the watches are supplied with energy so that they do not come to a standstill. This means that your watches are always ready to wear because the time and date are correct.
Do you already know the watch winder brand Paul Design? This is a brand from the United Kingdom that is one of our best brands in its price range. Paul Design is an example of a brand that delivers quality without having to pay a premium. The brand is therefore known for the very good price/quality ratio of the products. With a Paul Design watch winder you also opt for class and style, but also for the most modern technology and a sustainable product.
The founder of the brand has fully understood what the true enthusiast and/or collector is looking for in a watch winder. Of course, the watch winder must in the first place be able to provide any automatic watch with energy in the right way, regardless of the watch brand or type of watch. With the watch winders from Paul Design you can count on an efficient and mild energy supply for all your watches. Furthermore, Paul Design finds it important to follow developments closely or even to be ahead of them. This is therefore a traditional brand that attaches great importance to renewal and innovation. With a watch winder from Paul Design you are therefore guaranteed to have the most modern technology for your watches.
Paul Design also offers designs that radiate class and style, but with a classic approach to design. Finally, the eye also wants something and you would like to see that your watches come out nicely in the watch winder. In the Paul Design collection, both the enthusiast with 1 or a few automatic watches, and the real collector have been considered. Paul Design therefore offers watch winders with space for a single watch, but also watch winders with a capacity for 12 watches. There are also watch winders that offer extra storage space for watches or, for example, jewelry or cufflinks. With this you can easily and conveniently store all your watches and/or jewelry together.
The Paul Design Gentlemen 4 Macassar watch winder is a model that is suitable for winding 4 automatic watches. This watch winder is made of beautiful macassar wood and is above all a real eye-catcher in almost any interior. This watch winder can be closed with a glass door and is even equipped with a very modern fingerprint lock. This way you can be sure that only you can access your watches. The watch winder is of course adjustable, this works easily and quickly using an innovative touchscreen. You can, among other things, set the direction of rotation and the number of rotations per day in this way and that per watch separately. This specific watch winder from Paul Design also offers overwind protection.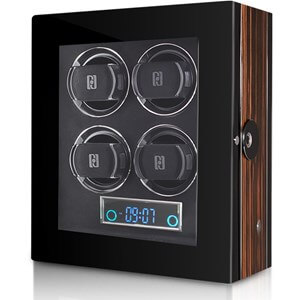 The Paul Design Gentlemen 4 Macassar watch winder is equipped with Japanese motors. These are reliable, durable and energy efficient, but also very quiet in use. This will greatly increase user comfort for many enthusiasts. Because the watch winder is equipped with built-in LED lighting, you always have a good view of your watches, even during the winding process. In combination with the particularly beautiful exterior of this watch winder, this feature will also ensure that all eyes will be on your watches and they will look extra beautiful.
If you are looking for a classic stylish watch winder of quality at a competitive price, the Paul Design Gentlemen 4 Macassar is definitely right for you. With a watch winder from Paul Design you definitely get value for money and it is certainly worth giving this brand a chance.
As an official dealer of Paul Design, we have the latest collections for you in our range at the best prices. Thanks to our experience with quality watch winders, we can also provide you with appropriate advice if necessary. Order your favorite Paul Design watch winder in our webshop now and receive it at home with a 2-year warranty and a clear manual.
You will certainly be amazed by the luxury and technology that this brand has to offer for these great prices. So don't wait any longer and order your Paul Design watch winder now in the webshop! With us you pay quickly, safely and easily with credit card, Paypal, iDeal or regular bank transfer.