Paul Design Gentlemen watch winders
Posted on 18 July 2020 at 11:25 AM
Are you looking for a very good quality watch winder, but you don't want to pay too much? Then take a look at the beautiful collection of the Paul Design brand. This is a relatively young watch winder brand from the United Kingdom. The man behind Paul Design watch winders is Paul Chen, a craftsman with years of experience in this field. He knows how to produce reliable and durable watch winders at a competitive price which prove to be a formidable competitor to the brands in the higher price ranges.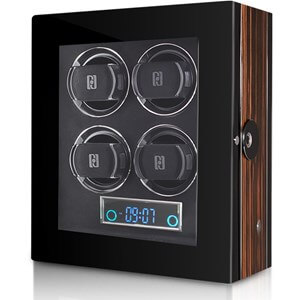 The Paul Design collection is extensive and divided into different series. Within this collection you will find watch winders with a different capacity. This is a big advantage of the Paul Design Gentlemen watch winders, as you can choose the exact capacity for your watch collection. For the enthusiast with up to two watches, there is plenty of choice, but also for the serious collector or professional with more automatic watches. Paul Design offers various stylish models. There are watch winders with room for up to twelve automatic watches.
Various variants of the Paul Design Gentlemen models are available, such as Black Shadow, Black Apricot and Macassar. What is also striking is the use of beautiful materials such as very beautiful wood and glass with a very luxurious finish. The Paul Design Gentlemen watch winders are equipped with a modern touchscreen, with which you can easily set the direction of rotation and the number of revolutions per day per watch. These watch winders are also equipped with flexible watch holders. This combination makes the Paul Design Gentlemen watch winders suitable for any type or brand of automatic watch. You can easily wind your Breitling, Rolex or Omega watch. The watch winders of Paul Design are equipped with high quality Japanese Mabuchi motors. These motors are not only very powerful and energy efficient, but also very quiet in use.
Within the Paul Design Gentlemen series of watch winders we also see beautiful extra functionalities, such as a speed winding function. With this you can easily wind your automatic watches within a short time. By means of the LED lighting it is possible to always keep a good view of your watches, even during winding. But don't forget the fingerprint technology with which you can easily open and close the watch winder. A very nice and above all handy function. You keep others away from your precious watches. In short, the Gentlemen watch winders from Paul Design are a nice combination of high technology, attractive design, high-quality materials and a competitive price.
In our webshop you will find a wide collection of Paul Design watch winders, including the Paul Design Gentlemen watch winders. As an official dealer, we have almost all models in stock and immediately available. We supply every watch winder with a minimum of 2 years warranty, clear manual and adapter. Do you live abroad? No problem, we ship from our warehouse in Uden to destinations worldwide via Fedex, DPD or PostNL. Check our website for favorable shipping costs and VAT-free delivery to destinations outside the EU.