Premium Orbita watch winders
Posted on 3 July 2020 at 2:49 PM
When you are looking for a watch winder that fits your watch or watch collection, you will logically look at the different features of a watch winder that are important to you. Conditions that play a role are, for example, a smaller or larger capacity, the technical possibilities of the watch winder, the appearance and finish of the watch winder and of course also the price and quality. When you have made a wish list of the important requirements and conditions for a suitable watch winder, you can start looking. There are of course many different brands that offer higher quality watch winders. An example of a brand that has certainly earned its stripes in this field is Orbita.
Orbita offers high-quality watch winders in the collection, with the great advantage that there are different series within this collection that meet different conditions. So chances are that if you are looking for a high quality watch winder, you can find a suitable alternative within this beautiful collection. Orbita is an absolute high-end watch winder brand that has several patents in technology and movement for good reason. All Orbita watch winders are equipped with the well-known Swiss made motors, which guarantee reliability and durability. Every Orbita watch winder is handcrafted with utmost precision in the United States.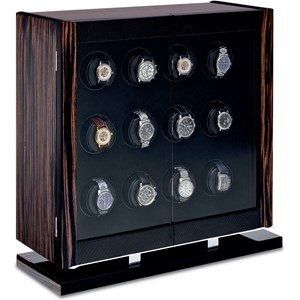 An important technique that Orbita has patented is the so-called "Rotorwind System". This system provides the necessary energy for each automatic watch by gently "shaking" the watch instead of the calibrated mode of rotation. In addition to this system, Orbita also offers the famous watch winders based on rotation, so that you as a customer can choose what suits you best. There are also plenty of options at Orbita when it comes to capacity. Within the collection you will find, for example, the "Sparta" series, where various different colors of watch winders can be found for winding one watch or for two watches. Ideal if you are a fan of automatic watches and have no more than two automatic watches. The big advantage of this series of watch winders is that these models are more basic, but at the same time also very effective and cheaper. In addition, due to the size and operation on batteries, these watch winders can easily be placed in a safe and you can easily take them to the office or while traveling. These watch winders are also available in different color combinations, so there is always one that suits you.
However, if you are a serious collector or professional and have a bit more to spend, Orbita's "Avanti" series is definitely worth a look. Within this series you will find beautiful watch winders with a large capacity and a very luxurious appearance. The watch winders are made of beautiful wood and can be closed with a glass door. This allows you to easily protect your collection against external influences, such as condensation and dust. The special wooden cabinets within this series are a real eye catcher in every interior and with every collection. Within the "Avanti" models you can also choose between the Rotorwind or Programmable (rotation) system. The rotors of the watch winder are easily individually adjustable, so you can set the direction of rotation and the number of revolutions per day according to the needs of your watch(es).
The Avanti watch winders offer three different programs (CW, CC and Alt). With an Orbita Avanti watch winder you have a very complete watch winder for your collection, which is equipped with all comforts and absolutely stands for quality. So take a look at the Orbita watch winders in our webshop and convince yourself!
As official dealer of Orbita watch winders, we supply most models from stock. If you have any questions about a watch winder, please do not hesitate to contact us.