Swiss Kubik Aluminum Black watch winder
Posted on 14 September 2022 at 9:02 AM
Watch winders are increasingly used by watch enthusiasts to wind their beloved and valuable automatic watches. These watch accessories are extremely handy and the "must have" accessory if you have an automatic watch. Not only do your automatic watches never stand still, you also store your watches safely and in one place in a watch winder.
There are several different brands in the field of watch winders. Popular brands include Benson, Paul Design, Bernard Favre and Swiss Kubik. We are going to talk about this last brand in this article.
A brand that delivers quality is continuously looking for improvement and innovation of their products. After all, technology in this area does not stand still and no brand wants to lag behind. In fact, most leading watch winder brands see themselves as a pioneer in this field and try to be a frontrunner in the developments themselves. For example, the watch winders of these brands are always equipped with the most modern techniques in this area and you can be sure that your automatic watches are wound in the most efficient and safe way.
A renowned brand that produces watch winders that are among the best in the world is the Swiss brand Swiss Kubik. Swiss Kubik makes sure to continuously improve its products by collaborating with the most experienced Swiss craftsmen and using the best materials. Within 10 years, Swiss Kubik has already managed to realize the 6th generation mechanisms, which in itself is very admirable. Beautiful materials used by this brand include aluminum, leather and wood.
All Swiss Kubik watch winders are designed and made by hand in Switzerland. The watch winders of the brand are characterized in terms of design by the cube shape that is reflected in each individual model. The watch winders are all compact in shape and therefore very easy to place in any interior. Moreover, this also makes it easy to take your watch winder with you. For example, it is possible to take the watch winder with you when you travel or while working in the office. These possibilities are made even easier because the Swiss Kubik watch winders can function for up to 3 years on just one set of AA batteries. Moreover, because no connection to the mains is required, you can place the Swiss Kubik watch winders in the safe without any problems.
The collection of Swiss Kubik offers various types of watch winders. Swiss Kubik offers diversity not only in terms of material and design, but also in terms of capacity there are various options. The brand offers watch winders for winding 1, 2, 3, 4, 6, 8 or even 12 watches at the same time. Swiss Kubik not only appeals to the enthusiast with 1 or a few automatic watches, but also to the real enthusiast. If you are looking for a watch winder that is specifically suitable for winding a single watch, we would like to highlight a model from the collection for you. This concerns the Swiss Kubik Aluminum Black watch winder.
The Swiss Kubik Aluminum Black watch winder is a very popular model. This watch winder is made of aluminum and therefore light in weight. The watch winder is finished in black on both the outside and the inside, making it suitable for almost any interior. Of course, this watch winder is equipped with a Swiss made motor. Swiss motors of this caliber are known for being very reliable as well as being energy efficient and quiet. These are all very big advantages when it comes to purchasing a high-quality watch winder. The number of revolutions per day is adjustable, for a perfectly fitting way of winding specific to your watch. Setting this watch winder can be done easily and quickly using the USB connection and Bluetooth function. The watch winder is therefore suitable for all automatic watches, regardless of the type or brand of watch. The watch holder of the watch winder is also suitable for most watches in circulation. However, if you have a very small watch, it is possible to order a smaller watch holder. This way you can be sure that your watch will fit perfectly in this watch winder. If you would like to be able to close your watch winder, for an optimal feeling of safety, this is also possible. You can order a special glass door for this at an additional cost. Of course, this watch winder is equipped with an overwind protection, especially to prevent overvoltage.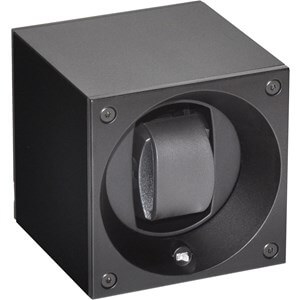 You should always buy a high-end watch winder such as the Swiss Kubik Aluminum Black from an official dealer of the brand. This has several advantages. Of course you order here with a pleasant and safe feeling. In addition, an official dealer can provide a good answer to your questions and, if desired, provide you with appropriate advice. We have more than 15 years of experience with quality watch winders and are also an official dealer of Swiss Kubik. We supply every Swiss Kubik watch winder with a 3-year warranty and an extensive manual. Of course we always ensure that your new acquisition is delivered to you well packaged.
In addition to the Swiss Kubik Aluminum Black, we also offer a large number of other Swiss Kubik watch winders in our webshop. You will find watch winders from the brand with more luxury and a chic look, but also more basic models, such as the Startbox models, from the brand for a smaller budget. In addition, there is plenty to choose from for those with a single automatic watch as well as for the real collector. So take a look at our webshop now and choose your favorite!