Swiss Kubik Startbox Aqua Blue watch winder
Posted on 10 November 2022 at 2:56 PM
A watch winder is an absolutely essential part of your hobby if you are a lover of automatic watches. When purchasing a watch winder, it is therefore important to choose quality. After all, this takes care of the winding of your automatic watch and also optimally distributes the oil inside the movement of the watch.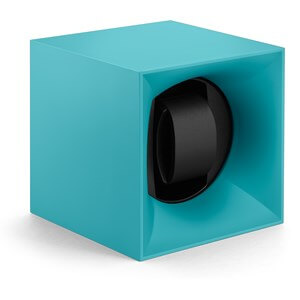 Watch winders are available in different price ranges. A top quality watch winder does not always have to be expensive. Of course there are extremely luxurious watch winders available with an exclusive design and beautiful extra functionalities that fall in the higher segment. In addition, various renowned watch winder brands also offer effective watch winders of Swiss made quality, often with a more modest design, which are more attractive to a wide audience in terms of price. With a reliable basis in the form of a Swiss motor, with these watch winders you choose the best for your automatic watches, for an attractive price.
A good example of a brand that has both more luxurious and more basic models in its collection is the Swiss brand Swiss Kubik. Swiss Kubik is known for their cubic and modern designs, which are also compact in design. The collection of Swiss Kubik houses watch winders for both the enthusiast with a single automatic watch or a number of automatic watches, and for the real collector. Within the collection you will find watch winders for winding 1, 2, 3, 4, 6, 8 and 12 automatic watches at the same time. The brand also offers diversity in terms of material use. Of course, a Swiss brand like Swiss Kubik only uses high-quality materials. Examples of beautiful materials that Swiss Kubik uses are leather, aluminum and wood. By using materials with a diverse appearance, the brand manages to offer variation with an overall similar design.
In this article we would like to pay extra attention to a new watch winder from the Swiss Kubik brand. We are talking about the Swiss Kubik Startbox Aqua Blue. This is a good example of a watch winder that offers the absolute cream of the crop in the technical field, without having to dig deep into your pocket. The Swiss Kubik Startbox watch winders were previously known as the Swiss Kubik ABS watch winders. These watch winders are made of polyamide and are lightweight. They are available in different colours, in this case this is the fresh and appealing color aqua blue. The Swiss Kubik Startbox Aqua Blue can function for up to 3 years on a set of AA batteries. This offers various possibilities. This ensures that you can easily take this watch winder to the office or, for example, on a trip. But also placing the watch winder and thus your automatic watch in a safe is a great option.
The Swiss Kubik Startbox Aqua Blue watch winder is of course equipped with a Swiss motor that ensures that you can easily wind any type or brand of automatic watch with this watch winder. Moreover, these motors are well known worldwide when it comes to energy consumption and durability. Finally, the watch winder functions in silence with this motor. This ensures that you can place your watch winder in places where silence is desired without worry. For example, think of the bedroom or the office. This watch winder offers Swiss made technology, an understated but stylish design and an extremely effective way of winding your watch. If you prefer to purchase a Swiss watch winder, but have a smaller budget available, this is also a very nice option.
As an official dealer of Swiss Kubik, we offer a very extensive collection of Swiss Kubik watch winders. We also offer you the guarantee that you will receive an original Swiss Kubik watch winder from us. You will also find the latest collections and the best prices with us. Swiss Kubik's confidence in their own products is very high. They therefore offer a 3-year warranty on their watch winders. The Swiss Kubik Startbox Aqua Blue is therefore also supplied by us with a 3-year warranty. This extended warranty period emphasizes the high quality of the product and the materials used.
You can order the Swiss Kubik Startbox Aqua Blue or one of the other beautiful models of the brand easily and safely from us in the webshop. We have more than 15 years of experience in the field of high-quality watch winders. This means that we can always help you with an answer to your questions or, if desired, provide you with appropriate advice. You can pay with us with various secure payment methods. You can choose from Ideal, Paypal, credit card payment or bank transfer. You therefore always order from us with peace of mind!