The 3 best watch winders up to 200 euros
Posted on 23 September 2020 at 8:09 AM
The true connoisseur of automatic watches knows that a watch winder can be seen as an indispensable accessory for this hobby. There is therefore a wide range available in this area. Watch winders can be found in all sizes and types, price ranges and different quality. If you do not have a large budget available to purchase a watch winder or do not need all kinds of luxury functions, but are simply looking for a solid and efficient watch winder, there are still plenty of suitable options left.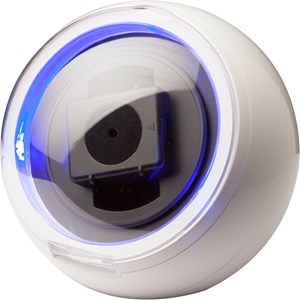 With a more expensive watch winder you will see the difference in material use, but the number of functionalities will also be more extensive with a watch winder in a higher price range. In addition, the more expensive brands often pay a lot of attention to the appearance of the watch winder, which will make it a valuable addition to the interior and any collection from an aesthetic point of view. If you are looking for a watch winder for winding several watches at the same time, you will generally also end up in the higher price ranges.
However, if you are looking for a watch winder for one or two watches, for example, it is quite possible to purchase a watch winder for less than 200 euros. This is an entry-level price level, where you don't have to worry about compromising on quality. In this blog, we will look for the three best watch winders for under 200 euros to make your search a lot easier. We have focused on a good motor, as this is the heart of a watch winder. These watch winders have little luxury, but are absolutely functional and effective.
The models that we highlight here are from the young Dutch brand Benson Watchwinders. Benson watch winders supplies high quality watch winders that are solid, durable and reliable. Because Benson manufactures these in-house, it is possible to offer a very good price/quality ratio. You will find quality watch winders for a competitive price at this brand. And that is exactly what we were looking for!
The first watch winder we want to name is the Benson Compact 1.17 Black Leather watch winder. In addition to this variant, this model is also available in blue, carbon, light brown, dark brown and the special Holland edition. This means there is something for everyone and a suitable alternative for every taste and interior. This watch winder is made of leather and has a compact design. It works by means of mains power via the supplied adapter, but also on batteries if desired.
This watch winder is suitable for any type and brand of automatic watch. The direction of rotation and number of rotations can be easily set, so that for each automatic watch you have the optimal conditions for an efficient winding. The watch winder has three programs, namely: CW, CC and Alt. A touchscreen, overwind protection and USB connection are also included. With this watch winder you have a watch winder that offers everything you need for a great price!
The next model is the Benson Easy watch winder D1. This watch winder is not only available in black, but also in light brown and dark brown. This watch winder is suitable for winding one automatic watch and is made of wood and high-quality plastic. The watch winder is therefore light in weight, which can be seen as an additional advantage. The Japanese motor is quiet in use, for optimal user comfort. In addition, the watch winder is energy efficient. This watch winder also has the programs CW, CC and Alt and is also adjustable in terms of the number of revolutions and the direction of rotation.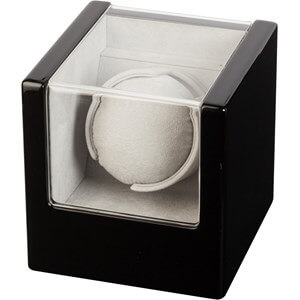 The third and final model that we think deserves a place in the spotlight is the Benson Easy watch winder Z2. This model is suitable for one watch. The Benson Easy Z2 has a very modern look and should be seen as an entry-level model. Thanks to the transparent lid and the modern LED lighting that switches on automatically during winding, you always have a good view of your beloved watch. With the silent Japanese motor you are assured of quality and comfort during the winding process. The number of revolutions is of course adjustable and the watch winder is equipped with an overwind protection.
You see that a watch winder does not have to be expensive to offer everything you need. You just need to know where to look and what not to cut back on. Of course, quality comes first and that starts with a good motor. A good watch winder is suitable for any type and brand of automatic watch and also offers the basic functionalities that you cannot do without.
Curious about these beautiful watch winder models under 200 euros? Then take a look at our webshop. Here you will find these watch winders and you can order them easily and safely! Of course, we offer many more interesting brands and models in addition to the watch winders mentioned. We deliver every watch winder with warranty, manual and original packaging.