Benson Swiss Series Double 2.20.CF watch winder
Posted on 19 July 2021 at 8:35 AM
Are you already familiar with the watch winder brand Benson? If not, we would like to introduce you to this Dutch brand. Have you looked at a watch winder for your automatic watches before? Then it is also nice to read this article and take a look at the collection. Benson has launched several new models this year. New models such as from the Smart-Tech II series, Black Series and the all-new Benson Swiss Series. Where all Benson watch winders were previously equipped with very high-quality Japanese motors, Benson now also offers watch winders that are equipped with the well-known and unparalleled Swiss made technology. These are very luxurious watch winders with excellent quality, for an attractive price, which are fully assembled in the Netherlands. This makes the Benson Swiss Series watch winders the best this Dutch brand has to offer.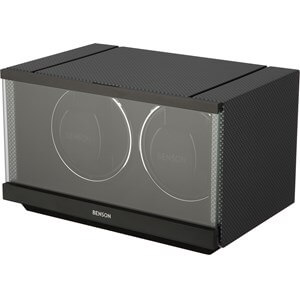 The advantage of Benson is that all models have rotors that are individually adjustable with regard to the direction of rotation and the number of rotations per day. Benson watch winders are therefore suitable for any automatic watch, regardless of the type or brand of watch. Furthermore, Benson only chooses high-quality materials, so that you can enjoy your watch winder for a long time and you can always rely on the fact that your watches are supplied with energy efficiently and safely. This way you will never be faced with the unpleasant surprise of a stationary watch! All Benson watch winders are known for the good price/quality ratio. Benson knows how to keep the quality high and the price attractive, which has made the brand extremely popular worldwide. In addition, Benson provides a sublime finish to the watch winders. But functionality is especially important, so that you can operate the watch winder easily and quickly. A good example are the flexible watch holders, which make them suitable for almost any watch, both for men and women.
The Benson Swiss Series Double 2.20.CF watch winder is a beautiful model from the new Swiss Series. Of course, this model is equipped with two very high quality Swiss made motors. Due to the specially developed safety system, this motor disengages as soon as a watch is placed or removed. This watch winder is suitable for winding 2 automatic watches and is therefore a perfect model for the real enthusiast. You can operate the watch winder quickly and easily with a single button and the modern LCD screen. The materials chosen to make this watch accessory include beautiful wood and mineral glass for the front door. Both the outside and the inside of the watch winder are finished in black, which fits in almost any interior. The carbon fiber style provides an extra luxurious look to this model. The fabric inside also ensures that your watches are optimally protected against damage. In addition, the watch winder can be closed through the glass door, which ensures that dust and dirt do not stand a chance. All this ensures the preservation of your watches and makes this model from Benson at the same time a very safe storage place for your watches.
The Benson Swiss Series Double 2.20.CF watch winder functions both with an adapter and on batteries. Because of this and the compact design, you can easily take your watch winder with you on a trip or, for example, to the office. This also makes it possible to place this watch accessory in a safe, so that you can store your watch and watch winder extra safely if you wish. The Benson Swiss Series Double 2.20.CF watch winder also has overwind protection. As icing on the cake, this model also has built-in LED lighting, which gives you a good view of your watches at all times.
This watch winder has a lot to offer, basically everything you need to wind your automatic watches professionally and safely. Its compact size makes it easy to place in almost any room. You don't have to worry about annoying noises during the winding process, so you can also use the watch winder at your workplace or in the bedroom for example. The watch winder has a modern, sleek and stylish appearance and will fit in almost any interior due to the fairly neutral color. Whatever automatic watches you own, the Swiss Series Double 2.20.CF from Benson will provide them with the necessary energy carefully and efficiently, so that you never have to worry about your watches stopping again.
As an official Benson dealer, we can provide you with the best service and aftersales. In addition, we can help you with all kinds of questions about watch winders or provide you with any advice if desired. With 15 years of experience in the field of this watch accessory, we can certainly be of service to you.
When you order the Benson Swiss Series Double 2.20.CF watch winder from us, you will receive it with a standard 3-year warranty. So you don't have to worry about unpleasant surprises and you can be sure that you will enjoy your purchase for a long time. In the webshop you pay easily and securely with credit card, iDeal, Paypal and regular bank transfer. So place your order with peace of mind today, then your automatic watches will never stand still and they are immediately ready to wear!