Benson Swiss Series Single 1.20 Black watch winder
Posted on 23 November 2021 at 11:58 AM
Do you have one automatic watch and do you want it to keep running on time, without being obliged to wear it all the time? Then you cannot do without a watch winder. This watch accessory ensures that your watch is supplied with the necessary energy when you are not wearing it. This prevents downtime and thus inaccuracies in time and date.
A watch winder for a single watch is easy to find. There is a wide choice of brands, price ranges and types on the market. Do you want a copy with a special appearance? Or maybe one with special functionalities? The choice is yours! The most important thing is of course to choose a brand and model of good quality, preferably at an attractive price. A Dutch brand that produces these high quality watch accessories is Benson. Benson is an ambitious brand and has a lot of experience with and knowledge about watch winders. This brand has already earned its spurs by having many international watch enthusiasts as customers who appreciate the winding technique of this appealing brand.
Benson offers a large collection with a choice of watch winders with a Japanese motor or a Swiss motor. Both variants are of excellent quality, energy-efficient, durable and quiet in use. In the Benson collection you will also find models with various capacities. There are copies available for one watch up to 16 watches. Both enthusiasts and collectors can therefore rely on Benson. Furthermore, with a Benson watch winder you get a luxury model that is made of high-quality materials. In addition, Benson offers nice extra functionalities with different models. In terms of appearance, Benson's models can best be described as modern, chic and stylish.
In this article we would like to bring a specific model from Benson to your attention, namely the Benson Swiss Series Single 1.20 Black watch winder. This model is suitable for winding one automatic watch. The design is compact, sleek and modern and has a luxurious appearance. This model is part of the very luxurious Swiss Series collection by Benson and is equipped with a Swiss made motor.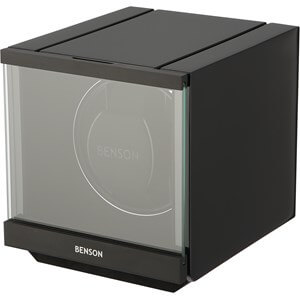 The Swiss made technique is unparalleled and with a Swiss made motor as a basis you can be sure that you can enjoy your watch winder for a long time. The Benson Swiss Series Single 1.20 Black is black in color and also has a black fabric inside. Because the inside is made of fabric, your watch is optimally protected against any damage. The watch winder can be closed with a glass door (mineral glass). This offers extra protection against moisture, dust and dirt, for example.
You can set the watch winder using the user-friendly LCD screen, which allows you to create the optimal conditions for your specific watch in no time. The watch winders in this series all have the advantage that the rotors are individually adjustable. In addition, Benson uses flexible watch holders. This means that these watch winders are all suitable for every type and brand of automatic watch. Due to the specially developed safety system, the motor disengages as soon as a watch is removed or put in.
The Benson Swiss Series Single 1.20 Black watch winder is made of wood and is fully assembled in the Netherlands. This model is equipped with modern LED lighting. This makes it possible to view your watches at any time of the day, including during the winding process. This watch winder is equipped with the programs CW, CC and Alt and of course with an overwind protection. It operates on both mains power and a battery. The option to use batteries in combination with the compact size of the watch winder makes it possible to take it with you, for example on a trip or to the office. Moreover, it is also possible to place this watch accessory in a safe. In this way, both your watch winder and your beloved watch are optimally protected. Because this model is quiet in use, you can easily place it in your bedroom or workplace without annoying and disturbing noises.
Have you become interested in this specific Benson Swiss Series Single 1.20 Black watch winder from Benson? You can order it quickly and easily from us in the webshop. We can also help you as an official dealer of Benson if you have any questions about this model or other models of this special brand. With 15 years of experience in the field of watch winders, we can certainly be of service to you!
You can pay in the webshop with credit card, iDeal, Paypal or a regular bank transfer. We ship worldwide with Fedex, DPD and PostNL. When you order this Benson Swiss Series Single 1.20 Black watch winder, you will receive a 3-year warranty. We are completely convinced of the quality of this watch winder ourselves. Of course we ensure that your purchase is neatly packaged. In addition, we ship all purchases insured and registered. So you can place your order with peace of mind and soon enjoy a beautiful watch winder.