Benson watch winders for the real watch collector
Posted on 8 July 2019 at 1:37 PM
We have often written about the usefulness of a watch winder in our news and blog articles. This accessory for watches is increasingly being bought by watch lovers. Watch winders come in many designs and sizes. For you as a watch lover or collector, a watch winder is a vital part of the collection. Every automatic watch needs the right movement to function. In this need, the watch is normally provided by the wrist movement when the watch is worn. But when it is not worn, a different solution is needed. A watch winder simulates the movement of the wrist and in this way ensures that the watch does not stand still. In addition, a watch winder offers a safe storage place for your watches and thus prevents wear and damage. As icing on the cake, a good watch winder ensures a good oil distribution inside the timepiece. In short a watch winder is an indispensable accessory!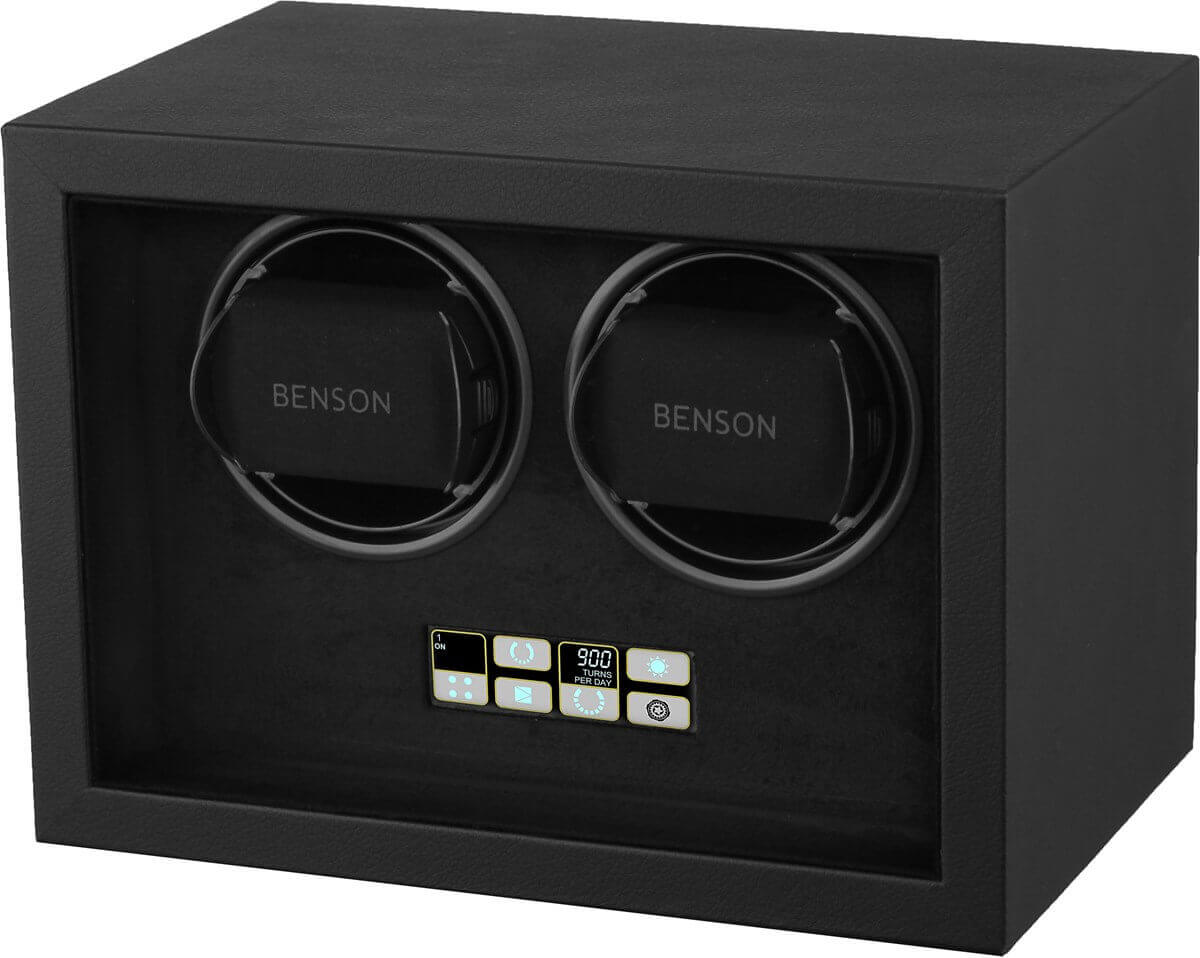 Benson watch winders is a Dutch brand that supplies affordable watch winders of high quality. As the watch winders from Benson are manufactured in-house, it is possible to guarantee this good price/quality ratio. The watch winders from Benson are characterized by modern technology and a beautiful design. Because Benson has its own service centers in the Netherlands, United States, Hong Kong and Russia, there is worldwide coverage for service and repair.
In the assortment of the Benson watch winders we find various collections. All watch winders are suitable for any automatic watch, regardless of brand or variant. High-quality materials such as wood, mineral glass and leather are used for the different series. The Benson Compact series is affordable and a modern watch winder. Furthermore, these Benson Compact watch winders are very compact and equipped with a silent Japanese motor, making them easy to use everywhere. The Smart-Tech-II and Black Series from Benson are the more luxury series within the brand. Both are equipped with touchscreen, with which the number of revolutions per day and direction of rotation can be set. In addition, these series are equipped with LED lighting. The collection of watch winders from Benson offers watch winders with different capacities, from 1 watch to 16 watches.
Every Benson watch winder comes with a manual, certificate and a minimum of 2 years international warranty. In addition, every watch winder is packed very well and provided with a final check before shipment. Are you looking for an affordable, high-quality watch winder? Then a Benson watch winder is a very good choice!