Best entry-level watch winder for 2 watches
Posted on 20 September 2022 at 2:40 PM
Are you looking for a high-quality watch winder at an attractive price? Then we would like to tell you more about the Dutch brand Benson. Benson has been active in this field for more than 15 years and has therefore acquired a broad knowledge and experience. The brand has always had the ambition to produce watch winders that offer a combination of an attractive design, high functionality, technical finesse and a sublime finish. These are the features that stand out when we look at the Benson collection. In order to keep the quality of the watch winders as high as possible, Benson's watch winders are manufactured in-house. In this way, the production process is strictly monitored. In addition, extensive checks are carried out on perfect functioning of the watch winders before they are put on the market. The Benson watch winders are also characterized by a very high user comfort, everything has been thought of. For example, there are watch winders within the collection with built-in LED lighting, an innovative touchscreen and extra storage space within the Benson collection.
In this article we have specially selected a watch winder from the Benson collection, which we would like to tell you more about. This concerns the Benson Compact 2.18 Black Leather. This watch winder has the capacity to wind 2 automatic watches at the same time. The watch winder is made in the color black, which makes it suitable for almost any interior. As the name suggests, the watch winder has a compact design. This ensures that there is always a nice place to find for this watch winder. The outside of the watch winder is covered with quality leather. This gives the watch winder a luxurious and extra modern look. The inside of the watch winder is also black and also provided with a soft fabric. The latter ensures that you can store your automatic watches in the watch winder with a protected feeling.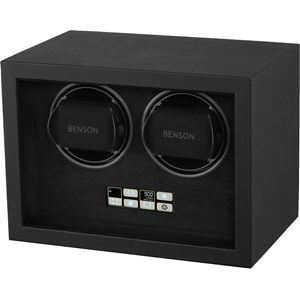 With the Benson Compact 2.18 Black Leather you will be able to effortlessly wind any brand or type of automatic watch. The Japanese motors that the watch winder is equipped with are powerful enough to wind the heaviest watches. Because the rotors can also be adjusted individually, you offer each individual watch exactly the excitement it needs. For example, you can easily set the number of rotations per watch per day using the handy touchscreen. In addition to the programs CW, CC and Alt and an overwind protection, the Benson Compact 2.18 Black Leather also offers an extremely handy power winding function. This function makes it possible to wind your watches in a short time, so that you can also use your watch if you don't have much time. As icing on the cake, Benson offers built-in LED lighting with this watch winder. With this you can literally put your watches in the spotlight, so that you can keep a good view of them at all times. This watch winder functions with the help of an adapter, which is included.
You can place the Benson Compact 2.18 Black Leather wherever you want. As mentioned, it is compact and therefore does not require much space. In addition, the watch winder also does its work in silence, making it a good option to place the watch winder in the office or in the bedroom. The energy consumption of the watch winder is low, which contributes to a bit of durability. Of course, it has also been decided to use only high-quality materials, so that the watch winder lasts a long time.
The Benson Compact 2.18 Black Leather is an extremely suitable model if you own 2 or 3 automatic watches and value a good price/quality ratio. With this watch winder you offer your automatic watches the best excitement, at a competitive price. In addition, you can use the watch winder as a safe storage place for your watches and, if desired, even as a display. The built-in LED lighting certainly contributes to this. The Benson Compact 2.18 Black Leather is not only available in black, but also in dark brown and light brown. These variants are also covered with high-quality leather, for an extra luxurious look.
The Benson Compact 2.18 Black Leather can be ordered easily and safely from us in the webshop. This watch winder is supplied by us with a 2-year warranty and of course a clear manual. In our webshop you will also find the entire collection of Benson watch winders, which offers extensive options. Benson offers suitable watch winders of excellent quality for the enthusiast with 1 or a few automatic watches, as well as for the real collector. It is therefore certainly worth taking a look at our webshop. If desired, we are also happy to provide you with appropriate advice! We are also known for our good service and ship worldwide with Fedex, DPD and PostNL. Do not wait any longer and view our beautiful offer now!