Heisse and Sohne watch winders | German quality
Posted on 5 October 2018 at 8:01 AM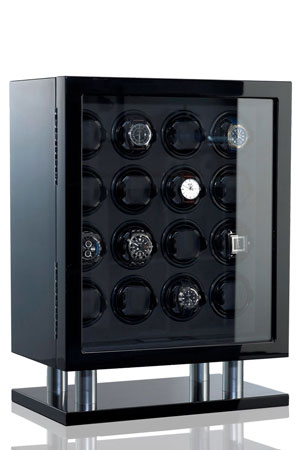 A watch winder is indispensable for the collector of automatic watches. Watch winders ensure that the watches that are not worn are provided with the necessary energy so that they continue to run on time. A watch winder also gives you a great opportunity to present your collection and keep it safe. More and more, a watch winder for the watch enthusiast and collector is an absolute must have.
Within our range of watch winders, the Heisse & Söhne watch winders stand out because of the beautiful modern designs and the excellent price/quality ratio. There is a choice of a very large collection of luxury designs and the watch winders are suitable for any type of automatic watch, regardless of brand or model. Different contrasting materials such as metal, glass and wood are used in the various sporty and elegant models. Technically, the Heisse & Söhne watch winders have various special features such as LCD control, LED lighting and, of course, all the necessary settings to wind an automatic watch without problems. For example, for setting the direction of rotation and the number of revolutions per day.
As official dealer of Heisse & Söhne we offer safes in addition to the standard collection of watch winders, in which the watch winders are built. These watch safes comply with the highest European standards in the area of ??safety with regard to breach and fire. In this way, in addition to a watch that runs on time, you are assured of an extremely safe storage place for your watches. The Heisse & Söhne watch winders offer the very best in terms of technology, quality, safety and appearance. The watch winders from Heisse & Söhne are directly available from our stock, so when you choose one of these watch winders you will be able to enjoy your purchase in the short term!