Improved Benson Black Series watch winders
Posted on 11 January 2022 at 2:37 PM
The Dutch watch winder brand Benson has been a resounding success for years. This brand produces high-quality watch winders of excellent quality at which the price is very attractive. Certainly in comparison to other brands whose price level is significantly higher.
Benson presented its Black Series collection in 2016. A series of watch winders that are made of beautiful wood and offer all the functionality to wind automatic watches, regardless of watch brand or model, safely and professionally. Today, the Benson Black Series are sold in more than 20 countries by jewelers and watch winder specialists.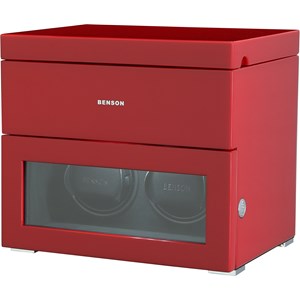 The Benson Black Series watch winders are equipped with Japanese motors, a modern touchscreen, LED lighting, extra storage option, glass door and a lid to safely store all watches. Because each motor is individually programmable, you can rotate each watch independently of each other in the desired direction and to the desired number of revolutions per day. This makes a Benson Black Series watch winder suitable for any type of automatic watch, so you can easily wind watches from different brands side by side. So you can wind a Rolex watch next to Breitling, Oris, Tag Heuer, Patek or IWC watches. You simply choose the desired settings per watch and you don't have to worry about it anymore, because the watch winder does the rest. It ensures that each watch is supplied with sufficient energy so that it is always ready to wear. Handy and easy! But certainly also advisable with regard to the preservation/maintenance of automatic watches. Standing still is not good for an automatic watch.
In terms of capacity, in other words the amount of watches you want to wind, there is plenty of choice. The Benson Black Series are available for 2, 4, 6, 8, 12, 16, 20 and even 24 watches. This means that there is a suitable model for every watch enthusiast, regardless of whether you only have one automatic watch or 20 watches. As mentioned earlier, the price level in combination with the excellent quality is the decisive factor for watch enthusiasts to buy a Benson Black Series watch winder.
Benson has recently provided its Black Series models with a few upgrades that further improve the quality and functionality. Firstly, the motors have been renewed, making them even quieter in use and running almost silently. This is extra pleasant to use, for example when the watch winder is in the bedroom or at the office. Secondly, the latest Benson Black Series models have received a software update, which makes the watch winder work even easier and faster. The nice thing is that Benson has not increased the retail prices, so you get more quality for the same money.
Within the Benson Black Series, the brand has also presented one new variant. The color red has been added for the models for 2, 4, 6 and 8 watches. This new color is very beautiful and luxurious. Especially in a modern interior, the red watch winder can provide a beautiful contrast to white, black and gray. The Benson Black Series in red color are limited to 250 pieces worldwide.
As an official dealer of Benson, we have almost all models in stock and available immediately. Each model comes in a sturdy packaging, with a 2 year warranty, manual and certificate.
Are you interested in a Benson Black Series watch winder, or a watch winder from another brand? You can easily order on our website. Do you have any questions or comments? Then send us an e-mail or give us a call. We are happy to help you with sound advice and examples of good watch winders that fit your watches. With more than 16 years of experience, we are sure to be of service to you!